PRIMAL FEAR Angels Of Mercy – Live In Germany


By Alex Yarborough, Orlando Contributor
Wednesday, July 12, 2017 @ 1:23 PM


| | | |
| --- | --- | --- |
| | | |
PRIMAL FEAR
Angels Of Mercy – Live In Germany
2017 Frontiers




Angels Of Mercy – Live In Germany was recorded at the beginning of the European part of PRIMAL FEAR's world tour in 2016, in the band's hometown of Stuttgart, Germany. The Rulebreaker tour was the band's longest ever, which saw them play shows in 78 cities in 25 countries around the world. I caught the band on the tour here in Florida, and they performed nearly the same setlist that is on this new live video release. The setlist pulls songs from eight PRIMAL FEAR albums, including of course the most recent album, Rulebreaker.

The lineup for the Rulebreaker album and tour features what I believe is the band's strongest lineup; original members Mat Sinner (bass) and Ralf Scheepers (vocals) are joined by Tom Naumann on guitar. I am glad to see Tom back in the band permanently. He has played a significant role in the history of PRIMAL FEAR. Tom, whose guitar reads "I Refuse To Surrender", is a real shredder who always has a smile on his face. The legendary Alex Beyrodt has continued to be a great addition to the band as well. He and Tom work well together. New drummer Francesco Jovino rounds out the lineup, and he also performs a drum solo here. His performance is solid on this blu-ray.

I lowered the lights, cranked up the volume, and inserted the disc in my blu-ray player. The band strolled onstage to the pre-recorded part "Countdown To Insanity" before blasting forth into "Final Embrace" from 1999's Jaws Of Death album, and then going right into newer song "In Metal We Trust".

This live blu-ray (also available in DVD format) is more or less what you would expect from PRIMAL FEAR: A no-frills, bare bones, kick-ass performance. The sound is amazing, the band is shot well and the viewer is given time to take in what's going on before cutting away to another member of the band. One thing I dislike about so many live videos are the constant cut-aways; you can't really take in what is happening on stage. That is not the case here, as you are able to appreciate many wide-angle shots, which is nice. Like I said, this is a bare-bones performance. You get lights and a little dry ice and smoke, but that's about it. There are no theatrics here, the music is what matters, and that is what this blu-ray delivers. Some of the standout tracks performed here are "Sign Of Fear", "Angels Of Mercy" and what I'm convinced is now the band's best track ever, "Rulebreaker".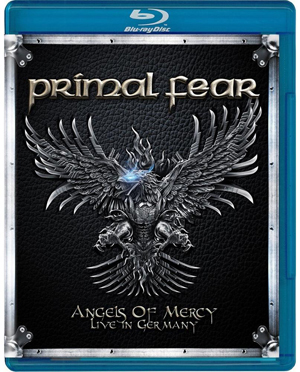 I must admit that I am fairly disappointed in the Stuttgart crowd in this show. There is very little action out of them, and almost no headbanging. Since when did the most metal country in the world decide to act like that? I personally was more involved in the show here in Florida than the entirety of the crowd in this blu-ray. I mean, come on Germany!
The extras on the blu-ray are excellent, which includes videos for "The End Is Near", "Angels Of Mercy", and "Strike" among others. The best of the bonus songs is a live performance of "Chainbreaker" in the rain at the Masters Of Rock Festival in the Czech Republic.
Longtime PRIMAL FEAR fans like me will of course pick up this live testament to band's absolute power and enjoy it at full volume! Angels Of Mercy is available now from Frontiers Records in CD/DVD and blu-ray formats.
4.0 Out Of 5.0
Grab your copy of Angels Of Mercy – Live In Germany in the KNAC.COM More Store right HERE.




Please log in to view RANTS

If you don't have a username, click here to create an account!