ORIGIN Unparalleled Universe


By Peter Atkinson, Contributor
Wednesday, July 12, 2017 @ 1:24 PM


| | | |
| --- | --- | --- |
| | | |
ORIGIN
Unparalleled Universe
Nuclear Blast Records




When it comes to unbridled tech-death ridiculousness, few bands are as, well, unbridled or ridiculous as Kansas-bred extremists ORIGIN. Just about everything the band does is utterly over the top – be it velocity, complexity or sheer audacity.

ORIGIN's seventh album doesn't waste any time getting right down to its "over-the-topedness," exploding at full throttle from note one of "Infinitesimal To The Infinite" It's 0 to Mach 1 in a nanosecond as everyone stomps on the gas at the same instant – indeed, it almost seems almost like someone forgot to hit "record" until mid-song. All of a sudden, you're being battered by a hail of blast beats and bass notes and a flurry of pick-sweepy guitar, with Jayson Keyser's breathless caterwaul joining the fray soon thereafter. It makes for a jarring, even disorienting, start, which I'm sure is exactly what the band had in mind.

Unparalleled Universe is the second album with Keyser, and the first in ORIGIN's long career to feature the same members as the previous release, in this case 2014's Omnipresent. And that does help to manage the chaos here. For all of Omnipresent's Red Bull-fueled technical dazzle, it lacked much structure or "songiness" and came across as something of a blur. Unparalleled tightens the screws and serves up its fury and frenzy with enough finesse and heft to make sure it connects.

"Accident And Error" follows the light-speed histrionics of "Infinitesimal" with a similar all-guns-blazing-from-the-get-go approach, but is somewhat riffier and less compressed. Same goes for "Cascading Failures, Diminishing Returns", with Paul Ryan offering some genuine hookiness and even a rare hint of subtlety between the ridiculously fast, bob-and weave dogfights he and bassist Mike Flores are wont to engage in. And "Truthslayer" has a NAPALM DEATH-like grind-and-swing feel, especially with the growl-and-scream tag-team vocals.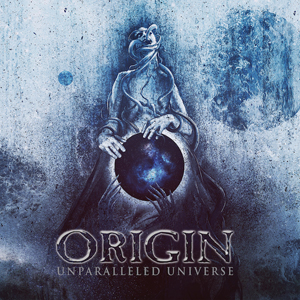 "Mithridatic", "Invariance Under Transformation" and, to a certain extent, "Burden Of Prescience" go even further, as drummer John Longstreth takes momentary breaks from his stampeding blast beats and double-bass rolls for a more martial pace, latching onto Ryan and Flores' crunching, almost breakdowny grooves. And then there's the band's relatively faithful cover of BRUJERIA's "Revolución" that closes the album out on a super-chunky, metalcore-ish note. It's certainly an odd choice.
The back end of Unparalleled is actually its weakest point, as "Revolución" follows the rather aimless "Unequivocal" that essentially rolls all of the album's ingredients together into one 10-minute-long epic. Broken into its respective parts or movements, it might have been better suited as two or three individual tracks. Instead, it kind of drags itself along.
The rest of the album, though, boasts a fairly solid balance of supersonic, sometimes mind-boggling, shred and substance – including stretches with rather pronounced melody. Though the songs rarely take the most obvious or linear path – indeed "Dajjal" fittingly channels "Flight Of The Bumblebee" at its outset – they usually have a destination in mind and don't just merely flit about.
3.5 Out Of 5.0
Pick up a copy of Unparalleled Universe in the KNAC.COM More Store right HERE.




Please log in to view RANTS

If you don't have a username, click here to create an account!