ROB ZOMBIE In Cleveland, OH With Photos!


By Geoff Ketler, Cleveland Contributor
Friday, July 14, 2017 @ 6:43 AM


| | | |
| --- | --- | --- |
| | | "Everywhere else in the world it's just a SPINAL TAP joke, but here it means something…hello Cleveland." – Rob Zombie |
All Photos By Geoff Ketler/Aces High Photography
Day two of ROB ZOMBIE's all-out, three-day assault on the state of Ohio found the quartet gracing the stage of the packed, humid and completely sold out House of Blues. According to Rob, this was originally slated as an off day, but his tour manager convinced him to play the small venue. The quick jaunt across the buckeye state, hitting the major markets of Toledo, Cleveland and Cincinnati lead up to the festival dates amidst the Midwest, including Chicago Open Air and Rock Fest.
The line at the front door began forming at 3pm and by the time doors opened it stretched down the street, around the corner and up past the swanky restaurants on Cleveland's East 4th Street. The awesome staff at the House of Blues diligently got everyone inside with plenty of time to spare. The capacity crowd pushed their way to the barricade, shoulder to shoulder. As the curtain pulled, I could see that the large-scale production that Zombie is known for was scaled down and packed in tight on the smallish stage. Across the front was a large video board attached to the tall risers. In fact, they were so tall, seeing drummer Ginger Fish from the photo pit was near impossible. An image from the original 1933 King Kong emblazoned the backdrop and a fury of over-saturated red and blue lights flooded the band as they opened with "Dead City Radio And The Gods Of Supertown".
Supporting 2016's The Electric Warlock Acid Witch Satanic Orgy Celebration Dispenser, the now longest-tenured version of the band featuring guitarist John 5, bassist Piggy D, Ginger Fish and the man himself, Rob Zombie brought downtown Cleveland to its knees on a steamy Tuesday night. In a fantastic flash of dread locks, studded jackets and leather fringe (I am guessing it is faux leather), Rob danced and thrashed, taking time to invite a 10-year-old concert goer on stage and also talk about alien abductions. The Phantom Creep robot made an appearance during "Meet The Creeper".
As usual, there were a disproportionate amount of covers built into the set. "We're An American Band" had dropped off from the previous show and was replaced with WHITE ZOMBIE's "Scum Of The Earth" – a good switch, in my opinion. A cover of the RAMONES' "Blitzkrieg Bop" was built into the middle of "Thunder Kiss '65", of which guitar virtuoso John 5's solo was the prelude. Packed in like cattle heading to slaughter, we were all unnaturally close and moist by the time the night had drawn to a close. Rob spent time in the audience and on the barricade, nearly causing riots. The impeccable celebration of everything twisted and weird came to a close as we headed for the exits, sweaty, bruised and staggering…and satisfied. ROB ZOMBIE's intimate show at the minute Cleveland House of Blues will be remembered for quite some time.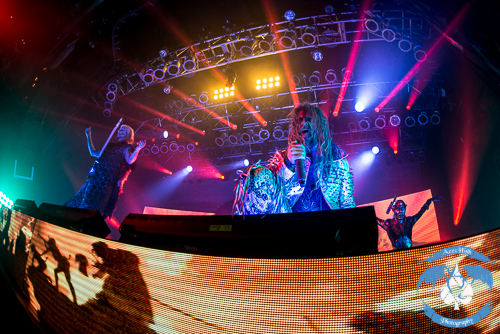 Setlist:
"Dead City Radio And The Gods Of Supertown"
"Superbeast"
"In The Age Of The Consecrated Vampire We All Get High"
"Scum Of The Earth" (WHITE ZOMBIE Cover)
"Living Dead Girl"
"Well, Everybody's Fucking In A U.F.O."
"More Human Than Human" (WHITE ZOMBIE Cover)
"Never Gonna Stop (The Red, Red Kroovy)"
"The Hideous Exhibitions Of A Dedicated Gore Whore"
"Pussy Liquor"
"Thunder Kiss '65" (Includes Guitar Solo - John 5)
"Blitzkrieg Bop" (RAMONES Cover)
"School's Out" (ALICE COOPER Cover)
"Get Your Boots On! That's The End Of Rock And Roll"
"Meet The Creeper"
"Ging Gang Gong De Do Gong Re Laga Raga"
Encore: Check out some more photos from the show!
All Photos By Geoff Ketler/Aces High Photography

Please log in to view RANTS



STRYPER The Final Battle

TALAS 1985

QUEENSRYCHE Digital Noise Alliance

MOTÖRHEAD Iron Fist 40th Anniversary Edition

TESLA, KURT DEIMER In Houston, TX With Photos!

CLUTCH Sunrise On Slaughter Beach

SCORPIONS, THUNDERMOTHER In Houston, TX With Photos!

BEHEMOTH Opvs Contra Natvram

IRON MAIDEN, TRIVIUM In Austin, TX With Photos!

AEROSMITH, EXTREME In Boston, MA With Photos!

SAMMY HAGAR, GEORGE THOROGOOD, QUEENSRYCHE In Ridgefield, WA With Photos!

KINGS OF MERCIA Kings of Mercia

OZZY OSBOURNE Patient Number 9 In-Store Record Signing In Long Beach

ALICE IN CHAINS, BREAKING BENJAMIN, BUSH, THUNDERPUSSY In Ridgefield, WA With Photos!

GOATWHORE, INCANTATION, BEWITCHER In Los Angeles With Photos!

SKID ROW The Gang's All Here

FALLUJAH Empyrean

FIVE FINGER DEATH PUNCH, MEGADETH, THE HU, FIRE FROM THE GODS In Houston, TX With Photos!

DEICIDE, KATAKLYSM, INHUMAN CONDITION In Los Angeles With Photos!

KING'S X Three Sides Of One

BLIND GUARDIAN The God Machine

BUTCHER BABIES, UNCURED In Los Angeles

STYX, REO SPEEDWAGON, LOVERBOY In Mansfield, MA With Photos!

AT THE GATES, MUNICIPAL WASTE In Los Angeles With Photos!

OCEANS OF SLUMBER Starlight and Ash

A-Z A-Z

MACHINE HEAD ØF KINGDØM AND CRØWN

MY CHEMICAL ROMANCE In Nashville, TN With Photos!

BELPHEGOR The Devils

THE DEAD DAISIES Radiance

SANTA CRUZ The Return Of The Kings

THE STADIUM TOUR In Houston Photo Gallery