PRONG Zero Days


By Geoff Ketler, Cleveland Contributor
Tuesday, July 25, 2017 @ 6:53 AM


| | | |
| --- | --- | --- |
| | | |
PRONG
Zero Days
Steamhammer/SPV PRONG is like a cockroach…no matter the evolution of music or changing environments and fan bases, somehow this prolific trio lives on – mostly unchanged; cranking out new, quality material at an alarming rate. PRONG fans, myself included, have been blessed with an onslaught of new music since 2012's Carved Into Stone. 2017 won't be any different as Tommy Victor gives us Zero Days - out on Steamhammer on July 28th. This could be the group's career-defining work. Zero Days is filled with piss and vinegar, crushing riffs and harmonious choruses. Vocalist/guitarist Tommy Victor has a lot to say about the world today. His pointed lyrics show the underlying old-school punk roots of the band, but with a more cunning, intellectual disposition.

Check your filler at the door…there are no pushover tracks here. Each song stands strongly on its own on the album co-produced by Tommy Victor and Chris Collier. To me, Zero Days seems to be more of a continuation of 2014's Ruining Lives. The songs are a bit more diverse than 2016's X (No Absolutes) and Tommy is off the leash and cutting lose lyrically. Zero Days also marks the return of bassist Mike Longworth who is back for his second tour of duty with PRONG.

Although musically, this album seems to broaden the group's sound with even more aggression, the signature PRONG tendencies are there. Art Cruz is masterful behind the drums and true to the band's past, there are lots of off-beat drumming and sixteenth notes on the hi-hat. He shines through especially on "Off The Grid" with a furious series of fills and accented splash cymbals. It is hard to choose favorites on the jam-packed, 14-track record and although I would not label it a "concept" album, it flows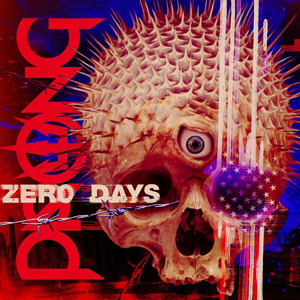 nicely, especially tracks 1-5. Noteworthy songs include "Forced Into Tolerance", which is all sorts of thrashy and defiant, "The Whispers", which really feels like old school PRONG, "However It May End", "Off The Grid" and the title track "Zero Days" are all heavy hitters as well.
Zero Days is a well-thought-out, masterful piece of work from Tommy Victor and company. The album easily displays PRONG's penchant for blending metal, punk and thrash all while taking the listener on a thought-provoking lyrical ride where Tommy Victor eloquently shows his teeth and bares his soul.
Describing the new album, Tommy Victor had this to say; "I must say a lot of effort was put into this new Zero Days recording. From the minute I would get off tour, I would consolidate ideas from the road and form new ones. Again the focus was on creating good songs." He continued; "It's a solid outing. We have the anthems, the bangers, the thrashers, the grooves, everything that makes up a PRONG record. It's definitely a record to listen to start to finish!!"
5.0 Out Of 5.0
Grab a copy of Zero Days in the KNAC.COM More Store right HERE




Please log in to view RANTS

If you don't have a username, click here to create an account!





ALICE COOPER Paranormal

HENDRIX: The Illustrated Story

L.A. GUNS The Missing Peace

ENSLAVED E

UFO, SAXON, JARED JAMES NICHOLS In Akron, OH With Photos!

ACT OF DEFIANCE Old Scars, New Wounds

JACKYL 25

REVOLUTION SAINTS Light In The Dark

TESLA, WEAPONS OF ANEW, VOICES OF EXTREME In Orlando, FL With Photos!

THE BLACK DAHLIA MURDER Nightbringers

SONS OF APOLLO Psychotic Symphony

OBITUARY, EXODUS And POWER TRIP In Ottawa, Canada

EVERY MOTHER'S NIGHTMARE Grind

FOZZY Judas

LYNCH MOB In Saint Petersburg, FL With Photos!

DIAMOND HEAD In Ottawa, Canada

VENOM, INC. Ave

NOCTURNAL RITES Phoenix

EXIT EDEN Rhapsodies In Black

MARDUK, INCANTATION In Ottawa, Canada

NIGHT RANGER In New Braunfels, TX

AVATARIUM, THE SLAYER KING In Sieburg, Germany

STEELHEART Through Worlds Of Stardust

SATYRICON Deep Calleth Upon Deep