BLACK 'N BLUE, AUDIOREHAB In Ottawa, Canada


By Andrew Depedro, Ottawa Corespondent
Sunday, July 30, 2017 @ 9:53 AM


| | | |
| --- | --- | --- |
| | | Bands Burn It Up To Autoblast Levels At The Brass Monkey, Ottawa, Canada, July 23, 2017 |
Neither periodic weather increments nor hour-long cat naps nor late arrivals of poutine were to prevent me from catching an event that was 36 years in the making. Even Dion the bouncer who's known me for years quickly waved me in just as I was ready to produce my ID to enter the venue.

And that's what happens when you keep away from the live music scene at the Brass Monkey for longer than you should.

That said, this was a show not to be missed. Even the local opening band AUDIOREHAB were entertaining enough to give the headliners a run for their proverbial money. And few bands that I'm aware of have written an homage to James Bond let alone open their set with such a song (which really was simply titled "James Bond" for the record). Straight-up old-school rock is how the four-piece band describe themselves, whereas I'd like to further add that not a single cover was played throughout their set. Yes.....hard-driving tunes such as "Working For The Man", "Keep Me Coming" and "Stay With Me", even while accompanied with quick stage banter from their powerhouse frontman Derek McIntyre which tends to go over most people's heads, were earnest and original songs which get a respectable reaction from the audience that night. But it's the moving number "Silent And Strong" - a song about dealing with the horrors of PTSD which McIntyre, a former Canadian Forces member, can relate to all too well - that brings the house down for many in the audience. And suddenly the band name makes perfect sense.

https://www.facebook.com/Audiorehabband
http://www.audiorehabband.com/home.html

Starting off as one of the first bands to make an appearance on Brian Slagel's famous Metal Massacre compilation album back in 1981 alongside the likes of MALICE, RATT and the legendary misspelledMETTALLICA, headliners and Portland, Oregon's native sons BLACK 'N BLUE make their very first Ottawa appearance some 36 years later and open with the anthemic "Get Wise To The Rise" from 1988's In Heat. Frontman Jaime St. James and the rhythm section comprised of bassist Patrick Young and drummer Peter Holmes may be the three remaining original members of the band, but they've hooked up with some solid six-string talent on this show in the form of Bob Capka (ex-VICIOUS RUMORS) and Brandon Cook. And while neither guitarist have been in the band for longer than 4 years - Capka himself only joined four months ago - they not only master the riffs and solos of Jeff Warner and Tommy Thayer, but they also expand upon them and give them their own indelible and original signature. Meanwhile, Jaime St. James may not quite be the svelte figure of three decades past from the "Hold On To 18" and "Miss Mystery" videos which adorned MuchMusic and MTV back in the day, but his vocals have still amazingly stood the test of time. He can still cut the high-octave pitches on songs such as "Chains Around Heaven" (a song I've seen Toronto-based metallers CAULDRON cover live several times), "Wicked Bitch", "Autoblast" and "Live It Up" (his secret for maintaining his powerful vocal range after all of those years? Lots of sleep!).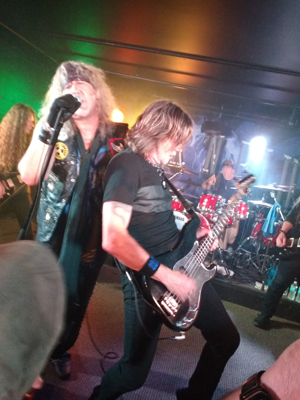 And please allow me to give a paragraph or two to credit the air-tight rhythm section of Patrick Young and Peter Holmes, who have not lost an ounce of their groove. Peter Holmes, in particular, gets some light-hearted ribbing by Jaime St. James for his "German fetish", having played and toured alongside Uli Jon Roth and Michael Schenker, as he tears into a brief drum solo in between numbers. He takes it all in stride while unleashing the primordial beast upon his drumkit like a boss. Patrick Young also hasn't aged a bit as he enthusiastically headbangs throughout BLACK 'N BLUE's set. I almost mistook him for Jeff Pilson at first; the one starstruck female audience member filming his performance who looked like Ravinder only seemed to help confirm the initial confusion for me at times.
Finally, the meet and greet with the band members, which I took part in, along with my friend James, the guitarist/frontman for local metallers LYCANTHRO, is a completely relaxed affair. James and his friend Matt are both in their mid to late 20's and had brought a collection of the BLACK 'N BLUE catalogue for the band members to sign. Jaime St. James gives his other ambitious namesake pointers on how to preserve his singing voice and encourages him to keep up his vocal duties while signing every bit of vinyl shown his way. He was particularly impressed to have signed a 7-inch vinyl copy of the "Miss Mystery" single which James had in his possession. Meanwhile, I chat with Bob about his time with VICIOUS RUMORS, and then with Brandon about parenthood, Portland's live music scene - and former KNAC DJ Uncle Scotty's Hot Tub program. Because the two just seemed to tie in together. I also couldn't resist plugging my own music blog either which seemed to get his attention and then got some selfies and approval to review said concert by the band to cap off the night afterwards.
And I eventually got my poutine order some time during "I Want It All (I Want It Now)" in a prophetic moment of appropriateness. I'm just happy to have lived it up and soaked in the proverbial gravy that was BLACK 'N BLUE's first-ever proper eastern Canadian tour.
Thanks once again to Skotti, Dion and the Brass Monkey for satisfying my appetite!
http://blacknblueofficial.com/
https://www.facebook.com/BlackNBlue/
Setlist:
"Get Wise To The Rise"
"Chains Around Heaven"
"Stop The Lightning"
"Does She Or Doesn't She?"
"Nasty Nasty"
"I Want It All (I Want It Now)"
"Target"
"Miss Mystery"
"Without Love"
"Autoblast"
"Live It Up"
"Kiss Of Death"
"Wicked Bitch"
"School Of Hard Knocks"
"Hold On To 18"
"I'm The King"




Please log in to view RANTS

If you don't have a username, click here to create an account!