HATE
Tremendum
Napalm Records




Poland's HATE has been straddling the fence between black and death metal for more than 25 years, many of them in the shadow of better-known countrymen BEHEMOTH, with whom it shares a similar sound but a more modest audience. Tremendum is HATE's 10th full-length, which says something about the stick-to-it-iveness of the band, especially guitarist/frontman Adam "ATF Sinner" Buszko, the lone remaining original member.

The last few years have been especially trying for the band, which had enjoyed a nearly a decade of stability. But following the death of bassist S³awomir "Mortifer" Arkhangelsky, who suffered from a cardiac arrhythmia while on tour in 2013, long-serving drummer Stanis³aw "Hexen" Malanowicz left in 2014. Guitarist Konrad "Destroyer" Ramotowski followed suit in 2015. The "band" now consists of Buszko and drummer Pawe³ "Pavulon" Jaroszewicz, with second guitarist Dominik "Domin" Prykiel and bassist Pawe³ "Apeiron" Micha³owski serving as live session members.

Perhaps understandably, with fewer cooks in the kitchen, Tremendum finds HATE sounding more streamlined and focused. And that definitely works in the band's favor. Crusade: Zero from 2015 was overlong and clogged with instrumental filler, which stifled its momentum. And the title alone of 2013's Solarflesh: A Gospel Of Radiant Divinity is evidence of its overwrought air. But while Tremendum's nine tracks still clock in at a robust 45 minutes, there's no fluff or excess intro/interlude baggage.

That might explain the album's overall "blackness." The death metal aspects that are traditionally represented in HATE's bluster are largely pushed to the corners on Tremendum in favor of black metal ferocity and velocity that seems to build in each song – and over the course of the album as a whole.

The riffing is furious and tight, but with plenty of graceful flourishes and shimmer, and the drums provide a steady barrage of blast beats as Tremendum hurtles along. Though there is a definite ebb and flow, with slower sections throughout and "Sea Of Rubble" bringing some more consistent mid-tempo thump, momentum is never an issue as the album moves relentlessly forward.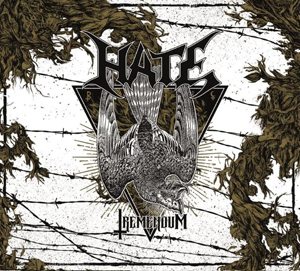 Buszko's vocals and delivery, always nearly a dead ringer for those of BEHEMOTH frontman Adam "Nergal" Darski - or vice-versa, as the case may be - are especially forceful and vehement this time around, reflecting the tone of the music. Starting with "Svarog's Mountain", they grow that much more so as things move along.
"Embrace The Flame", Buszko roars on "Into Burning Gehenna". "Praise the fire! Life-devouring god on ruins of the world. I praise the blaze!" He wraps things up on the feverish epic "Walk Through Fire" with a verse in Polish for some added brutal mystique.
As HATE channels the adversity of the last few years into Tremendum, the resulting meaner and comparatively leaner material is some of its best work in quite a while. It's a shame that turmoil and tragedy all but forced Buszko's hand here, but by refocusing HATE's approach, trimming the fat and emphasizing black metal's dark majesty and fury, he's got the band back on track from a sonic standpoint – even if the lineup situation remains fluid.
4.0 Out Of 5.0
Pick up your copy of Tremendum in the KNAC.COM More Store right HERE.