MASTERPLAN Pumpkings

By George Mihalovich, Pittsburgh Contributor
Friday, August 18, 2017 @ 1:26 PM

| | | |
| --- | --- | --- |
| | | |
MASTERPLAN
PumpKings
AFM Records




It's become fairly commonplace for artists to re-record previous material, but this practice can elicit strong feelings from detractors and fans alike. Some would argue that it stems from laziness or lack of creativity - that it's a thinly veiled ploy to generate revenue and keep product in the marketplace with minimal effort. Matters can get particularly tricky if the songs are considered "classics" and therefore viewed as untouchable (particularly when played by new band members). In some instances, these might be valid criticisms; but it's probably best to put cynicism aside and judge this kind of project objectively on its own merits. After all, the original versions will always be around to speak for themselves...

Notwithstanding these considerations, artists can have serious motivators for an undertaking of this kind. These include getting around master tape ownership,licensing rights and publishing issues with labels; improving the sonic quality of the original recordings; and the desire to complete an unrealized vision. In the case of the cleverly-titled PumpKings, MASTERPLAN guitarist and leader Roland Grapow has chosen the latter, as the disc revisits 11 songs that he wrote and recorded during his tenure in HELLOWEEN (representing the albums Pink Bubbles Go Ape, Chameleon, Master Of The Rings, The Time Of The Oath and The Dark Ride) Grapow explained: "I'm proud of the songs, but these days I'd do certain things a bit different. So it was an easy decision to re-record them with MASTERPLAN now. Our new versions of the songs are heavier definitely. It would have been pointless to just reproduce the tracks exactly as they were back then. But I feel that with our new take on it, the different vocals and overall more rough attitude, PumpKings could be an interesting thing for both MASTERPLAN and HELLOWEEN fans. However, it was great fun to revisit this very important phase of my career – like meeting old friends."

It seems that he was largely successful, as these versions don't come across as weak or rehashed. Also, despite the fact that the material spans five different records, the production, approach and performances make PumpKings a reasonably cohesive album. The supporting cast of Rick Altzi (lead vocals); Jari Kainulainen (bass); Kevin Kott (drums); and Axel Mackenrott (keyboards) deserve significant credit for making this happen - with Altzi being the standout for two reasons. First, the singer in this style of music is always a focal point, and second, it's never easy for a vocalist to cover another's material, particularly when it's the likes of Andi Deris and Michael Kiske. Altzi gives it his all here and does an admirable job of making the songs his own. Also, Grapow is spending a lot of time producing bands in his studio, and his skills are reflected on PumpKings. The guitars are crunchy; the drums are audible and present without being overbearing; and the overall mix is clear and punchy.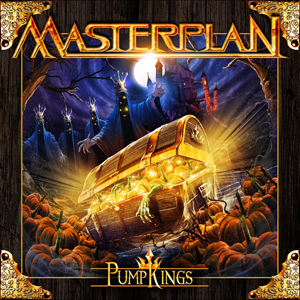 The material is stylistically consistent, energetic - and dare to say it - genre contemporary. Reference "Someone's Crying", a rapid-fire power metal number that retains a recognizable HELLOWEEN feel (more so than some of the other tracks). "Still We Go" has aggressive verses that would be at home in any MASTERPLAN composition, balanced by a thundering chorus and unexpected bass break before the solo section. "Mr. Ego" easily sounds like a MASTERPLAN bonus track, with a harmony guitar section in the middle that breaks up the heavier parts. The coda also showcases some Michael Schenker-style soloing from Grapow. "The Time Of The Oath" was likely one of the trickier ones to handle because it is a HELLOWEEN standout - but this dark and heavy song retains its epic intensity. "Take Me Home" is reminiscent of a metallized VAN HALEN shuffle and features a major key main riff, a short bass interlude and a keyboard solo after the guitar slot - all of which enhance this appropriate album closer.
By its very nature, PumpKings can't earn the marks of a new album of original material. Still, it compares favorably to releases in the harder-edged melodic metal/power metal category, and even more so alongside other albums of this ilk. It fits nicely into the MASTERPLAN discography, and simultaneously provides diversity and continuity by exhibiting some of the expected HELLOWEEN quirkiness through the filter of Grapow's current perspective. PumpKings serves to update and refresh a cross section of material that might have otherwise been largely buried and neglected in the significant HELLOWEEN discography - and stands as a solid offering until the next MASTERPLAN release.
3.9 Out Of 5.0
Grab your copy of PumpKings in the KNAC.COM More Store right HERE.