FOREIGNER, CHEAP TRICK In Houston, TX With Photos!


By Larry Petro, News Monkey
Monday, August 21, 2017 @ 10:44 AM


| | | |
| --- | --- | --- |
| | | Celebrating The Band's 40th Anniversary At The Woodlands Pavilion |
All Photos By Larry Petro/Petrofyed Photography
Ahhh, the good ol' days. Remember back in the 80s when bands like VAN HALEN, JOURNEY, REO SPEEDWAGON and STYX would play multiple shows in the major cities, all sold out? Such was the case when I last saw seminal rockers FOREIGNER, back in 1982 when the band was at the pinnacle of their career, having just released the Foreigner 4 album. The ensuing tour was a huge success, with the band being among those elite that would have to play more than one show at nearly every stop. The show I had the pleasure of seeing was one of two sold out shows to be played in Norman, Oklahoma, a suburb just south of Oklahoma City, on February 19th and 20th, 1982. For whatever reason, that would be my only exposure to FOREIGNER for the next 35 years. Indeed, the old days were here again as the band rolled into town as part of their 40th Anniversary Tour.
The band endured many ups and downs during the intervening years with the most notable being the seemingly endless revolving door of musicians. The sole remaining original member from the band's inception, the timeless guitarist Mick Jones, infused the group with new blood. The band's current lineup now contains a couple of musicians that Pure Rockers will no doubt recognize. Bassist Jeff Pilson, formerly of DOKKEN, joined the band in 2004 and not soon after in 2005, HURRICANE vocalist Kelly Hanson took over the spot upfront formerly held by the incomparable Lou Gramm, the singer behind the best FOREIGNER hits. Being familiar with HURRICANE's material, my curiosity was piqued and I had to know if Hanson was up to the task. More on that in a minute....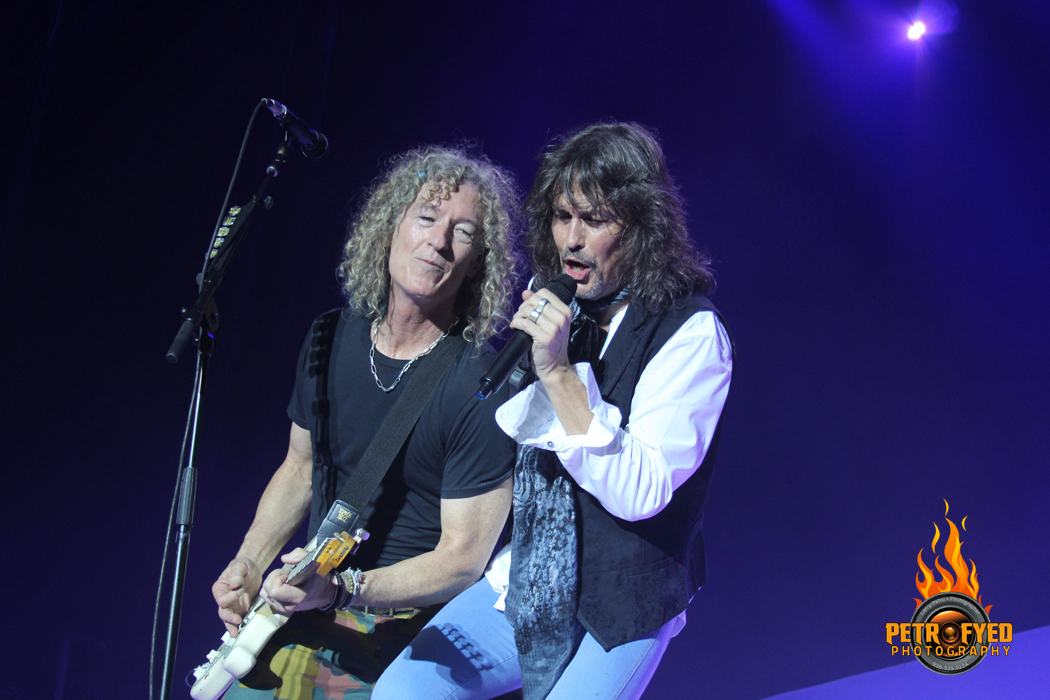 The opening act for the tour was none other than LED ZEPPELIN prodigy Jason Bonham and his new band, JASON BONHAM'S LED ZEPPELIN EXPERIENCE. As one might expect, their entire set was classic ZEPPELIN material, and though vocalist James Dylan is no Robert Plant, he definitely channeled his inner Plant to deliver a nice set of hits, starting with "Rock And Roll" and including other timeless nuggets as "Immigrant Song", "Over The Hills And Far Away", "Black Dog" and "When The Levee Breaks". A nice set to whet the appetites for what was to come.
Setlist:
"Rock And Roll"
"Black Dog"
"Over The Hills And Far Away"
"The Wanton Song"
"What Is And What Should Never Be"
"Ramble On"
"When The Levee Breaks"
"Immigrant Song"
"Whole Lotta Love"
Next up was another group celebrating 40 years since the release of its debut album, the one and only CHEAP TRICK. Unlike FOREIGNER, CHEAP TRICK, save the drummer slot currently filled by Daxx Nielson, son of guitarist Rick Nielson, is comprised of original members Nielson, vocalist Robin Zander and bassist Tom Petersson. CHEAP TRICK chooses not to rest on the laurels of yesteryear, but instead has continued to release new music, including their latest We're All Alright, which was released just a couple of months ago. The band kicked off their set on this hot Texas summer night with "Hello There" from the band's 1978 release, Cheap Trick At Budokan. The most refreshing thing about their set, on this run at least, was that the band is constantly changing up their setlist from show to show. Just a quick glance on setlist.fm for their shows just the past two weeks will reveal about 6-8 different sets, and tonight was no exception. In addition to the staples you would expect, "The Flame", "I Want You To Want Me" and "Dream Police" (during which a fan upfront held up a vinyl copy of that album that Zander took and signed while they were performing the song), the band included on this night songs like "On Top Of The World", "Stop This Game", "Surrender" and even a cover of THE VELVET UNDERGROUND's "I'm Waiting For The Man", with vocals being handled by bassist Petersson. And there was certainly something for everyone as guitarist Rick Nielson was literally throwing picks out by the handleful by their show's end.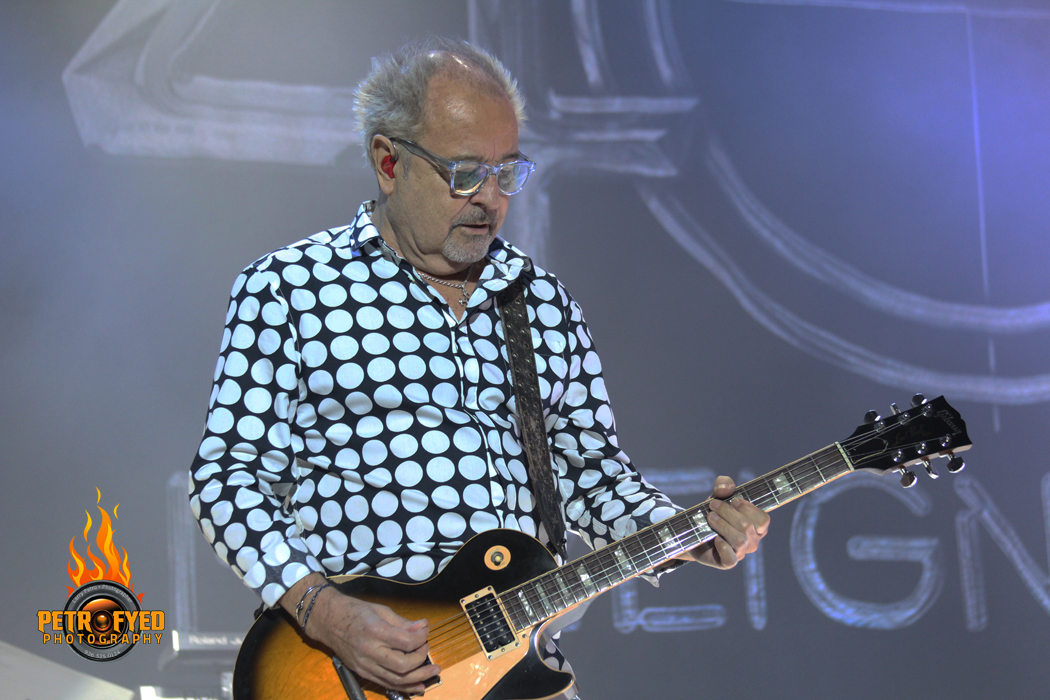 Setlist:
"Hello There"
"Come On, Come On"
"Long Time Coming"
"On Top Of The World"
"Borderline"
"You Got It Going On"
Bass Solo
"I'm Waiting For The Man" (THE VELVET UNDERGROUND Cover, Petersson On Vocals)
"Stop This Game"
"The Flame"
"I Want You To Want Me"
"Dream Police"
"Never Had A Lot To Lose"
"Surrender"
"Goodnight"
After a quick changeover, 35 years of waiting had come to an end. Any question of Kelly Hanson's ability to handle the FOREIGNER material was quickly erased as the band went for the throat (figuratively of course) with the 1-2-3 punch of "Double Vision", "Head Games" and "Cold As Ice". Hanson not only was up to the task, but it was easy to see why Mick Jones chose him for the job. Hanson has a great stage presence and though he really doesn't sound much like Gramm, he brings all heart and soul to his performance and in many ways was better than his predecessor.

It goes without saying that a tour celebrating the band's 40th anniversary would be about the hits, and that's exactly what the capacity crowd at The Woodlands Pavilion got; a set full of hits from start to finish. And though most of the song list was set in stone, vocalist Hanson gave the crowd a song choice early on. There were three songs to choose from and the crowd's response would determine which one was played. The choices were "Headknocker", "That Was Yesterday" and "Blue Morning, Blue Day", with the latter choice winning hands down. The band also included a brilliant performance of the psychedlic-tinged track "Starrider", with the ageless wonder Mick Jones taking the mic. Speaking of Jones, even though the guy is in his 70s (?!), his abilities have not dimished in the slightest. In fact, even though the song itself is just a shade under five minutes in length, the pre-encore closing number "Jukebox Hero" was stretched into a whopping eleven minutes, in large part thanks to Jones, who showcased his prowess with an extended jam during the middle. And even prior to that, Hanson started the song from an elevated pedestal near the soundboard area for the first verse/chorus before being lowered back down and escorted through the reserved sections back to the stage.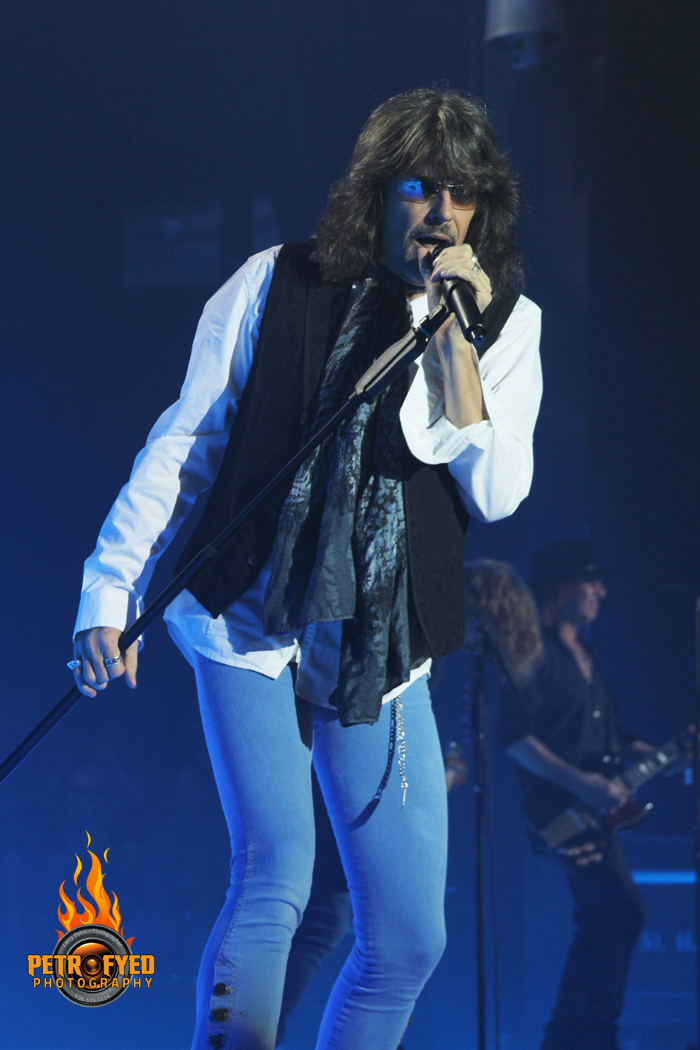 The band truly knocked it out of the park with this tour. Everything from the near full-motion lighting rigs above the stage to the limited but efficient use of pyro, to the use of a local school choir during the song "I Want To Know What Love Is", was perfect. The band was tight and having a great time, and why wouldn't they be? After all, a 40th anniversary only comes around once and in this case, is definitely cause for celebration. A must-see show for the summer!
One other thing of note was the merchandise. Now bands have been doing special Texas shirts for as long as I can remember because, you know, Texas kicks ass, but the one they had on sale for this tour was very unique and something never before seen; They had a shirt which had listed on the back every show the band has ever played in Texas, from 1977 to present! I don't purchase many concert shirts these days because of their cost, but this one could not be passed up and I have my wife to thank for our first matching shirts in the 11 years we've been together. Thanks Missy!
Setlist:
"Double Vision"
"Head Games"
"Cold As Ice"
"Waiting For A Girl Like You"
"Blue Morning, Blue Day" (Crowd Choice)
"Dirty White Boy"
"Fells Like The First Time"
"Urgent"
"Starrider"
Keyboard/Drum Solo
"Jukebox Hero"
Encore:
"I Want To Know What Love Is"
"Hot Blooded"
Be sure to catch the band as their 40th Anniversary Tour rolls on to these remaining dates:
8.23 - Albuquerque, NM - Isleta Amphitheater
8.24 - Phoenix, AZ - Ak-Chin Pavilion
8.26 - West Valley City, UT - USANA Amphitheatre
8.29 - Chula Vista, CA - Sleep Train Amphitheatre
8.30 - Los Angeles, CA - Greek Theatre
9.1 - Marysville, CA - Toyota Amphitheater
9.2 - Mountain View, CA - Shoreline Amphitheatre
9.4 - Morrison, CO - Red Rocks Amphitheatre
9.8 - Ridgefield, WA - Sunlight Supply Amphitheater
9.9 - Auburn, WA - White River Amphitheatre
Check out soome more photos from the show!
All Photos By Larry Petro/Petrofyed Photography

Please log in to view RANTS




YNGWIE J. MALMSTEEN, GLENN HUGHES In Worcester, MA With Photos!

ALICE COOPER Road

RAT ROD Four On The Floor

GIRLSCHOOL WTFortyFive?

DANKO JONES Electric Sounds

AVATAR, ORBIT CULTURE, THE NATIVE HOWL In Houston, TX With Photos!

THE DEAD DAISIES In Hollywood, CA With Photos!

KILL DEVIL HILL Seas Of Oblivion

THE DEAD DAISIES In Ottawa, Canada

MAMMOTH WVH In Santa Ana, CA

UADA Crepuscule Natura

BARONESS Stone

KAMELOT, BATTLE BEAST, XANDRIA In Houston, TX With Photos!

CRYPTOPSY As Gomorrah Burns

RAY ALDER II

GHOST, AMON AMARTH In Houston, TX With Photos!

U.D.O. Touchdown

DETHKLOK Dethalbum IV

STEVE VAI In Ottawa, Canada

PANTERA, LAMB OF GOD In Houston, TX With Photos!