METALLICA, AVENGED SEVENFOLD In Seattle, WA With Photos!


By Krishta Abruzzini, Pacific Northwest Writer
Monday, August 21, 2017 @ 10:54 AM


| | | |
| --- | --- | --- |
| | | At CenturyLink Field, 8/9/2017 |
All Photos By Krishta Abruzzini
The good, the bad and the ugly. Let me first of all say that I shoot a lot of shows. Small venues, large venues and everything in between. This was an exceptionally large show. 58k people in attendance. I've shot METALLICA a few times before. One thing that always stands out with them is their unique stage set-ups. They seem to design their stages catered to the audience, to allow better access to those not pressed up to the front row. They once had a rotating, "in the round" stage that was a photographer's dream. It was easy to capture shots from each band member with hardly having to move.
Lars Ulrich was quoted as saying, "METALLICA's new stage production is fucking crazy and overwhelming." That's no joke. The main stage is set-up over 8-feet tall with a large U shaped cascading catwalk. In the center of the "U", those that purchased "snakepit" tickets are allowed to stand to get a complete 360 degree view of the bands as they come down onto the walkway.
This is great for the audience, but a bit of a nightmare for a photographer. We were allowed access to anywhere in front of the stage and around the catwalk. 8-feet tall stages, with some members to the right of the stage, and others to the left made it pretty tricky to get a decent shot. It was tough to judge where one person might be at any given time. The catwalk was a gamble, as it was tough not knowing if one of the band members would take the trek down at any time. Thank God for large lenses! Besides getting pummeled by other photographers' backpacks, trying to also judge and capture a shot, making abrupt turns and slamming me in the head, I was able to catch a few good shots. Truly the most challenging show I've ever shot.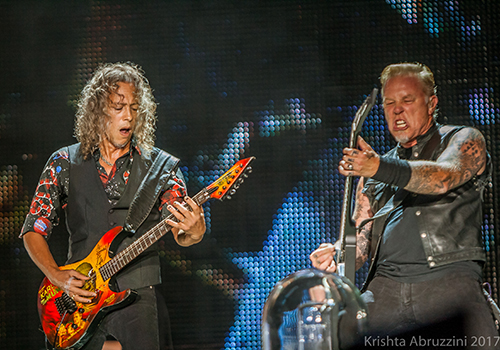 I'm typically able to shoot a show, then go to my seat and take in the show for a review. Evidently, there is a policy that photographers at this venue have to walk their camera gear out to their car, then make their way back to see the show. Parking for this venue is about a half-a-mile away. By the time I walked to my car and back, the show would be nearly over. I was already feeling pretty raped by the $50 Parking fee, but to try that trek after shooting and miss most of the show, seemed really unreasonable. Fortunately for me, I found out that three members of Portland, Oregon's own METALLICA tribute band, MOTORBREATH were in attendance. Who better to give an accurate review than three guys that know METALLICA note for note, and breathe in everything about the band.
Singer for MOTORBREATH, Kevin Staley says, "Hetfield was amazing. The band was as well. I might have heard a couple of drum bumps, but nothing to complain about. They played the songs like they wrote them all!" [laughs] "I loved it from beginning to end!"
Drummer for MOTORBREATH, Joe Spencer says, "The production was on fire! If I had it to say, it's Hetfield's show these days. He's such a rock and so comfortable and capable. Everything else falls in line behind that. It's a tightly run show, from GOJIRA until the end credits. That's very, very, very cool. Everything that could be bad should be taken with a grain of salt that balances out. Ticket prices paid for increible production, the band played all the great hits and included 5-new tunes. Lars played great. From a tribute drummer point of view, I wish he would clean up the kick drums on "One", because that's drumming gospel. The songs were at a great live tempo and not rushed or dragging. As an avid fan since I was 10, I've seen METALLICA and been on the gate 5 of the 7 times I've seen them. The show was the first night I took my wife and daughter and had an experience equal to meeting them as I sat in the back of the venue observing from the seats. Being able to have a family experience equal to one of the highest points of my life is remarkable. They provided an atmosphere that was safe to become rambunctious without being violent. It literally was the best of both worlds. THey're my favorite band by far. It's always the Church of METALLICA for me."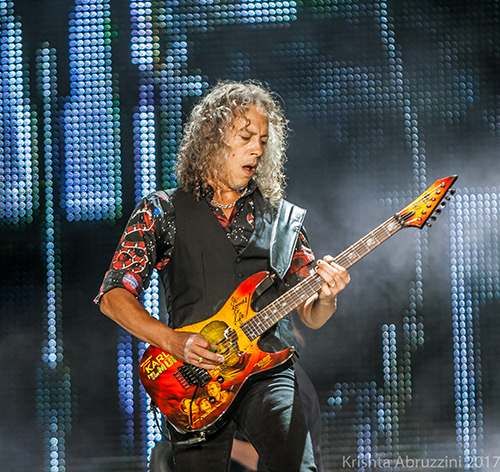 Bass player, Mark Trees of MOTORBREATH says of the show, "It was an experience. First, I've never seen a production like that. I'll throw a 'You had to see it to believe it', at that. The set list was solid. But, no matter what they play or don't play, there's always going to be a complaint because their catalog is huge. Something is always going to get left out. Performance wise, there were a few bumps, and if we caught them it was probably because we know a lot of the songs they played backwards and forwards. And hell, it's a live show, it's not supposed to be perfect. That's part of the human element. James was THE MAN! His voice sounded better than I've ever heard it live. And I've seen them six times now. Robert Trujillo is my fave bass player, so of course I was glued to him (or at least the screen when he was on it). The tribute to Cliff (Burton) was awesome. It got a bit emotional at times for me, METALLICA played a huge part in my life musically, and of course still are because of the tribute thing. During a couple songs, I had the tears in the eyes and the lump in throat. It was a great, great night. Maybe the biggest thing was that the vibe of the show was just so positive. Everybody was having a great time, we met a lot of people. People were walking past me giving me high-fives and we didn't have any problems or even see any. I don't know if the word 'uplifting' is a word you'd want to use, but that's the best one I could come up with. It was just an uplifting, happy experience."
Mark Trees' wife Teffany chimes in, "I might tease Kevin Staley (singer) to work on his biceps, and for Mark to grow some braids, but it was an awesome show! I cried through "One" like a baby! The video on the screen was powerful and made the meaning behind that song hit home hard! Overall the night was stellar with lots of positive energy and good vibes!"
SETLIST:
"Hardwired"
"Atlas, Rise!"
"For Whom The Bell Tolls"
"The Memory Remains"
"The Unforgiven"
"Now That We're Dead"
"Moth Into Flame"
"Wherever I May Roam"
"Halo On Fire"
"Whiplash"
"Sad but True"
"One"
"Master Of Puppets"
"Fade To Black"
"Seek & Destroy"
Encore:
"Battery"
"Nothing Else Matters"
"Enter Sandman"
For more info on METALLICA, visit: www.metallica.com
For info on MOTORBREATH, visit: www.facebook.com/motorbreathNW

Check out some more photos from the show!
All Photos By Krishta Abruzzini




Please log in to view RANTS

If you don't have a username, click here to create an account!