SEETHER
Poison The Parish
Canine Riot




South African rock band SEETHER released Poison the Parish in May. This is a darker album and the first single released, "Let You Down" will attest to this . The video has a dark mysterious aspect to it and the music is emotionally charged. Vocalist Shaun Morgan said "I think it's probably something heavier than we've done in a while. There's more of a return to the sound we had on the first few albums and I know that people wanted that." SEETHER fans are getting what they want from their 8th studio album.

Recorded at Blackbird Studios in Nashville and produced by Shaun Morgan as well, after months in the studio the band put together 46 minutes of a Rock album. The band had to deal with directions the label wanted them to go in, a more alternative sound which they did not want. This album has heavy guitars and heavy drums but less keyboard and strings. Plain and simple, this album is heavy rock.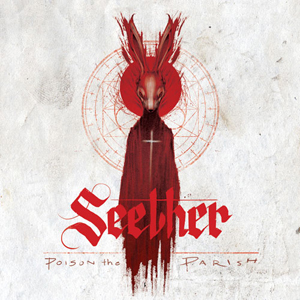 Band members Shaun Morgan-lead vocals and guitar, Dale Stewart-bass, background vocals and acoustic guitar, John Humphrey-drums and touring with them is Clint Lowery (SEVENDUST)-lead guitar and back vocals have all maintained the integrity of this album regardless of the record companies wanting them to have had a more radio-friendly sound. Fans wanted something different and that's what these guys are giving them.
This album has charted #14 on US Billboard 200 and seems to be rising due to tour support. They will be touring in Texas starting August 20th and will continue with two more Texas dates before heading to New Mexico and ending their US dates on Freemont Street in Las Vegas Aug. 26th, then off to Russia. You can log onto Seether.com and look at the VIP packages they have put together for this tour and album. Most of the US Dates are sold out. Get your tickets ASAP.
4.0 Out Of 5.0
Pick up a copy of Poison the Parish in the KNAC.COM More Store right HERE.