MICHAEL SCHENKER Michael Schenker Fest Live, Toyko International Forum Hall A


By Shelly Harris, Chicago Contributor
Tuesday, August 22, 2017 @ 12:57 AM


| | | |
| --- | --- | --- |
| | | |
MICHAEL SCHENKER
Michael Schenker Fest Live, Toyko International Forum Hall A
Inakustic, 2017
118 mins.




This live DVD recording of a "Michael Schenker Fest" event last August of 2016 is an excellent advertisement for what Schenker aficionados can expect in a much more extensive tour schedule for the special project, in Europe and in the U.S., that will commence shortly and extend into Summer of 2018. (The full Michael Schenker Fest tour kicks off full-on in Japan in October, then in Europe, before hitting Canada and the US beginning in March.)

The Michael Schenker Fest itself began as a rather impromtu one-off gig at Sweden Rock 2016 that featured all three of the predominant vocalists for Schenker's various 80s era incarnations of MSG (singers Gary Barden, Robin McAuley, and Graham Bonnet, along with past band members Chris Glen, Ted McKenna, and Steve Mann). It expanded, as Schenker told me in early February, when he subsequently "had an offer, from a promoter in Japan, to headline one of the two nights at the Loud Park Festival with 50,000 people"

In fact, Schenker was so keen to do a live DVD of the gig that he initially self-funded the project, stating: "I pre-financed the whole thing, because nobody would have done it. I didn't care, I just knew I had to do it. I hired a cameraman, as well, for the behind the scenes footage, and photographers, and put the whole thing together, and it turned out really, really good."

After viewing and listening to Michael Schenker Fest Live, it is clear that Schenker's enthusiasm is justified. Looking healthier and happier onstage than ever before, Schenker is authentically radiant and ebullient throughout the whole set, and the improv he does on the classic numbers goes beyond the best performances I've ever witnessed him do (and there have been many over the years). You WILL get goosebumps on new incarnations of the solos on "Rock Bottom", "Coast To Coast", "Doctor Doctor" and more.

The sound and visual quality is excellent (a crew of Japanese professionals was responsible for that aspect) and the trio of singers, who have been largely out of the limelight in the U.S. for the past 20 or so years, appeared to pick up where they left off in terms of vocal range and stage presence. There's no question that they were overjoyed to be there, based on the body language, and, as Graham Bonnet (who had never performed live some of the songs he had sung on Assault Attack live with MSG) elaborated on this show in a KNAC.COM interview in March, "Oh, it was good! It was great, yeah! I haven't played any of those songs live, ever with him. There was just the album and I was fired from the band"

At the beginning of the packed gig, the Toyko audience, always a tremendous fan base for Schenker, and primarily of the age to be classic MSG fans, were rather reserved as he came out onstage beneath a giant visual of Schenker himself in a verison of his classic Flying V pose. But, as he smilingly (but needlessly) introduced himself saying, "For the newcomers, I am Michael Schenker," and launched into the intrumentals "Searching For Freedom" and "Into The Area", the crowd were on their feet and reaching out to the band members, including the now-outgoing Schenker, who made time for slaps in between finely honed and well-rehearsed numbers.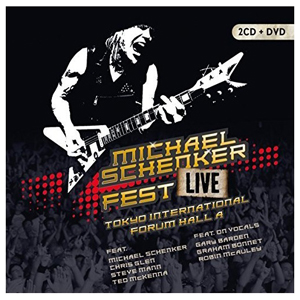 After the intoduction songs, Gary Barden was the first to pop out for renditions of "Attack Of The Mad Axeman", "Victim Of Illusion", "Cry For The Nations", "Let Sleeping Dogs Lie" and "Armed And Ready". Following that was the always sublime instrumental, "Coast To Coast" (which does give Rudolf Schenker solo compostion credits on the sleeve, noting that Michael had given his version of the credit to Rudolf as a gift).
Graham Bonnet then emerges with a roar on those great songs he never got to sing before live, i.e., "Assault Attack", "Desert Song" and "Dancer" - with back up vocals from Barden and McAuley - followed by Schenker's signature soloing on "Captain Nemo".
At this point all the MCAULEY/SCHENKER GROUP standouts such as "This Is My Heart", "Save Yourself" and "Love Is Not a Game" are presented with McAuley fronting, before the entire band and all vocalist segue into the mandatory UFO numbers "Shoot Shoot", "Rock Bottom" and "Doctor, Doctor".
On the inner sleeve, Schenker notes that making this recording was "a perfect, enjoyable gift that we all are grateful for." Certainly true, but, in addition, viewing and listening to this disc, plus its extras, makes the anticipation for the upcoming Schenker Fest tour in America even more palpable. It is Maestro Schenker at his best, with musical company to match. For that reason alone, it is a must have for anyone who has been a fan of any stage of Schenker's career.
4.5 Out Of 5.0
Grab a copy of Michael Schenker Fest Live, Toyko International Forum Hall A in the KNAC.COM More Store right HERE.

Please log in to view RANTS