Ottawa's Brass Monkey once more shakes its cage with the biggest names in rock. If not for the hospitality and the professionalism - both of which they deliver in massive amounts - then it's got to be for the awesome food at the nearby Salute's Italian Kitchen restaurant. You know your venue's a success when Brian Tatler of DIAMOND HEAD proclaims your joint to be "how a proper venue is run" and then raves about the menu's lasagna and gnocchi.

Luckily I'd been going back for seconds and even thirds at the Monkey for some time myself as I got to catch the second of Blaze Bayley's three-part trilogy which had started with last year's Infinite Entanglement and continuing on with Endure And Survive.

And speaking of endurance, let's see how the three opening bands fared well against the headliner!

First up was local band BEYOND DRIVEN who specialized in some decent cover tunes - thankfully not the hella-overplayed "classics" either. Fronted by powerful vocalist Erin Davis, known as much for her flashing runners and Ride The Lightning tank top as she is for her singing, the quartet tore through a modest 25-minute long setlist. "Panama", "Round And Round", "Whole Lotta Rosie", "Man In The Box", "Hair Of The Dog", "Welcome To The Jungle"....true, the playlist sounds like that one Back In The Day episode when The Rack got really ambitious and chose the songs randomly with her feet, but BEYOND DRIVEN rocked those songs with enough conviction to warm up the crowd. And there's enough talent and ambition for BEYOND DRIVEN to eventually progress beyond covers and make that leap towards writing their own songs - preferably those with a heavy ALICE IN CHAINS influence according to Erin herself when I chatted with her after their set. After all, what big name band hadn't started their path to stardom playing covers in the club circuit? Maybe it wasn't a coincidence that Erin wore her METALLICA T-shirt during their set then.....

https://www.facebook.com/BeyondDriven819/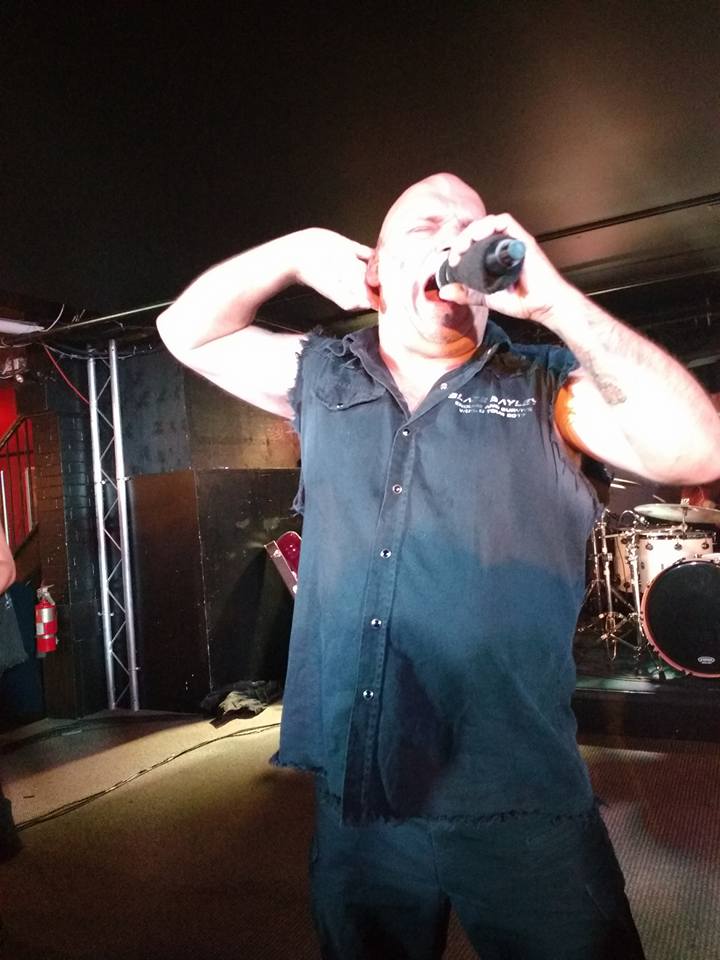 HELLBOUND are the next local band with the obligatory PANTERA reference in their name to take the stage. And they actually have a similar sound though frontman/rhythm guitarist Adam also goes for more of a Woody Weatherman-style voice on some of the band's newly-debuted material such as "Declaration". Their self-described beer drinking groove metal goes down pretty well with the growing crowd as they plow through their 40-minute set with heavy-hitting songs such as "Slam!", "Two Prong" and "Despise". Their most stand-out song from their setlist would be a five-minute long number titled "Sin" which showcases some tight riffing and solo exchanges between Adam and lead guitarist Corey Bakhuzen. Otherwise, as far beyond driven as their music and enthusiasm are, what HELLBOUND could really use to display their power further would be more studio updates and maybe an EP of their work to date.
https://www.facebook.com/HELLBOUND666
Has it really been the fourth time I've seen co-headliners RUSTED on a major bill thus far? Since their tour with Stephen Pearcy last year, the Montreal-based quintet have been keeping busy lately, with a live album Live Wild N' Free already released, a new song titled "Last Stand" that was debuted during their performance and yet another European tour they'd just arrived back from (including more dates in Spain, Portugal and Italy). And that's when they've got time off from their day jobs (guitarist Tom Daigle and bassist Mark-Andre "Mark Shark" Chartier work at CBC Montreal's music production department). Their setlist hadn't otherwise changed very much but RUSTED still put on a high-energy performance when they hammer out songs such as "Restless Gypsies", "Partners In Crime" and closing number "Young Wild And Free". Once their current touring schedule ends, the band will be back in the studio to record their fourth album. Don't expect these gypsies to be resting any time soon.
https://www.facebook.com/rustedrock/
http://rusted.believeband.com/
All fired up and ready to unleash the sounds of the second part of the Infinite Entanglement trilogy, Blaze Bayley and his new band - Chris Appleton (guitar & backing vocals), Martin McNee (drums) and Karl Schramm (bass & backing vocals) - bring their new opus to life with the crashing power chords of the title track of the new album Endure And Survive. Brimming with confidence and passion, Blaze is a consummate performer who connects with his audience and never lets up throughout his nearly 2-hour set.
His setlist is comprised of mostly new songs from Endure And Survive (including "Escape Velocity", "Fight Back" and "Blood") as well as previous solo material and five IRON MAIDEN songs (including the anthemic "The Clansman" which he stretches out to at least 10 minutes). The crowd screams until the front row alone are almost completely hoarse, but Blaze saves a special treat for us at the near-end of the concert: A killer version of "Man Hunt" from his original band WOLFSBANE. In true storytelling form, Blaze Bayley brings the Brass Monkey crowd up to date with the band's history prior to his time with IRON MAIDEN. WOLFSBANE, he revealed, had been mentioned in Dave Grohl's Sound City as being "quite possibly the loudest and worst-sounding band" he'd heard in the studio when the-then NIRVANA drummer and his bandmates were cutting Nevermind nearby. Yet, NIRVANA had never written a song such as "Man Hunt" which Blaze had touted as "being the most fun and cool song you'll ever sing with your friends". For further proof, they blasted out a fast yet very extended version of the song which included Martin McNee getting a case of happy feet and playing what had to be the longest - and totally staged - drum solo in history. I shit you not about its length; Karl the bassist was actually at the bar ordering a round for his bandmates 5 minutes in. Don't get me wrong; Martin is a beast on the kit but the rest of Blaze's band were absolutely in on the lengthy drum solo joke and it didn't take long for the audience to clue in either. "Endure and survive this drum solo!" was what I remember joking with Karl himself as we both stood in awe at Martin's tireless performance. And the rest of the band weren't any slouch either during this banger of a song; Karl and guitarist Chris were practically elbowing each other out of the way to mug for the view of the front stage, only for them to be intimidated by Blaze himself as he bellowed out the tune without skipping a beat while providing a decent block and tackle. You won't get a performance like this from "Despacito" or "Look At What You Made Me Do" or especially "Smells Like Teen Spirit".
Say what you will about Blaze Bayley's role as IRON MAIDEN's #3 man during the course of their career during the middle half of the 90's, but long after Bruce Dickinson reclaimed his role back in the band, Blaze still continues to stoke the inner fire of his fans with his tireless devotion to them - including the one who was able to provide another review from his continuing world tour. Long may his legacy and his bonding friendship with his fans endure and survive.
With special thanks to Skotti and Dion and the rest of the folks at the Brass Monkey for organizing this show, to Chip from Blaze's PR crew with getting me into the show and also to Salute Italian Kitchen & Wine Bar for providing me with the fuel to endure and survive the show and the bike ride home in the rain afterwards.
https://www.facebook.com/officialblazebayley/
http://www.blazebayley.net/
https://www.facebook.com/Saluteottawa/
http://www.saluteitaliankitchen.com/
(If an Italian restaurant is approved by the members of DIAMOND HEAD, you can bet that their homepage will be included on this review)
Setlist:
"Endure And Survive"
"Escape Velocity"
"Futureal" (IRON MAIDEN)
"Blood"
"Silicone Messiah"
"Fight Back"
"Virus" (IRON MAIDEN)
"Calling You Home"
"Stare At The Sun"
"The Clansman" (IRON MAIDEN)
"Man Hunt" (WOLFSBANE)
"Man On The Edge" (IRON MAIDEN)
"Dark Energy 256"
"Lord Of The Flies" (IRON MAIDEN)
"A Thousand Years"