Photos By Andrew Depedro
I may have baloneyed my chance last year of having seen these legendary NWOBHM stalwarts at the Brass Monkey last year, missing out on a pizza the action - and actual pizza - and with only a status update and a photo of the band members at the nearby Salute Italian restaurant chowing down on what they'd described as "some of the best food we'd ever tasted" to remember their first Ottawa show by.
Luckily, they'd enjoyed their first Ottawa show so much that they decided to return. While not at the Brass Monkey this time around, it was at least closer for me to catch the show. In fact, I'd even arrived earlier than a few of the bands, including the aforementioned headliners, thus allowing me to report on the opening bands.
Starting off the show would be local thrashers DOMINATION featuring frontman Zac Murray back at one of his regular day jobs outside of the approximately two dozen or so other side projects he's with. The man is literally a haircut and a pinball arcade-themed perogie restaurant away from becoming the next Paul Granger if he takes up any more side projects in the local scene. Luckily, he's also just as focused and driven on his main band as they blast their way through most of their debut album Unholy Lands. It doesn't take long for these cats to create a moshpit as the tight power chords and Zac's savage screams that comprise songs such as "Cataclysmic Capitalism", "God Is To Blame" and a killer version of "Raining Blood" warm up the floor. With their debut album tucked under their bullet belts and a previous session opening for Blaze Bayley last year to brag about, expect DOMINATION to further own this year as much as they did the last one.
https://www.facebook.com/dominationbandcanada/
https://itunes.apple.com/us/album/unholy-lands/id1150306124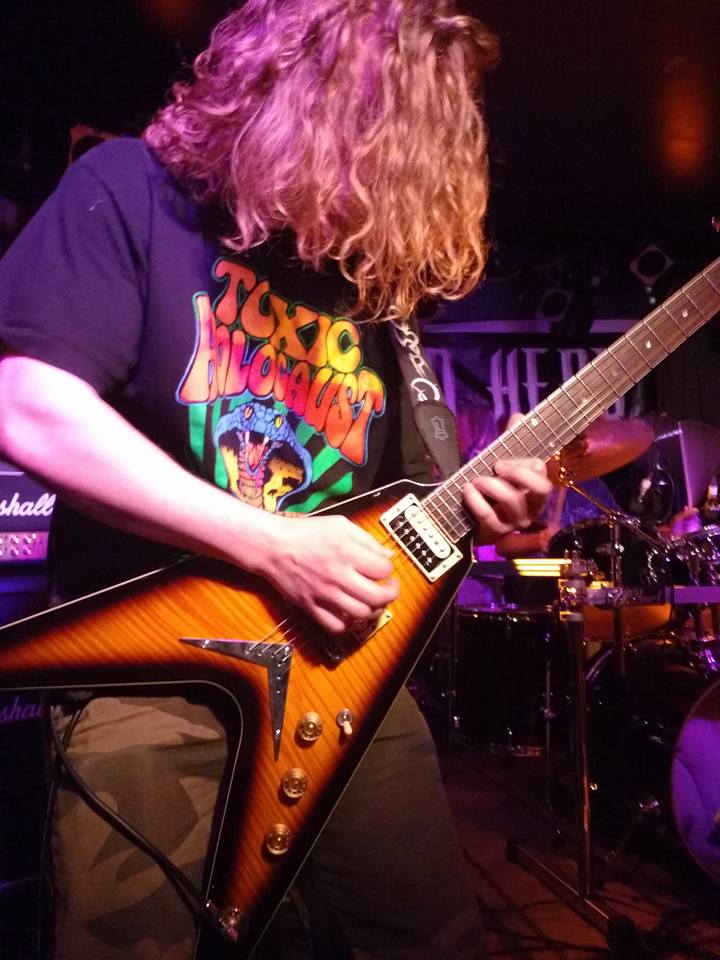 EXO-VEDATE make another triumphant return to Mavericks since their January show opening for ANNIHILATOR and proceed to flog the crowd senseless with songs about mythology ("Pyramid Of The Apocalypse"), fictitious 18-wheelers with goblin heads ("Maximum Overdrive") and intergalactic impact-is-imminent lightning crashes ("Cosmic Collision") all with a high volume of the no-holds-barred thrash/death hybrid that they do so well. That said, the time is ripe for these guys to get a new album out yesterday as Pyramid.... alone is close to a year old since it was debuted back in January and their self-titled EP (produced by Topon Das of FUCK THE FACTS) has been out since April. The surprise guest additions on many anticipated tours are cool and all but now is the time for the fans to get exo-cited over some new material from this metal quintet.
https://www.facebook.com/ExoVedate/
https://exo-vedate.bandcamp.com/releases
I have to be honest at this point in the review here in that despite the solid performances of the first two bands, it would really be the howling metal antics of Ottawa's favorite Skyrim-inspired guardians of the true known as LYCANTHRO that kept the show interesting. That, and also running into Norm and Jay from my local H3 kennel in between bar trips who were really at the show for the headliners. Luckily, the quartet comprised of James Delbridge (guitars/vocals), David Shute (guitars), Nathan Shuman (drums) and Kyle Dube (bass) did their best in making new fans of the two as they powered up the metal, turned on the thrash and rocked the charm. And while they ditched their former band moniker (formerly known as DEATH WISH), they still kept their back catalogue of songs such as "Into Oblivion", "In Metal We Trust", "The Raven" and "Break Through The Fire" from their debut EP. They also played their new JUDAS PRIEST-inspired song "Enchantress" for the masses who'd missed their prior set opening for ANVIL, prompting James to don his treasured Rob Halford cap for the rest of their set. His famed leap into the crowd during the finale of "Ride The Dragon" also took Norm and Jay by a pleasant surprise - as much for the whole element of surprise as for the fact that they didn't spill their beer during the six-stringed rampage. This would also prove to be the last show for Kyle as the bassist would be moving on to future endeavors as he took over the vocals briefly during "Ride The Dragon" and improvised with a brief bass solo. Truly a headbanging and heartwarming event for everyone involved. Which begged the question for me anyways: Where the hell were those guys during my two-year stint at Algonquin College when they played at the Music Industry Arts grad party while my graduation class got stuck with one of our alumni warbling out the hits from ADELE's second album?
http://www.lycanthro.ca/
https://www.facebook.com/Lycanthrokills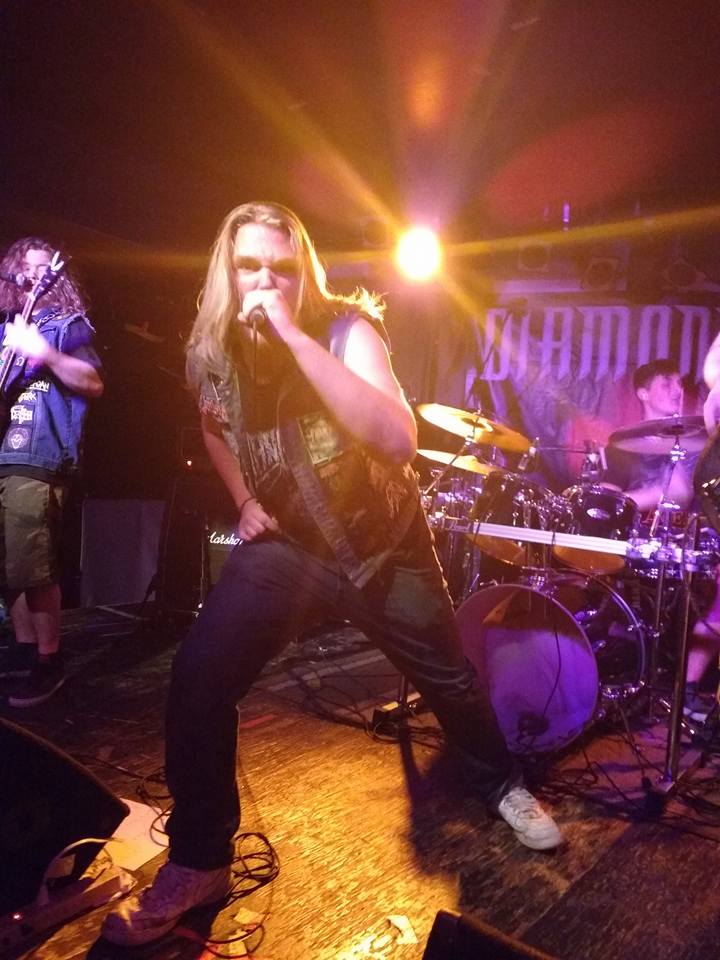 The atmosphere is set, the crowd is wound up tight, and even if the pizza at the restaurant next door ain't no Salute's, DIAMOND HEAD are eager to make their second visit to Ottawa as equally if not more legendary as their first. Throughout their 40+ year career, the legendary New Wave Of British Heavy Metal band have weathered several lineup changes, with founder/guitarist Brian Tatler being its most present and consistent member. Their current lineup featured Tatler, drummer Karl Wilcox, bassist Dean Ashton and Danish-born singer Rasmus Bom Andersen, all of whom have been crucial to keeping the band's legacy alive with recording new music, most notably their latest self-titled album released last year. Granted, the album itself made a scarce appearance in the setlist in the form of the song "Bones" but otherwise it was the classic numbers such as "Sucking My Love", "Lightning To The Nations", "It's Electric", "Helpless" and "Am I Evil?" that the audience were drawn to. And the band didn't disappoint while keeping a foot each firmly planted in both the past and present.
Kicking off their set with "Play It Loud" - a bonus song that was originally released on the double A-side single "Waited Too Long" following the release of Lightning To The Nations - DIAMOND HEAD continued to do precisely that for the next 70 minutes. Rasmus may not have been around during the early incarnation of the band but goddamn if he wasn't singing those classics with the same energy and fire of original vocalist Sean Harris. Plus the chemistry between him and Brian Tatler was definitely solid and completely energized the vibe of the performance in many parts. Chances are that both Rasmus as well as Tatler were amazed at how well the crowd not only responded to both the best-known DH songs and the lesser-known gems such as "Borrowed Time" and "Shoot Out The Lights" but even knew the words to most of the songs as well. Tatler had the extra task of handling both lead and rhythm parts throughout the show, but even with the odd mugging for the camera - mostly during my camera shots - during his performance, he never missed a beat.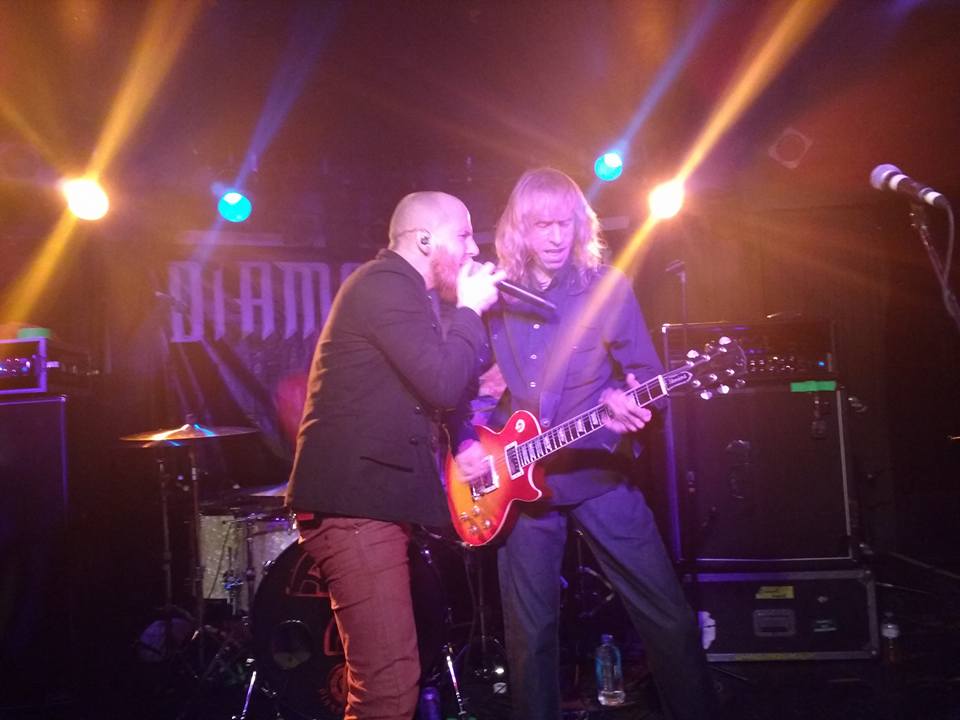 Definite highlights of the evening also included some awesome extended versions of "The Prince", "It's Electric", "Helpless" and "Am I Evil?", mostly because I've heard the METALLICA versions so often at this point that it was refreshing to hear the original take on them. Dave Brockie's godson who was hanging out with me during their set also agreed with me on that sentiment. I shit you not: The distant offspring of the late great Oderus fucking Urungus a.k.a. Full Metal Jackie's Other Favorite Canadian From Ottawa was not only chillin' with me during DH's set but he even approached me first. We mostly chatted about music in between and how Godfather Scumdog expanded his musical universe with the best of extreme metal. I was enlightened not only of his musical knowledge at such a young age but also of knowing that Nergal of BEHEMOTH has a Facebook account. Now if only my similar conversation with Brian Tatler after the concert had consisted of more than just "thanks for your musical inspiration and for recommending the best bolognese in town!". He was gracious enough to take a photo with me afterwards though, probably finding the brief conversation bemusing or maybe because I thought I mistook him for Gordon Ramsey. Lord knows I felt like putting two slices of bread between my ears and calling myself an idiot sandwich afterwards for taking up five minutes of a NWOBHM legend's time to chat about food but maybe he's dealt with enough adolescent Lars Ulrich types throughout his career to finally have a normal conversation with his fans. Just pure speculation on my part here.
Otherwise, what are the odds that both DIAMOND HEAD and METALLICA both have current band members hailing from Denmark? I had to throw that in there.
Thanks for the devastating show and lightning and lasagna to the nations and beyond, gentlemen!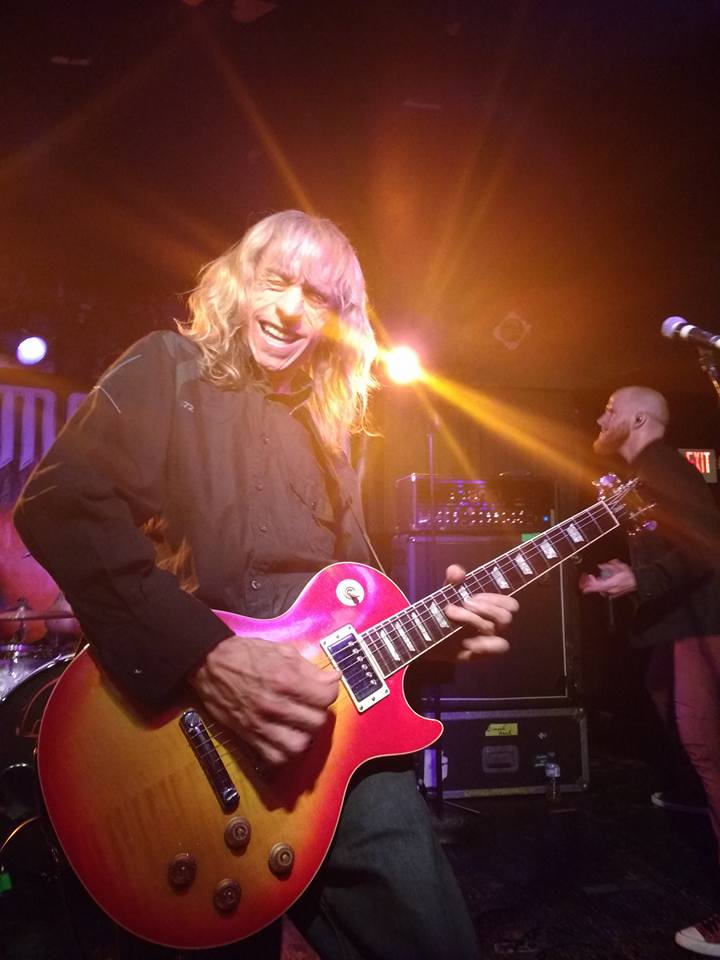 And a big thanks to Mavericks for getting this show closer to downtown as well.
Setlist:
"Play It Loud"
"Lightning To The Nations"
"Bones"
"Borrowed Time"
"In The Heat Of The Night"
"Shoot Out The Lights"
"Sweet And Innocent"
"The Prince"
"It's Electric"
"Helpless"
"Am I Evil?"
Encore: https://www.facebook.com/DiamondHeadofficial
https://www.diamondheadofficial.com/