ACT OF DEFIANCE Old Scars, New Wounds


By Alex Yarborough, Orlando Contributor
Thursday, October 12, 2017 @ 1:09 PM


| | | |
| --- | --- | --- |
| | | |
ACT OF DEFIANCE
Old Scars, New Wounds
2017 Metal Blade Records




ACT OF DEFIANCE released their debut album two years ago, and has followed it up with this worthy sophomore release called Old Scars, New Wounds. The lineup is the same as the debut and features: guitarist Chris Broderick (MEGADETH, JAG PANZER, NEVERMORE), drummer Shawn Drover (MEGADETH, EIDOLON), vocalist Henry Derek (THROWN INTO EXILE, SCAR THE MARTYR), and Matt Bachand (SHADOW'S FALL) on bass.

The debut album Birth And The Burial was written entirely by Broderick and Drover, but the songs on Old Scars, New Wounds were all composed as a group effort. They tackle real life subjects such as hardcore drug use, anger, the media, communication, propaganda, and staying true to who you are. The album begins with the defiant first single, "M.I.A." (Misinformation Age), which features a mix of growled and clean vocals from Derek, who rails about the news media. "Molten Core" is a blistering attack, with monster riffing from Broderick and driving double bass from Drover. "Overexposure" is an anthem dedicated to not selling out and features nice amounts of melody and groove. Broderick's solo here is a nice touch. The video for the song can be viewed on KNAC.COM HERE.

The longest track, "The Talisman", features acoustic guitar that segues the mid-tempo stomp and speedier solo sections. "Lullaby Of Vengeance" is as angry a tune as I hoped it would be. Broderick lays down a contrasting solo here that is interesting. I like "Circle Of Ashes" a lot; Henry Derek stretches from harmony, to death, to hardcore and back to harmony vocals again effortlessly, adding to the effectiveness. "Reborn" is a solid old school thrash style track.

"Conspiracy Of The Gods" is a favorite track on the album. It has enough aggression and fantastic riffing and solos to keep the listener engaged throughout. This song is also where the album title comes from. "Another Killing Spree" addresses hardcore drug use and "Broken Dialect" acknowledges the lack of communication due to differences in today's political climate. Check out the solo Broderick unleashes at the opening of this song. "Rise Of Rebellion" closes the album by taking a step back, with an intriguing intro and time signature.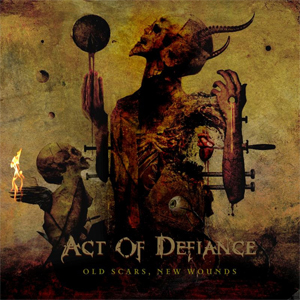 Old Scars, New Wounds sounds a lot like the debut album, but with a little more diversity. The album is a good mix of influence from old and new schools of thrash/death metal bands like TESTAMENT, ANTHRAX, TRIVIUM, MEGADETH, ARCH ENEMY, IN FLAMES and others. Regarding the solos, Broderick said that he tried to tone down the technicality of them, but ended up doing the opposite instead. I like this album a lot. I will admit that there isn't a song here to usurp "Throwback" as my favorite AOD song, however. Like I said in my review for Birth And The Burial, the vocals could divide fans. You're either going to love or hate Henry's vocals. That's OK, everything isn't meant for everyone. I think if you were a fan of the debut, you're going to like this album as well.
If you haven't heard ACT OF DEFIANCE yet, check this album out. Old Scars, New Wounds has 11 songs at a total time of 49 minutes. TRAVIS SMITH again meticulously crafted the album cover. For vinyl fans, the album will also be released on 180g black, auburn and golden vinyl as well.
4.5 Out Of 5.0
Grab a copy of Old Scars, New Wounds in the KNAC.COM More Store right HERE.

Please log in to view RANTS