For The Sake Of Heaviness – The History Of Metal Blade Records


By Alex Yarborough, Orlando Contributor
Tuesday, October 24, 2017 @ 12:49 AM


| | | |
| --- | --- | --- |
| | | |
For The Sake Of Heaviness – The History Of Metal Blade Records
By Brian Slagel With Mark Eglinton
2017 Metal Blade Records/BMG Publishing




The story of Metal Blade Records is really the story of BRIAN SLAGEL, a living legend in the annals of heavy metal music. He is the founder of the most important American heavy metal label, Metal Blade Records. It is the story of a homegrown business, quite literally born in his childhood home basement. FOR THE SAKE OF HEAVINESS is Brian's testament on how he signed and worked with the bands appearing on his label over the past 35 years.

Brian grew up near Los Angeles and was introduced to heavy metal at age 11 when he heard DEEP PURPLE's Machine Head and BLACK SABBATH's Sabbath Bloody Sabbath. This "metal awakening" guided Brian towards music and the Southern California heavy metal scene. Soon afterward, he was determined to release a compilation of these bands to get them more exposure. In 1982, Brian started releasing Metal Massacre compilations featuring unsigned bands such as STEELER, BITCH, MALICE, RATT, CIRITH UNGOL and METALLICA, among others. Bands like ARMORED SAINT, BLACK 'N BLUE, OBSESSION, SAVAGE GRACE, OVERKILL, WARLORD, SLAYER, VIRGIN STEELE, TROUBLE, LIZZY BORDEN, OMEN, FATES WARNING and many more followed soon afterward. MOTLEY CRUE would have undoubtedly been a part of one of those early collections, if not for the fact that they had the funds to cut an entire LP themselves (Too Fast For Love).

The book opens with a forward by LARS ULRICH, who praises Slagel as "the true vanguard of heavy metal" and possessing the "rare combination of authority and fan, mixed with just the right combination of street smarts, and enough of a business sense to make it all function without ever losing its vital roots and his authenticity". High praise, and rightfully so, as Slagel promised Ulrich a slot on the first Metal Massacre release for his fictional future band, based solely on the fact that Lars was a SAXON fan and knew about the NWOBHM.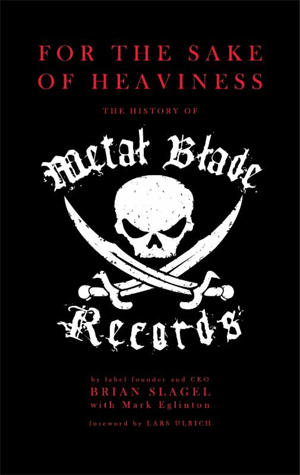 There are several interviews scattered throughout the book, with band members such as James Hetfield (who speaks about "Hit The Lights" on the first Metal Massacre) and Joey Vera (of ARMORED SAINT and FATES WARNING) who provides some commentary on working with Brian and Metal Blade through the years. You'll read about how Brian helped SLAYER get started with the Show No Mercy album, recommended both Cliff Burton and Jason Newsted to METALLICA, and how he helped TROUBLE record their first album in L.A. instead of their hometown of Chicago. Brian mentions how he tried to sign many bands that eventually got away, like ANTHRAX, OVERKILL, MEGADETH and METAL CHURCH. There's information about Brian's partnership with European labels and dealings with Warner Brothers. Metal Blade got into the re-issuing business with iconic bands like THIN LIZZY and ALICE COOPER. This relationship even garnered Alice gold record status finally for the Muscle Of Love album. There's history about the signings of GOO GOO DOLLS, CANNIBAL CORPSE and GWAR in 1989 and 1990, and Brian's extensive involvement with the recording of the ARMORED SAINT classic Symbol Of Salvation, (for which I will personally be forever grateful).
There are loads of quotes and mini-interviews with band members like John Bush, Lizzy Borden, Brad Roberts, Alex Webster, producer Bill Metoyer, Kerry King and many more. You'll learn about Brian's friendships with King Diamond, chef Chris Santos (of TV's Chopped) and comedians Jim Florentine, Don Jamieson and Jim Breuer. Brian remembers how CANNIBAL CORPSE came to be featured in the Jim Carrey movie Ace Ventura: Pet Detective. You'll also read about how Brian found and later signed THE BLACK DAHLIA MURDER while randomly surfing Myspace (remember that site?) one day. Truly, Brian Slagel is the ultimate heavy metal fan running the ultimate heavy metal label. This book is for anybody like me, who remembers the glory days of metal – the 1980s, and not only bought albums, CDs and cassettes by Metal Blade bands, but even ordered through their mail order. You'll devour this book quickly, it's a fun read; there are even eight pages of full color photos from Brian's archives. Recommended! 5.0 Out Of 5.0
Pick up a copy of For The Sake Of Heaviness – The History Of Metal Blade Records in the KNAC.COM More Store right HERE.




Please log in to view RANTS

If you don't have a username, click here to create an account!