I PREVAIL, WE CAME AS ROMANS, THE WORD ALIVE In Cleveland, OH With Photos!


By Geoff Ketler, Cleveland Contributor
Wednesday, October 25, 2017 @ 6:00 AM


| | | |
| --- | --- | --- |
| | | The "Rage On The Stage" Tour Takes Cleveland By Storm |
All Photos By Geoff Ketler/Aces High Photography
Stepping outside of my comfort zone is something I have strived to do over the last few years while covering concerts for KNAC.COM. After attending four straight years of the Alternative Press Music Awards it has become prevalent that the metalcore scene has really presented itself as a growing faction in the hard rock/metal community and seems to cross the paths of both metal fans and the emo/punk crowd. As a genre, metalcore may not have all of the blazing solos and vocal harmonies that the purists so desire and there are plenty of tracks, synth and "bass drops" that bring a metalcore show to life, but I believe that high tides will raise all ships and the more attention paid to the rock/metal scene for better or for worse, is still more attention. With double-barrel Nikon action and an open mind I headed for the pit.
Unfortunately I did not make it into the venue to catch any of ESCAPE THE FATE's set. The parking situation caused by the capacity crowd made it an adventure to just be near the venue. I was able to find a setlist (see below).
Setlist:
"Just A Memory"
"Remember Every Scar"
"Ungrateful"
"Gorgeous Nightmare"
"One For The Money"
"This War Is Ours (The Guillotine II)"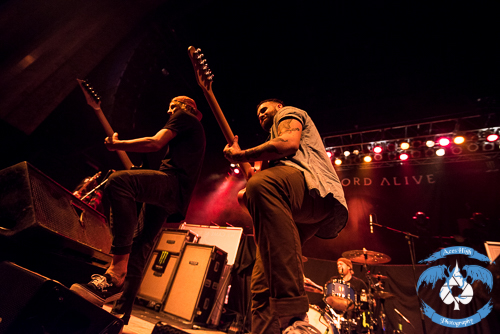 Call it irony, call it karma or call it "Fate" – call it whatever you'd like, but the next band up on the bill was originally formed by ESCAPE THE FATE vocalist Craig Mabbitt; THE WORD ALIVE. Due to his obligations with ESCAPE THE FATE, Craig was essentially fired from the band and the fallout was less than pleasant. Fast forward nine years and now Craig's replacement, vocalist Tyler "Telle" Smith, alongside guitarists Zack Hansen and Tony Pizzuti have dropped four albums as one of the rising acts in the metalcore scene.

Telle did an excellent job of mixing a blissful, clean vocal performance with his screams. He was very engaging with the raging-packed Agora Theater; often asking for the house lights to come up so he could see the staggering number of people. The set was short and sweet; before I knew it, it was over.

Setlist:
"Misery"
"Made This Way"
"Overdose"
"Red Clouds"
"Sellout"
"Life Cycles"
"Trapped"
Although THE WORD ALIVE did an excellent job of stirring the pit, it was WE CAME AS ROMANS that damn near brought the walls down. With dueling vocalists, much like their headlining counterpart, the group from Troy, Michigan kicked off their set with the title track of their soon-to-be released album, Cold Like War. Vocalist/keyboardist Kyle Pavone spent some of the set in the crowd; walking over the sea of people that collected at the barricade. Vocalist Dave Stephens split the crowd down the middle for the ever-present 'wall of death', which culminated into a tremendous circle pit. I remember thinking to myself, geez, these kids really know how to go off.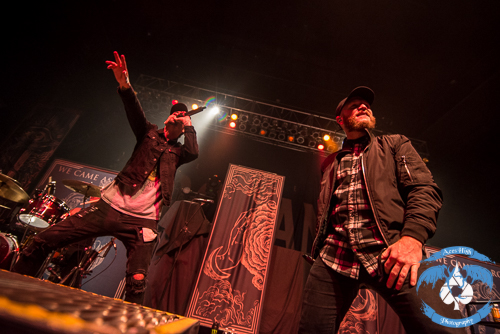 Tracks and synth aside, the band was aggressive and the music was tight. I was really impressed with newcomer David Puckett's work on the skins. His fills cut right through everything and his nifty footwork added the double bass that perked my metal senses. Bassist Andy Glass spent the majority of the evening on or near the center monitors, in full Steve Harris mode, getting a rise out of the crowd. Altogether, I really enjoyed the set from WE CAME AS ROMANS and would enjoy seeing them again.
Setlist:
"Cold Like War"
"Ghosts"
"Fade Away"
"Wasted Age"
"Lost In The Moment"
"Glad You Came" (THE WANTED Cover)
"To Plant A Seed"
"Tracing Back Roots"
"The World I Used To Know"
"Hope"
As the lights came up and the drums were unveiled, there, center-stage, sat a wrestling ring, bungees and all. This was likely one of the most clever drum riser ideas I had seen, after all, it was the "Rage On The Stage" tour. After a prerecorded, professional wrestling style introduction, including a bell ring, I PREVAIL brought down the house with "Come And Get It". From the get-go, something was missing and vocalist Eric Vanlerberghe addressed the packed house after the opening song. Apparently vocalist Brian Burkheiser had fallen ill on tour and headed home to try to recoup. Filling in for Brian's clean vocals was guitarist Dylan Bowman. Dylan did an excellent job throughout the night of getting through the set while covering Brian's signature clean vocals. In fact, if my eyes were closed, it would have been difficult to tell the difference.

After an EP in 2014 and then a debut LP, Lifelines, in 2016, I PREVAIL quickly rose to fame in metalcore/post-hardcore circles, especially due to the group's notable live experience. Despite being one man down, tonight's show was no exception.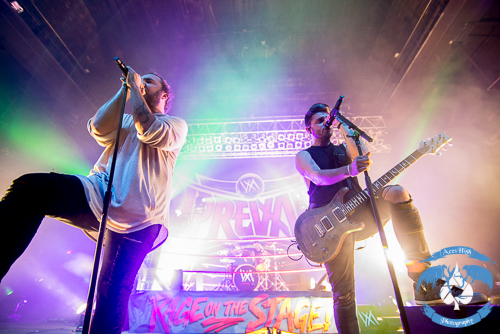 "The wolves are out, it's about to get rowdy – go!"
I likely spent a total of ten minutes in the photo pit due to the compact songs, but still managed to get kicked in the head, drinks dumped on me and every square inch of my body covered in confetti – I am not complaining, it is a hazardous work environment and I know that ahead of time, it is just a testament to the excitement and fits of rage that I PREVAIL is able to provoke out of people. It was intense and as I scampered out of the pit at the conclusion of the first three songs, that intensity only grew. The kids that were going nuts earlier only seemed to go more and more ballistic as the set wore on. The crowd surfers came barreling into the pit 2,3 sometimes 5 at a time. Security did all they could and seemed to handle it pretty well.
On occasion, the band would dial it back with a comedic Lil Jon acoustic cover or a Taylor Swift cover and the banter between Dylan and Eric was enough to set a tone and make you forget that Brian wasn't even there, but they would get right back to making people sweat. Eric expressed his love for professional wrestling in describing why he chose the stage setup. At one point, a fan was chosen out of the audience to be the "villain wrestler" on stage. It was an extremely interactive set and although it sounds cliché; extremely high-energy with over-the-top lighting, CO2, confetti…the whole nine yards.
Setlist:
"Come And Get It"
"RISE"
"Stuck In Your Head"
"Love, Lust And Liars"
"Pull The Plug"
"Get Low" (Lil Jon Cover – Acoustic)
"Outcast"
"Shots" (LMFAO Cover)
"Chaos"
"Alone"
"Worst Part Of Me"
"Eye Of The Tiger" (SURVIVOR Cover)
"Blank Space" (Taylor Swift Cover)
"Already Dead"
"Lifelines"
Encore: Check out some more photos from the show!
All Photos By Geoff Ketler/Aces High Photography




Please log in to view RANTS

If you don't have a username, click here to create an account!






ARCH ENEMY, BEHEMOTH, NAPALM DEATH, UNTO OTHERS In Portland, OR With Photos!

HALESTORM Back From The Dead

STABBING WESTWARD Chasing Ghosts

BLACK LABEL SOCIETY, NITA STRAUSS, JARED JAMES NICHOLS In San Diego, CA With Photos!

JEFF SCOTT SOTO Complicated

MEMPHIS MAY FIRE Remade In Misery

EVERGREY A Heartless Portrait (The Orphean Testament)

ANVIL Impact Is Imminent

DAN REED NETWORK Let's Hear It For The King

WATAIN The Agony & Ecstasy of Watain

SCREAMKING Thee Indomitable Spirit

FOZZY, JOHN 5, GFM, KRASHKARMA, THE NOCTURNAL AFFAIR In Houston, TX With Photos!

BLACK STONE CHERRY, THE GEORGIA THUNDERBOLTS In Nashville, TN With Photos!

AND JUSTICE FOR ART ... Live! Stories About Hard Rock & Heavy Metal Live Album Covers Book

FOZZY Boombox

ALICE COOPER, BUCKCHERRY In Portland, OR With Photos!

JOHN 5, THE HAXANS In Garden Grove, CA With Photos!

SKULL FIST Paid In Full

RADIANT Written By Life

BLACK SWAN Generation Mind

SEVEN KINGDOMS, STRIKER In Tampa With Photos!

MONUMENTS In Stasis

DESTRUCTION Diabolical

MICHAEL ROMEO War of the Worlds: Part II

SATAN Earth Infernal

TONY MARTIN Thorns