GWAR The Blood Of Gods


By Andrew Depedro, Ottawa Corespondent
Monday, October 30, 2017 @ 6:47 AM


| | | |
| --- | --- | --- |
| | | |
GWAR
The Blood Of Gods
Metal Blade Records




The story of GWAR has always been one of enigmatic legend since the birth of our measly planet. It was back when the intergalactic elite fighting force known as the Scumdogs Of The Universe served as obedient thralls for the one true omnipotent and mysterious Master. Yet, due to a series of frequent and serious mishaps, each member, as punishment, was banished to serve as part of a potential suicide mission to conquer the insignificant third turd from the Sun known as Planet Earth. Upon their arrival, GWAR immediately created and forged the annals of what would be modern civilization - and it proved to be their most massive fuck-up yet. But at least their burgeoning music career at the time under the guidance of one Sleazy P. Martini was making 'em interplanetary superstars, so the exile couldn't have been all that bad. Eventually, it would be. They had lost a few team members along the way throughout their frequent tours of duty of pillaging and human enslavement, among them noted team leader Oderus Urungus, whose tragic loss made the future of the Scumdogs even more bleak.

GWAR, at that point, were a directionless cosmic battalion with little if any recourse and even less of a motive to exist for the first time since being shat out into the stratosphere.

Luckily, Sleazy P. Martini, who never misses a chance to profit from one's misery, inspired/coerced the band (depending on who's to be believed here) to rediscover their purpose in life outside of being his proverbial meal ticket to the lifestyle he'd become accustomed to. They were a lean, mean killing machine and The Blood Of Gods would now be demonstrated as the Scumdogs' true test in forging on without Oderus Urungus at the helm for the first time.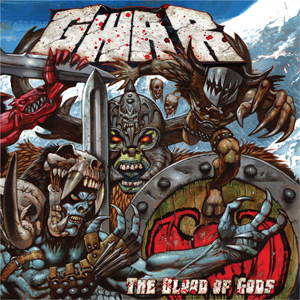 Opening number "War On GWAR" is a 7-minute long opus which shows no signs of a band slowly recuperating from the loss of a key member. The vocal duties are now handled by former bassist Blothar, who has every bit of the fearsome voice and fury as his predecessor; it's almost as if Oderus had never left, but he still brings his own ideas and swagger to the role. He even transcends his personality to songs such as "The Sordid Soliloquy Of Sawborg Destructo" and "Death To Dickie Duncan" while "Crushed By The Cross" is old-school speed metal done GWAR style. "Phantom Limb" finally pays homage to Oderus Urungus' legacy while questioning the Scumdogs' future as Blothar asks "will we ever kill again?" in the lyrics - quite possibly the closest to an earnest ballad GWAR has ever written. Finally, a killer (and rather overdue) version of AC/DC's "If You Want Blood (You Got It)" closes out The Blood Of Gods in the most appropriate manner - leaving out backing vocalist Bonesnapper who'd been given the wrong address to the studio.
While the loss of their founding Scumdog is still duly noted, GWAR have not only soldiered on in his memory as he would've wanted them to do anyway, but they've done so with perhaps their strongest album yet. Blood Of The Gods is proof that nothing can kill off GWAR or their unhumanitarian mission of mercy and that their flow is still as consistent as ever.
5.0 Out Of 5.0
http://www.gwar.net/
https://www.facebook.com/gwar

Please log in to view RANTS