ONE EYED DOLL, DOLL SKIN, CO-OP In Houston, TX With Photos!


By Larry Petro, News Monkey
Thursday, November 9, 2017 @ 10:11 AM


| | | |
| --- | --- | --- |
| | | At BFE Rock Club, October 28, 2017 |
All Photos By Larry Petro/Petrofyed Photography
The end of October in Houston meant a couple of things: Halloween was right around the corner and the hometown Houston Astros baseball team was playing in just its second World Series, teeing it up against the Los Angeles Dodgers, which they won by the way (go 'Stros!). And what better way to celebrate the coming holiday than with a creepy goth, punk and rock show courtesy of Austin, Texas goth rock duo ONE EYED DOLL and Arizona's up-and-comers DOLL SKIN.
Kicking things off on this night was an array of four local opening acts ranging from pop rock to quasi-metal to punk before they gave way to the most metal band of the evening, fellow Arizona rockers CO-OP, who had only recenlty joined the tour a few days prior and were helping to finish the US leg of ONE EYED DOLL's international tour. The band, fronted by Dash Cooper, son of Alice Cooper, and complemented by Kolby Peoples (guitar), Jeremy Tabor (guitar), Justin Swartzentruber (bass) and Nick Spann (drums), released their debut EP last year on Dave Ellefson's EMP Label and have been out kicking ass and taking names ever since. Their heavy, desert rock sound is reminiscent of ALICE IN CHAINS and CORROSION OF CONFORMITY. They put on a solid opening set of material from the EP and are definitely a band to watch.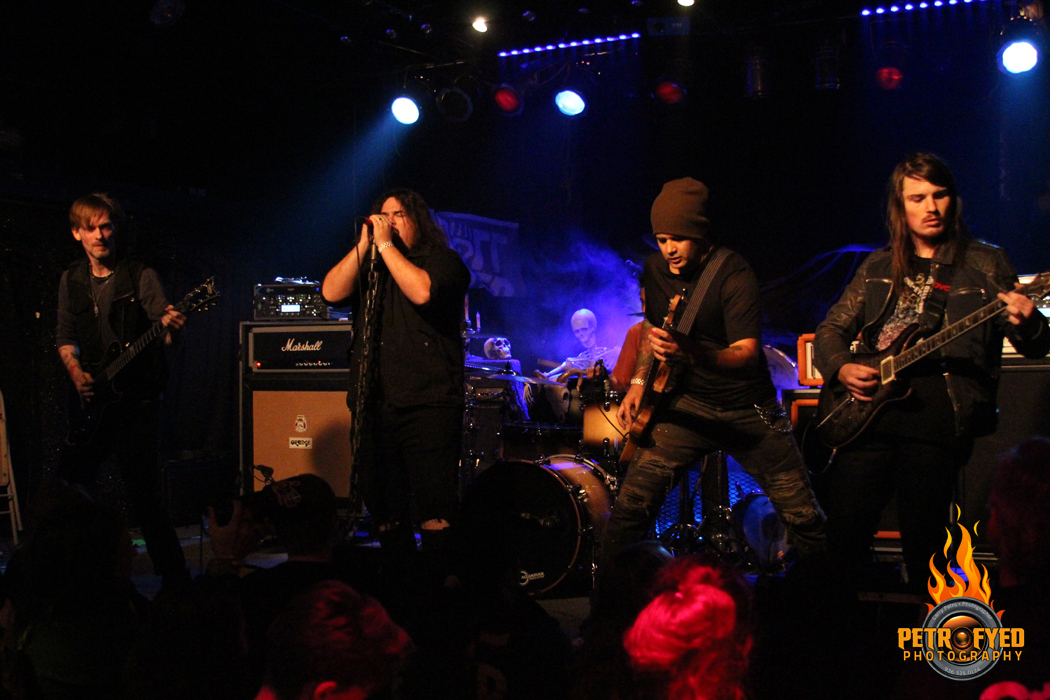 Next up was fellow Arizona punk pop metal rockers DOLL SKIN. At first glance this all-girl quartet looks young. Well, they are in fact young, as none of the girls is even old enough to drink yet, but don't let their childlike appearances fool you. These girls possess some serious talent and potential, which is probably what caught the eye of Ellefson's EMP label as well. Lead vocalist Sydney Dolezal works the stage and the crowd like a wily veteran twice her age while guitarist Alex Snowden impresses with her six-string shred skills and bassist Nicole Rich anchors down the low end. The band has two releases under its belt, 2016's In Your Face (Again) and their most recent effort, Manic Pixie Dream Girl, from which the bulk of the performance was culled from. Whether it was set-opener "Road Killa", recent video/single "Daughter", the Alanis Morissette cover "Uninvited", "Furious Fixation" or closer "Puncha Nazi", the girl's high energy, take-no-prisoners attitude definitely won over the crowd.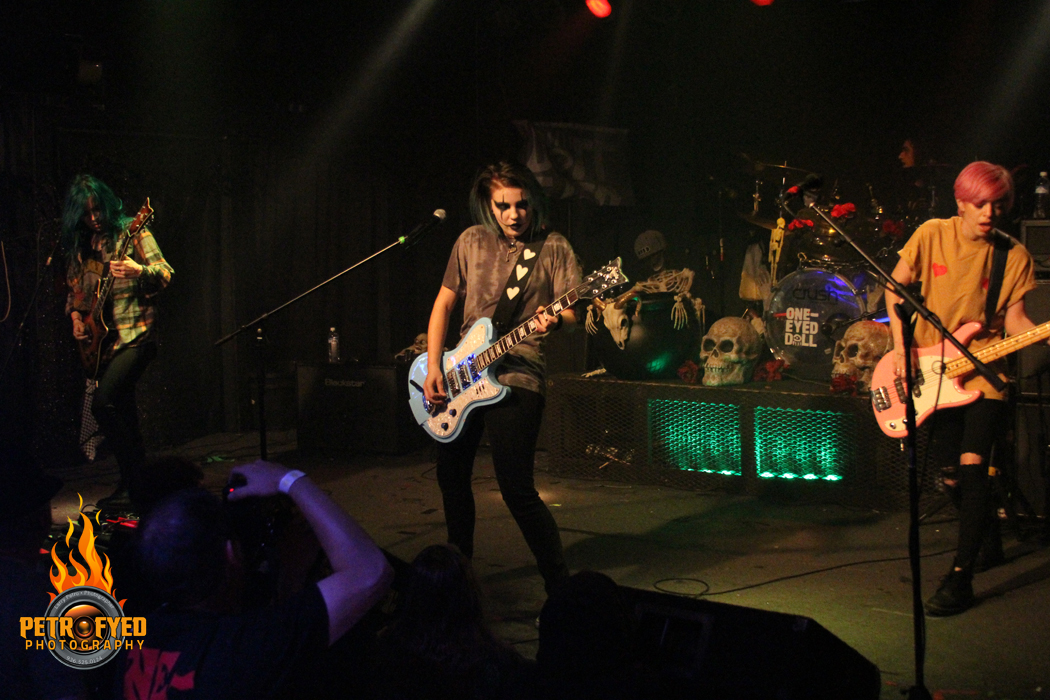 Probably the biggest surprise of the night was the obvious missing member, drummer Meghan Herring who, according to Dolezal, had to return home unexpectedly to deal with some personal family matters. The surprise however was who happened to be filling in on the last week or so of dates, someone the band kept referring to as 'Max', who's visage seemed all to familiar to me. It wouldn't be until after their set that I would discover that this mysterious 'Max' was none other than Max Portnoy, son of famous drum icon Mike Portnoy, and drummer in his own band NEXT TO NONE. Of course those that were obtaining autographs following the show (yours truly included) wanted Max's scrawl as well and it's a pretty safe bet that most had no clue who he actually was but hey, he was playing with the band and so it was only appropriate that he be included. On every item that Max signed he wrote underneath 'Not Meghan'. An interesting quip to be sure but it merely shows that the youngster possesses a sense of humor. Max also stated that he's formed another project that is more metal than the progressive-leaning NEXT TO NONE and was actively gathering suuggestions for the said band's name so be sure to keep on the lookout for that.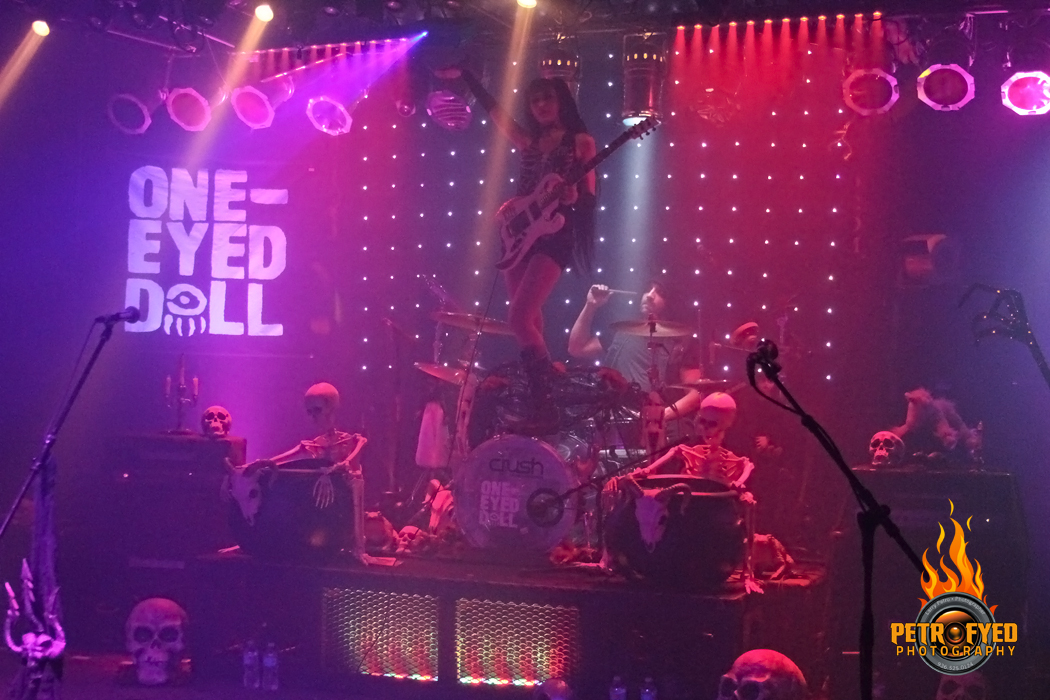 Finally, after a brief stage switchout it was time for the headliners, ONE EYED DOLL. This goth punk, experimental duo from neighboring Austin, Texas apparently has quite a cult following, whether it was just in Texas or worldwide as this particular tour was all across the states with a jump across the pond a few days after its conclusion. I had honestly never heard of them prior to my stint as Editor-In-Chief of KNAC.COM, most probably because they're an acquired taste, one I'm still not sure I've gotten a grasp of. One thing's for sure, they were definitely the perfect band for a creepy, Halloween themed show. Fronted by Kimberly Freeman and accompanied by drummer Jason "Junior" Sewell, the band has toured with some big names like OTEP, MUSHROOMHEAD and WEDNESDAY 13. Trying to describe this band is somewhat of a challenge but is somewhere in the realm of HOLE meets GWAR with a little Marilyn Manson thrown in for goood measure. And though they are not well-known to me, Freeman has quite an extension recording background, having released 5 solo albums, 6 ONE EYED DOLL records and one under the name GHETTO PRINCESS, as well as having been featured as one of Revolver's Hottest Chick In Hard Rock multiple times. ONE EYED DOLL's set was wide and varied, with songs like "Ember", "Plumes Of Death", "Black In The Rye" and "Something Wicked" performed as well as an interesting cover of PINK FLOYD's "Comfortably Numb". If you're into the whole goth, horror, punk experimental style of music then ONE EYED DOLL is right up your alley.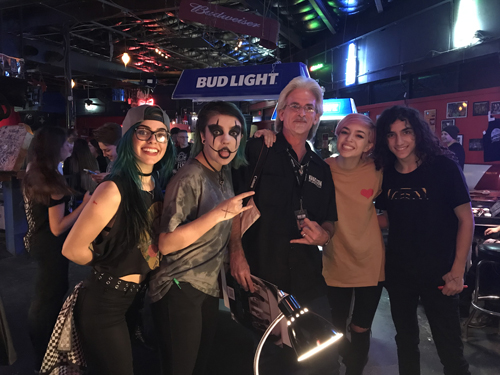 Check out some more photos from the show!
All Photos By Larry Petro/Petrofyed Photography




Please log in to view RANTS

If you don't have a username, click here to create an account!