Exhorder Slaughter in the Vatican/ The Law 2-in1 Re-Release


By Brian Davis, Contributor
Tuesday, November 25, 2003 @ 1:52 PM


| | | |
| --- | --- | --- |
| | | (Roadrunner) |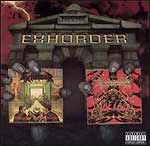 Thrash fucking metal -- the choice of the old generation. The genre that dominated the late '80s and early '90s-speedy, mad drumming without the ever redundant blast beats; deep crunching bass; super crisp, chunky, groovy, and down right blistering dual guitar attacks. Add to that the ability to put practically any vocal style you want in there, and you've got the perfect genre. Testament, Overkill, Forced Entry, Exodus, Kreator -- the list goes on and on. Thrash had a phenomenal impact on the face of metal, and that influence remains to this day. One of the bands that made some of the best thrash ever are sadly a band that few people have heard of. I'm talking about the Louisiana madmen Exhorder, of course. Exhorder's main "claim to fame" is the common opinion that they're the band that Pantera stole their sound from. That's total bullshit. There are minor similarities in guitar style, and on occasion, vocalist Kyle Thomas spits out a line or scream that will bring Pantera to mind, but to go so far as to say that Pantera is an Exhorder clone is ludicrous. Unfortunately, Exhorder only made two albums, which certainly lent to the fact that they are so tragically overlooked. For a good 10 years, both albums, Slaughter In The Vatican and The Law, have been out of print, with rare used copies circulating around e-bay for up to $50 a piece! Evidently Roadrunner heard our muffled cries of frustration and decided to re-release both albums as a special two for one, so now is the chance to pick up two of the best thrash metal albums of all time in one fell swoop. Their first album is Slaughter In The Vatican, with its highly controversial cover (also included) of the Pope being dragged to the gallows, which led to it being banned in several countries. Note that Exhorder is not a satanic band -- more like vehemently anti-organized religion. Originally released in 1990, Slaughter... is a classic thrash album through and through. The unique, super crisp and heavy double guitar attacks of Jay Ceravolo and Vinnie Labella (who also took turns delivering the studio bass tracks on the album) deliver innumerable thrashy, crushing, head banging riffs that really get the blood pumping. Without a doubt the guitars are the defining factor of this band-they epitomize the perfect thrash sound. Accompanying nicely are some top notch thrash drumming displays by Chris Nail, showcasing that signature double bass and snare attack that thrash is known for, along with some nice fills to round it out. Topping it off is one very pissed off vocalist -- Kyle Thomas. This is obviously not a band with any room for melody or bleeding heart cheeseball ballads, so Thomas places full focus on anger-venting yells and aggression filled tirades about religion, government, and ex-girlfriends. You know, the usual. The defining characteristic of Thomas' vocals are the speed in which he delivers them -- much like Tom Araya's high velocity approach, you get several sentences in one breath that, while honestly aren't always the easiest to understand, are given the proper mix of drive, anger and rhythm to make them meld with the wailing guitars and drums quite well. Highlights of the album are "The Tragic Period" and "Slaughter In The Vatican," both semi-epic songs of 7-8 minutes with tons of tempo changes, dynamic shifts, and some nice acoustic interludes. And one of the most definitive thrash tracks ever written resides on this album -- "Desecrator." Most likely their biggest "hit," this is a hard hitting tune overloaded with mega riffs and the catchy speedy vocals mentioned above. A real monster of a tune, it's guaranteed to get you bouncing off the fucking walls. As good an album as Slaughter In The Vatican is, Exhorder's second album The Law is infinitely better. The growth in style and technique is incredible, with more memorable and distinct riffs, even more crisp and speedy fretwork, a full time bass player, and more defined vocals. Hearing this album will make any true thrash fan mourn the fact that this band had such a short lifespan -- the potential was infinite. The Law also makes a significant evolution lyrically. While still presenting their vulgar distaste for organized religion, they focus a lot more on literature from the likes of H.P. Lovecraft and Aleister Crowley. The second reference should be fairly obvious, whose philosophy "Do what thou wilt shall be the whole of the law" gives us the title of the album, a song by the same name, and much of the verses therein. While some songs from Slaughter… can be a little non-distinct at times, every single song on The Law has a life of it's own. The band took the acoustic traces from Slaughter… and took it to the next level by incorporating them as great tempo breaks in several songs on The Law, adding an excellent extra dimension. While every song is a true thrash masterpiece, "Soul Search Me," "I Am The Cross," "Unborn Again" and "(Cadence Of) The Dirge" carry the album's biggest punches, and there's also an ass kicking instrumental called "Incontinence" loaded with beefy guitar licks and pounding drums. However, the biggest surprise on The Law is what has to be THE single best Black Sabbath cover ever. They take "Into The Void" and turn it into the ultimate thrash interpretation with an incredible guitar build that grows and morphs into one of the coolest double guitar climax riffs ever. This is a song to rattle the speakers, give you goose bumps and make you wanna pound holes in the wall-a very worthy tribute to the band that started it all. Rumors abound concerning a possible reunion, but those have been flying around for years, and while I would love nothing more than to see these guys back and shredding the stage and kicking out more outstanding thrash, I won't be holding my breath. But we can hope, and in the meantime Roadrunner has given us this great double disc to sate the thrash monster in all of us. Slaughter In The Vatican:
* * * ½ The Law:
* * * * ½




Please log in to view RANTS

If you don't have a username, click here to create an account!





JACK RUSSELL'S GREAT WHITE In Ybor City, FL With Photos!

WATCHTOWER Concepts Of Math: Book One

OBITUARY Ten Thousand Ways To Die

ALLEGAEON Proponent For Sentience

LOUDER THAN LIFE FESTIVAL Photo Gallery

KORN, BREAKING BENJAMIN, MOTIONLESS IN WHITE In Tampa, FL With Photos!

KILLER BEE Eye In The Sky

AMARANTHE Maximalism

OPHIDIUS The Way Of The Voice

CLUTCH, ZAKK SABBATH, KYNG In Orlando, FL With Photos!

STRYPER In Houston, TX With Photos!

THE DIVES In New York City

MESHUGGAH The Violent Sleep Of Reason

VANILLA FUDGE At The Ottawa CityFest In Ottawa, Canada

BLAZE BAYLEY In Ottawa, Canada

OZZFEST In San Bernardino, CA With Photos!

RAVENEYE Nova

HAIR NATION FESTIVAL Photo Gallery 2

HAIR NATION FESTIVAL Photo Gallery 1

OPETH Sorceress

GOJIRA, TESSERACT In Silver Spring, MD

PAREIDOLIA Denied Truths