BEAST IN BLACK Berserker


By Alex Yarborough, Orlando Contributor
Monday, November 13, 2017 @ 12:46 AM


| | | |
| --- | --- | --- |
| | | |
BEAST IN BLACK
Berserker
2017 Nuclear Blast




"Like a hellraiser, monster of rage, unleash the fury through your sword of hate.
Destroy and murder, retaliate … harness the power of the Beast In Black!"

BEAST IN BLACK was born when guitarist Anton Kabanen left Finnish power metal band BATTLE BEAST in 2015 after their third album, Unholy Savior, due to creative differences. Time will tell how this affects BATTLE BEAST; their popularity continues to climb despite the fact that Anton wrote every song on the band's first three albums. He's writing for his own band now, a bellicose group of (mostly) Finnish metal veterans bent on conquering the world with their new album Berserker.

BEAST IN BLACK consists of Kabanen on guitar, along with Greek singer Yannis Papadopoulos (WARDRUM), guitarist Kasperi Heikkinen (CONQUEST), bassist Mate Molnar (WISDOM) and drummer Sami Hänninen.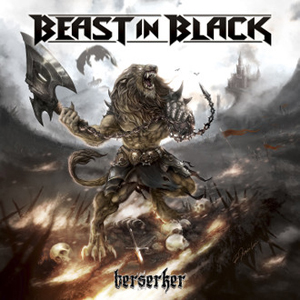 The album begins with the namesake "Beast In Black", which was inspired by the Japanese manga Berserk. Yannis's vocals are simply blazing and the guitar work is extraordinary. Hänninen's double bass drums are high in the mix. The second track, "Blind And Frozen", is catchy and will have you banging your head instantly. Yannis' nearly feminine sounding vocals in the verses demonstrate his versatility. Watch the stylish performance video for the song on KNAC.COM HERE. "Blood Of A Lion" will make fans immediately with its sing-along chorus. "Born Again" relies heavily on symphonic keyboards, and a pulsing rhythm. The most aggressive track on the album is the amazing "Zodd The Immortal", which takes no prisoners. "The Fifth Angel" is a solid rocker with more symphonic elements. The oddball track here is "Crazy, Mad, Insane", which the band readily admits is a disco synth pop song. Still, it is very catchy. "Eternal Fire" and "End Of The World" rock hard while featuring abundant keyboards. The album closes somewhat quietly with a poignant ballad called "Ghost In The Rain".
BEAST IN BLACK will immediately appeal to fans of European bands like SABATON, NIGHTWISH and of course, BATTLE BEAST. This album is full of over-the-top, energetic, up tempo, '80s metal-influenced power metal tracks. Yannis Papadopoulos is a relatively unknown singer outside of Europe and deserves to be heard, as this guy can flat out sing his ass off! Berserker clocks in around 44 minutes and features a great album cover by artist Roman Ismailov. The album is available now from Nuclear Blast in numerous formats, including silver and black vinyl.
4.0 Out Of 5.0




Please log in to view RANTS

If you don't have a username, click here to create an account!