GWAR, U.S. BASTARDS, HE IS LEGEND, GHOUL In Portland, OR With Photos!


By Ruben Mosqueda, Contibutor
Tuesday, November 21, 2017 @ 6:07 AM


| | | |
| --- | --- | --- |
| | | November 14th, 2017 At The Roseland Theater |
All Photos By Mike Lewis Photography
It has been years since I caught a GWAR show, the early 1990s to be exact. With many moons having passed since my last GWAR experience, I noticed that not much has changed. The audience remain predominantly male, they remain very fanatical, the diehards come prepared with plastic white ponchos or white coveralls. These fine gentlemen looked like something out of Clockwork Orange or pristine Andrew W.K. lookalikes (at least) before the blood splatter commenced.
Before the grand spectacle that is GWAR there were three support acts. The first was U.S. BASTARDS who put on a fiery performance. They were a cross between THE MISFITS meets MOTORHEAD meets SLAYER sans the unorthodox guitar solos. U.S. BASTARDS by no means knocked it out of the park but the potential and songs are there. Inserting MOTORHEAD's "Killed By Death" in their set list certainly didn't hurt them in the least. HE IS LEGEND were next, and there wasn't anything remarkable about them. HE IS LEGEND were pretty much a 'run of the mill' kind of act. GHOUL, whose trademark is their burlap masks a la Klan infancy were entertaining and were hell bent on giving GWAR a run for their money. If you could envision THE MENTORS meet slasher flick then you'd have GHOUL.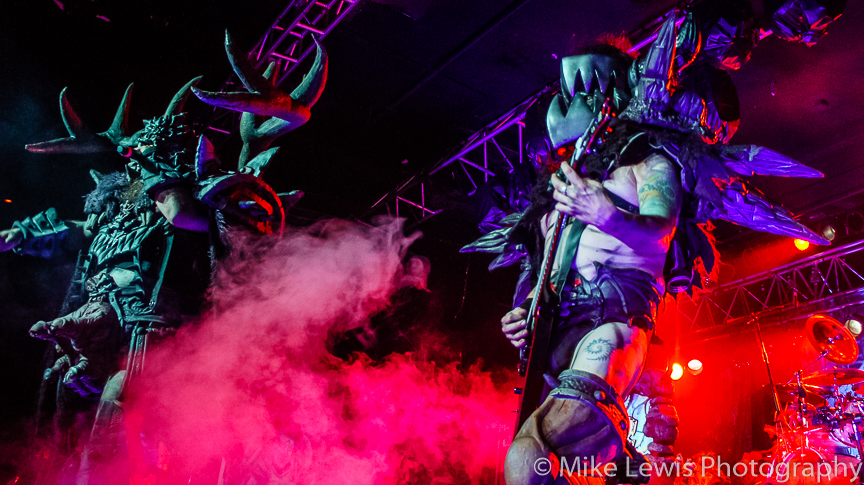 With Oderus Urungus lost in space for the past few years Blothar has stepped up to front GWAR. The splatter rock vets recently released their 14th album titled The Blood Of Gods. The latest effort has received glowing reviews. On this night in Portland, GWAR served up a heavy helping of The Blood Of Gods originals which included "Death To Dickie Duncan", "El Presidente", which is inspired by you know who, "Fuck This Place", "I'll Be Your Monster", "Phantom Limb", "Swarm", "The Sordid Soliloquy Of Sawborg Destructo", "Viking Death Machine" and "War On Gwar". I was amazed at the enthusiastic response from the crowd to the new tunes. I can't recall the last time I went to see an established act and they played this many new cuts. When they launched into "Saddam A Go-Go" all these fantastic memories came rushing back about that time in my life, it was like rediscovering or reconnecting with the interplanetary vikings.
"If you don't tour and don't tour extensively, you don't keep our name out there, no one is going to give a fuck! It's not like you humans buy band's records anymore, you download them and steal them! We're too foolish to do anything else with our lives. I'm pretty sure I could be a manager at Burger King if I put my mind to it!," said Blothar to KNAC.COM in a recent interview when asked about GWAR's key to longevity. Blothar added, "We could have easily taken the easy way road and 'the greatest hits' route. We could have done 'the final tour' and followed it up with 'the final farewell tour'. Then next thing you know we're BLACK SABBATH doing 'the last' tour for the 30th year or something! We want to write
new music, and we want to continue to make records, it's important to the members of GWAR. We're not THE BLUE MAN GROUP or some Vegas act. Sure, we kill people on stage, but it's different every night. It's like fucking. How many ways can you fuck? Well, with fucking there's really only three ways to do it; anal, vaginal and mouth!"
Some would be quick to point out that perhaps it's not solely about the music, but also about the visuals and the experience of being in the middle of the chaos. GWAR closed with an appropriate cover of AC/DC's "If You Want Blood (You've Got It)", which by that point in time about ¾ of the audience on the floor were either drenched in or at least splattered with some of 'the red stuff.'What an exhausting, overwhelmingly good time it was.
Check out some more photos from the show!
All Photos By Mike Lewis Photography




Please log in to view RANTS

If you don't have a username, click here to create an account!