GREAT WHITE In Houston, TX With Photos!


By Larry Petro, News Monkey
Wednesday, November 29, 2017 @ 1:04 PM


| | | |
| --- | --- | --- |
| | | With JOHNNY SOLINGER Opening At Proof Rooftop Lounge |
All Photos By Larry Petro/Petrofyed Photography
Thanksgiving is a time for giving thanks for all that we have, and although my initial experience with Proof Rooftop Lounge in the Midtown area of Houston was far less than stellar (see my review of the Stephen Pearcy show HERE), I still have to say that I'm thankful for the club and all that Justin Ellerton Of Black Horse Limo does to bring 80's bands into town, with most being free shows. A recent show by rockers GREAT WHITE is a perfect example of this.
Instead of going the normal PR/publicist route for obtaining a photo pass for the event I went through another longtime KNAC.COM contributor who happens to be a close friend of GW guitarist Michael Lardie. The morning of the show I was assured that he personally confirmed that I was all set so everything should be good, right? Well, not exactly. He actually had the person I went through's name on the list instead of mine, which caused me an intial 30 minutes of aggravation and grief until I discovered exactly what the problem was and got it resolved (Thanks Michael! lol).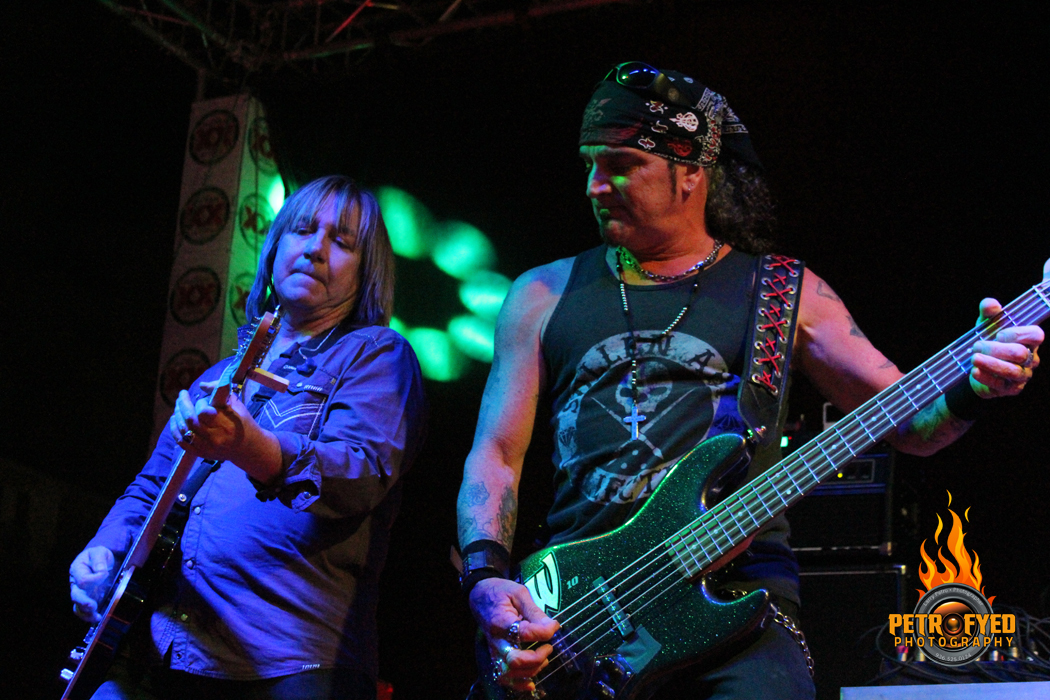 At any rate, as with all the free shows at this rooftop lounge, the turnout was great, especially considering that LYNCH MOB was playing across town and newcomers BARB WIRE DOLLS were also playing about a mile or two away on the same night. Local area resident and former SKID ROW vocalist Johnny Solinger got the evening started, as he has at a majority of these shows, with his 'Solinger' band, which consists of students from the School Of Rock he runs just north of Houston. The band of youngsters (most of which aren't old enough to drink except for a guitarist who JUST turned 21) are quite talented and put on a nice set of mostly covers like "Detroit Rock City" and "Paranoid" before giving way to the headliners. Solinger appears to be quite happy in his new life and makes a point to ham it up for any photographers that happen to around.
The free shows at Rooftop Lounge are kind of a good news/bad news thing, the bad news being that most of the free shows take place on Thursday nights when most folks, such as yours truly, have to work the next day, but the good news is that because this is taking place in the Houston city limits AND on a building rooftop, the shows have an 11pm sound curfew, rather than the 1-2am club shows. It may not seem like much but when you live an hour away it makes all the difference.
At a little after 9, GREAT WHITE took the stage and got the party rolling with "I'm Alright" from the band's most recent album, 2017's Full Circle. It was nice having the photo barricade mostly to myself as the only professsional photographer (the lady who got last minute ok doesn't count) approved for the show. The band was in great spirits and let the rock n' roll flow with "Call It Rock N' Roll", "Lady Red Light", "Desert Moon" (a personal favorite) and "House Of Broken Love" before bringing it down for an acoustic performance of "Save Your Love". The band ramped things up once again with five rocking tracks to finish their 13 song set: "Mista Bone", "Can't Shake It", "Rock Me", "Big Goodbye" and closing number "Once Bitten Twice Shy".
A lot of GREAT WHITE purists will be quick to say that it isn't GREAT WHITE without original vocalist Jack Russell out front, but his replacement Terry Illous can certainly hold his own covering the material and brings a definite energy to the shows. And the supporting cast of guitarists Mark Kendall (an ageless wonder) and Michael Lardie, drummer Audie Desbrow and bassist Scott Snyder keeps the band rolling along, firing on all cylinders.
Setlist:
"I'm Alright"
"Call IT Rock N' Roll"
"Lady Red Light"
"(I've Got) Something For You"
"Big Time"
"Desert Moon"
"House Of Broken Love"
"Save Your Love"
"Mista Bone"
"Can't Shake It"
"Rock Me"
"Big Goodbye"
"Once Bitten Twice Shy"
Check out some more photos from the show!
All Photos By Larry Petro/Petrofyed Photography




Please log in to view RANTS

If you don't have a username, click here to create an account!