NIGHT LEGION Night Legion

By Alex Yarborough, Orlando Contributor
Friday, December 8, 2017 @ 1:02 PM

| | | |
| --- | --- | --- |
| | | |
NIGHT LEGION
Night Legion
2017 Massacre Records




The spirit of true metal is alive and well through the blood, sweat and determination of Australian juggernaut NIGHT LEGION, a new "super group" comprised of metal veterans: Stu Marshall (DEATH DEALER, BLASTED TO STATIC) – guitar, Vo Simpson (DARKER HALF) – vocals, Glenn Williams (DUNGEON) - bass and drummer Clay T (BLASTED TO STATIC).

The opening track, "Into The Night", sets the tone forthwith, shattering the silence with Marshall's brilliant guitar riff and Simpson's soaring howl. What a great opening track! The title track, "Night Legion", boasts a tale of unity that will get you singing along and banging your head. Marshall lays down a short and tasty solo on the song.

"Enter The Storm" offers more melody with the groove, while the battle-themed "The Warrior" will give you a chance to try and hit some high notes with Vo Simpson. Williams' bass work on this song (and the rest of the album) is fantastic. "This Time" opens with a zesty solo that turns into a fat riff that propels the song throughout. "Hell Below" is one of my favorite tracks on the album, featuring Clay T's robust double bass drumming. The chorus and solo of this song are real treats. Check out the video for the song on KNAC.COM right HERE.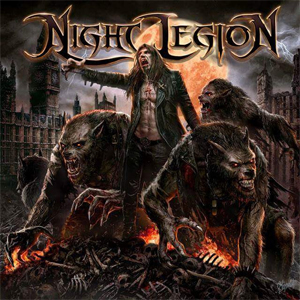 The constellation and space exploration-themed "The Eye Of Hydra" features another enormous riff, right from the start, and another great solo. "As Flames Scorch The Ground" analyzes life from the point of view of artificial intelligence. This is probably Simpson's most impressive vocal performance on the album, and the rest of the band is on fire as well! Guest solos are provided on the track by Tsuyoshi Ikedo (UNVEIL RAZE) and Vo Simpson. Album closer, "Titan", is the longest song on the album. The track begins with a quote by Roman emperor Marcus Aurelius, and the song is essentially an anthem to Aurelius and his legacy. Ross The Boss (MANOWAR, DEATH DEALER) and Pete Lesperance (HAREM SCAREM) contribute notable solos to this track.
Refreshingly, the fat has been completely trimmed from this album. There is no bullshit, no wasted moments, no beating around the bush. NIGHT LEGION gets right to the point, from the get-go. There are no ballads and no epics to be found on Night Legion. There are simply nine unpretentious up-tempo melodic power metal songs here to help motivate you. Stu Marshall has done it again. His guitar work and songwriting are once again flavorful and commanding. If you are a fan of his other bands DEATH DEALER, DUNGEON, and EMPIRES OF EDEN, you are going to absolutely love this album. Dusan Markovic contributes my favorite album cover of the year as well. Night Legion is available now from Massacre Records!
5.0 Out Of 5.0