THE NIGHT FLIGHT ORCHESTRA In Cologne, Germany With Photos!


By Daniel Höhr, European Correspondent
Wednesday, December 27, 2017 @ 7:24 AM


| | | |
| --- | --- | --- |
| | | December 15 At Luxor |
Photos By Juliane Renn
Amber Galactic, THE NIGHT FLIGHT ORCHESTRA's third studio effort, was definitely my summer album in 2017. This music is tailor-made for playing on long and hot summer evenings with the volume on full blast. This side project by members of SOILWORK, ARCH ENEMY, MEAN STREAK and VON BEMZO play classic rock, radio-compatible AOR in the vein of early 1980s RAINBOW, FOREIGNER, KANSAS, JOURNEY with an occasional dash of SUPERTRAMP and THE EAGLES and all sorts of things that you are sure you have heard somewhere else before but can't really say where.
That THE NIGHT FLIGHT ORCHESTRA's tunes are not just the perfect soundtrack for endless summer days but also a damn hot live act on a cold German December night was an experience made last Friday night. Singer Björn Strind (SOILWORK), guitarist David Andersson (SOILWORK, MEAN STREAK), bassist Sharlee D'Angelo (ARCH ENEMY), keyboardist Richard Larson (VON BENZO) and multi-instrumentalist Sebastian Forslund, who supplied rhythm guitar, percussion and backing vocals, are currently on their first ever European tour and played Cologne's Luxor, which was completely packed with about 400 to 500 people.
There was no support band to warm up the audience – not that anybody needed any warming-up – so without any further ado the house lights went out at about 20:10 hrs, and the crowd was greeted with the band's intro, which consisted of a female voice making an inflight passenger announcement welcoming the passengers on board the flight in a soft Swedish accent. THE NIGHT FLIGHT ORCHESTRA do take their aircraft crew image quite seriously, it seemed. Not only were the two female background singers on the stage wearing flight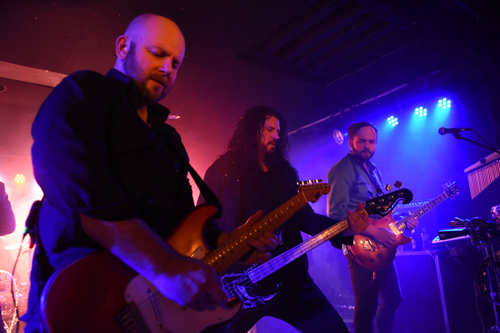 attendant uniforms but even the sound engineer was wearing a pilot shirt complete with epaulettes as well as pilot glasses. The band opened their set with "Midnight Flyer", the opener of Amber Galactic, and from the very first chord onwards there was party atmosphere in the small club in Cologne. THE NIGHT FLIGHT ORCHESTRA's catchy AOR songs kept the folks on and in front of the stage moving. When it came to "Domino", singer Björn Strind encouraged the audience to dance, which was not at all necessary because it would have been virtually impossible to stand still during that immensely groovy disco funk song, which showcast some of bassist Sharlee D'Angelo's qualities you don't necessarily get to hear when he plays in ARCH ENEMY. THE NIGHT FLIGHT ORCHESTRA sound live quite different from their albums. While the album sound is a more mellow, sort of 1980s vintage AOR/classic rock sound, the band came across live as enormously heavy and definitely kicked butt. There was great playing going on, especially David Andersson delivered one incredible guitar solo after the other from the left side of the stage, while on the right side Sebastian Forslund added percussion, rhythm guitar and backing vocals. The rhythm section rocked and were tighter than a duck's ass. Richard Larson contributed awesome keyboard playing and appropriate sounds to the retro-rock-with-metal-attitude experience and the two female backround singers in flight attendant uniforms rounded out both the sound and the picture. Altogether, the small stage accommodated eight musicians throughout the show. Björn Strind proved to be an amazing frontman, not only because of his great vocal abilities but also because of his sometimes a bit histrionic stage acting and the way he connected with the audience standing right in front of the due to the absence of a photographers' pit.
His spontaneity was tried halfway through the show when all of a sudden there was no bass and it seemed that the bass amp had blown a fuse or something. While a technician was trying to fix Sharlee D'Angelo's rig, Björn Strind ("Does anyone of you have a spare bass amp wit you?") and the rest of the band had to entertain the crowd. And they did a fantastic job. Somebody brought Strind a beer from the bar while he was chatting to the audience, then the musicians started a spontaneous jam session on stage and after about ten minutes the problem with the bass amp was fixed. Actually, the bass amp was fine but somebody had accidentally unplugged it. Did I mention that the small stage was a bit crowded? Never mind, this little episode added some extra fun to the show and when THE NIGHT FLIGHT ORCHESTRA resumed their set with "Montreal Midnight Supply", the party continued better than before with quite a number of people in OBITUARY, DEICIDE, ARCH ENEMY and SOILWORK t-shirts shouting along to THE NIGHT FLIGHT ORCHESTRA's catchy and sometimes slightly cheesy hooks.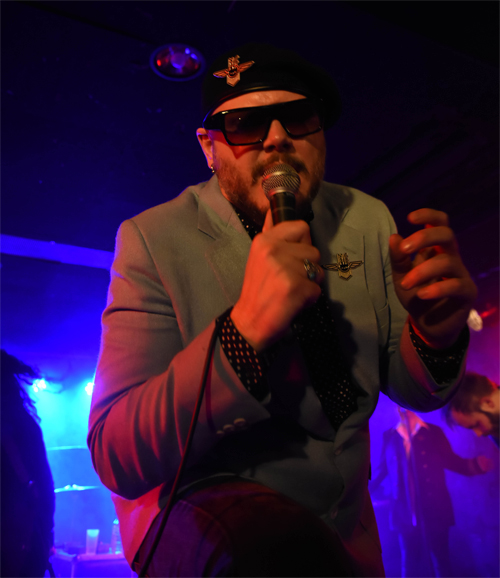 When it came to the encores, the band spontaneously added "Josephine" to the set, for which song Sebastian Forslund joined his bandmate Richard Larson behind the keyboards to give him a hand with the fast repeated notes in the song. After "West Ruth Ave", the band said good bye to their fans, leaving behind a happily grinning crowd. Seriously, there was not a single face without a smile on it. Not surprisingly though, because it was definitely a fun show with a super tight band, great songs and amazing playing.
If THE NIGHT FLIGHT ORCHESTRA lands anywhere near your town, make sure you get on board.
Setlist
"Midnight Flyer"
"California Morning"
"Stiletto"
"Star Of Rio"
"Domino"
"Transatlantic Blues"
"Montreal Midnight Supply"
"Something Mysterious"
"Sail On"
"Gemini"
"The Heather Reports"
Encores:
"Living For The Nighttime"
"Josephine"
"West Ruth Ave"
Check out some more photos from the show!
Photos By Juliane Renn




Please log in to view RANTS

If you don't have a username, click here to create an account!