CHILDREN OF BODOM In Ottawa, Canada


By Andrew Depedro, Ottawa Corespondent
Tuesday, January 2, 2018 @ 1:47 PM


| | | |
| --- | --- | --- |
| | | COB Celebrate Getting Down & Dirty At The Bronson Center, With LOST SOCIETY, CARACH ANGREN, November 29, 2017 |
Once more, the graduating class of '92 a.k.a. the Children Of Bronson would never have thought that a quarter century into the future that the sacred halls of the former Mac Hall would bear witness to all that was loud, proud and clothed in black. Can't expect to commemorate two decades of a landmark debut album's release without getting kinda down and dirty as this tour would attest to.

Scandinavia mania would be in full effect as fellow Finnish thrashers LOST SOCIETY take the stage and fire off some of their high-voltage 100 mph numbers such as "Attaxic", "KILL (Those Who Oppose Me)" and the opening rager "Tyrant Takeover". The quartet, touring behind their third and latest album Braindead, may at first come off as easy targets for the skeptics long wary of the nu-thrash revival but the plucky quartet, proudly donning hockey jerseys as they headbanged their way through their catalogue, proved that they were the real deal when their frontman Samy Elbanna manages to command the first Wall Of Death of the evening. The crowd obliges by the end of the aptly-titled closing number "Riot", and by then, LOST SOCIETY are found and reunited with a new legion of fans.

www.facebook.com/lostsocietyfinland
lostsocietyfinland.com
With the backdrop depicting the gothic-looking logo and the haunted house seen in almost every episode of Scooby Doo since the first Trudeau administration, it's time for Dutch symphonic black metal overlords CARACH ANGREN to get grim and tr00 at Mac Hall. They opened with "Charlie" from the band's latest and fifth album Dance And Laugh Amongst The Rotten and proceeded to mystify the crowd with further tales of ancient folk lore and other ghost stories. Being as their name translates to "iron jaws" in the Elvish language of Sindarin, it's safe to say that the quartet are big on their Lord Of The Rings worship. I'm equally intrigued at how their keyboardist Ardek can handle his instrument with such willful abandon and skill, given that it's bolted to the ground while the board itself is spinning; it's like watching CC DeVille attempting the most beautifully choreographed display of sign spinning ever. But CARACH ANGREN aren't just about spinning keyboards and disturbing lyrical imagery of abusive alcoholic parents and killer clowns (seriously, that fourth album This Is No Fairytale makes the first KORN album sound like Adele when you really listen to the lyrics); they're also one of the few multilingual symphonic black metal bands known in the scene. Proof of this statement comes in the form of the song "In de Naam Van de Duivel (In The Name Of The Devil)" when guitarist/frontman Seregor leads the fans to repeat a complex lyric in Dutch. And the crowd obliges - quite the accomplishment given that Canada's sole official languages are English and French coupled with the Bronson Center being a block away from Chinatown. Then again, they have sung in French too. In any case, CARACH ANGREN became the surprise hit of the show thus far, with the band members later taking time out to hang out with their fans afterwards. They found it bemusing when I told them that they'd just played my old high school, the Immaculata school uniform crest replaced by SLAYER and CANNIBAL CORPSE patches that night. This was no high school reunion, though, and a thousand hails to CARACH ANGREN for bringing the black to the blue and grey.
www.carach-angren.nl
www.facebook.com/carachangren
It's been two decades since their debut album Something Wild landed in the lap of the average metal fan striving for something louder after grunge's sudden implosion, but headliners CHILDREN OF BODOM took up the cause and helped spearhead the Scandinavian death metal movement with its combination of furious guitar solos, acerbic-sounding demonic vocals and jackhammer percussion rhythms. This was not the music for those of the WALLFLOWERS/SMASH MOUTH persuasion back when those bands reigned supreme in the mainstream rock circuit. In 2017, these same bands are confined to their rightful footnote in music history while the current lineup of Alexi Laiho (vocals/guitar), Jaska Raatikainen (drums), Henkka Seppalla (bass), Janne Wirman (keyboardist) and new member Daniel Freyberg (guitar) are playing one of many sold-out shows on their latest North American tour known as the 20 Years Down And Dirty tour commemorating COB's debut album.
Opening with "Deadnight Warrior", the quintet immediately get the pit jumpin' as Laiho's growls fill the hall. Newcomer Daniel Freyberg may only have been in the band for a brief period so far, but he could definitely hang and almost match Laiho's insane soloing as if he'd been part of the original lineup. And while I'd been a good decade late to the BODOM bash, I still could recognize their early songs such as "Needled 24/7", "Hatebreeder", "Downfall", "Everytime I Die" and other songs whose titles must've inspired several band names over the course of the past 15 years. The other tracks from Something Wild such as "Lake Bodom" and "Red Light In My Eyes Part 2" certainly cemented the foundation of the grim history behind the band's name (a murder case involving four Finnish teens who were killed at a popular camp site back in 1960 which had taken close to 50 years to solve). And while the closest to anything new played that night was....well, "Needled 24/7" and "Hate Crew Deathroll" from 2003, time hasn't slowed down COB. There's only been a two-year gap between their last album and the next album which should see the light early next year, and if this recent tour was any indication of their unlimited energy, there's still lots of Belvedere vodka left in the proverbial cooler for COB to come up with a killer follow-up to 2015's I Worship Chaos. Alexi Laiho was still looking in top form after the crowd were sweaty, winded and spent following a devastating performance of the closing number "Towards Dead End" that you wouldn't have thought that it had been the last song of the night. But clearly his voice was getting hoarse by the end of the night after summarizing close to a quarter century of material into 90 minutes as he thanked Ottawa for making COB's first visit one for the ages for the band.
Start the fire and get the tent up for BODOM has made O-Town its beach. And being from Finland, the cold never bothered them anyway either.
www.cobhc.com
www.facebook.com/childrenofbodom
Setlist:
"Deadnight Warrior"
"In The Shadows"
"Needled 24/7"
"Hatebreeder"
"Lake Bodom"
"Warheart"
"Hate Me!"
"Red Light In My Eyes, Part 2"
"Downfall"
"Everytime I Die"
"Children Of Bodom"
"Hate Crew Deathroll"
"Bed Of Razors"
"Kissing The Shadows"
Encore:
"The Nail"
"Towards Dead End"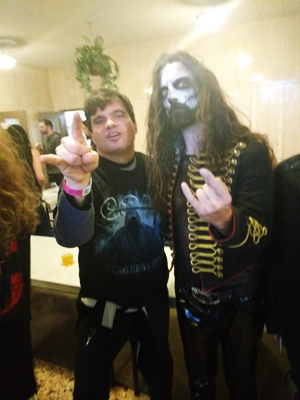 Please log in to view RANTS

If you don't have a username, click here to create an account!