INSIDE METAL The Rise Of L.A. Thrash Metal - Part I DVD


By George Antony, Australia Contributor
Thursday, January 4, 2018 @ 12:36 AM


| | | |
| --- | --- | --- |
| | | |
INSIDE METAL
The Rise Of L.A. Thrash Metal - Part 1
MetalRock Films




The team of Warren Croyle, Joe Floyd, Carl Alvarez & Bob Nalbandian (also Directing) shine a light on the fiercely competitive era of the 1980's L.A. thrash metal scene. This is The Rise Of L.A. Thrash Metal Part I, narrated by David Ellefson of MEGADETH, due out on DVD in January 2018 with Part II due out later in 2018.

Following the hard rock/metal of the late 1970's was the underground L.A. metal explosion of the early 1980's which, along with San Fransisco, was heavily infuenced by the new wave of British heavy metal bands such as IRON MAIDEN, JUDAS PRIEST, VENOM, BLACKSABBATH, MOTORHEAD & RAVEN. Punk was also an influence by way of the energy & aggressive behaviour with bands like THE RAMONES, SEX PISTOLS & DEAD KENNEDYS, although with thrash having a more proficient guitar sound.

The pursuit of the L.A. thrash pioneers was faster & heavier. "The most extreme metal possible, the most intense guitar possible", Marty Friedman - MEGADETH. The question is posed, did thrash start out in L.A. or the Bay Area of San Fransisco? Three of the big four inaugural thrash bands came out of L.A.: METALLICA, SLAYER & MEGADETH (with ANTHRAX hailing from NY).

The L.A. thrash scene may have been overshadowed by the thriving Bay Area scene because the glam metal culture was so imbedded in L.A. which is a town that is all about image. When thrash was on the rise, bands such as METALLICA & SLAYER would share the stage & open for glam bands the likes of RATT, WHITE SISTER, AUGUST REDMOON, REGIME & STRYPER (who also make an appearance in this docu).

L.A. thrash bands played in East L.A. & Orange County to those niche communities of die hard thrash fans. For a larger audience they'd have to take the 7 hour drive to the welcoming Bay Area as they were so underappreciated in L.A. that they were being charged to play in the clubs. SLAYER posters were distributed in every high school & still no interest in this so called 'progressive rock'. Can you imagine turning your nose up at a SLAYER flyer? Metal Massacre at The Stone in the Bay Area knuckled down on the extreme heaviness of thrash and won over METALLICA, who relocated to San Fransisco.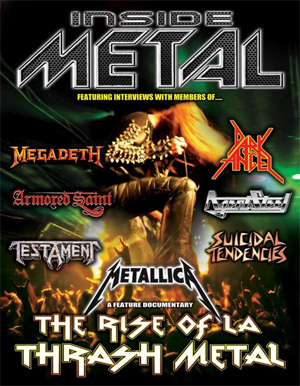 Thrash & punk fans would converge for common interest, highly energized music events at venues such as The Cuckoo's Nest, Whiskey A Go Go, The Florentine Gardens and The Olympic Theatre with thrash & punk on the same bill; SLAYER, THE CIRCLE JERKS, POSSESSED & BLACK FLAG for example. The crowd split neatly in two with the tensions in between. Thrash crossover bands emerged the likes of STEEL PROPHET, OVERKILL, and CRYPTIC SLAUGHTER. Everyone agrees that the energy was the unifier of punk & thrash as was their mutual irritation with the ubiquitous, showy glam bands representing L.A., overshadowing & embarrassing the L.A. thrash & punk scenes. This volatile alliance would go the way of the dodo bird when grunge arrived & conclusively dispatched with glam metal.
With glam metal and their lyrics of getting laid and partying gone, thrash smashed out even more vehement and brutal lyrics whether they were demonic or just bloody violence. If you were ballyhooed by the ilk of Geraldo Rivera at the time as being satanic & leading the kids into the occult, consider yourself thrash metal!
Musing over this period are Lars Ulrich of METALLICA, Steven Craig (former SLAYER & DARK ANGEL Manager), John Gallagher of RAVEN, Peter Baltes & Wolf Hoffmann of ACCEPT, Vincent Price of BODY COUNT/STEEL PANTHER & Juan Garcia of BODY COUNT/AGENT STEEL/ABOTTOIR and Ernie C of BODY COUNT, Gene Hoglan of TESTAMENT/DARK ANGEL and Eric Peterson of TESTAMENT, Chris Poland of MEGADETH/OHM, Frank Bello of ANTHRAX, Katon De Pena of HIRAX, Diego Negrete of MX MACHINE, Rocky George of SUICIDAL TENDENCIES/FISHBONE and Brian Slagel, CEO of Metal Blade Records among other guests.
This is a headfirst education in the supreme determination, talent and hunger not to mention the innovation required in a harsh environment for metal to exist let alone thrive and transcend at that time in L.A.
4.0 Out Of 5.0




Please log in to view RANTS

If you don't have a username, click here to create an account!