WATAIN Trident Wolf Eclipse


By Peter Atkinson, Contributor
Thursday, January 4, 2018 @ 12:38 AM


| | | |
| --- | --- | --- |
| | | |
WATAIN
Trident Wolf Eclipse
Century Media Records




After exploring new and unexpected sonic territory – traditional/gothic metal, balladry, clean vocals - on 2013's meandering The Wild Hunt, Swedish miscreants WATAIN take a more familiar and less adventurous approach for their new sixth album. It's a shrewd move, and a welcome one at that.

Where The Wild Hunt plodded and sometimes floundered, as did its predecessor Lawless Darkness to a certain extent, Trident Wolf Eclipse rips and tears. At just 35 minutes, compared with Hunt's 62 and Lawless' staggering 73, Trident strips away the bloat and leaves the lean, primal black metal the band first built its sound around back in the day on 2000's similarly terse Rabid Death's Curse.

Trident quite literally explodes at the outset with the bracing chug of "Nuclear Alchemy" and rarely lets up for long. "Teufelsreich", which recalls Chimera-era MAYHEM, is the album's most deliberate and dramatic track, but even it is laced with double-bass fusillades and tremolo guitar sprints. And at 4:26, it makes for a tidier, more effective package than, say, the infamous "They Rode On" from Wild Hunt or "Wolves Curse" from Lawless that were twice as long and threatened to wear out their welcome. Same goes for the death march-like finale "The Fire Of Power", especially when it is contrasted by the droney, rather drab seven-minute bonus track "Antikrists Mirakel" that follows on deluxe editions.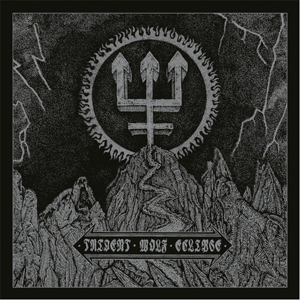 The punchy, crunchier, more vicious presentation WATAIN employs here gives tracks like "Ultra (Pandemoniac)" and the slog-and-surge dynamo "Towards The Sanctuary" a genuine malevolence. And "Sacred Damnation" and "Furor Diabolicus" are redolent with old-school black metal fire and fury thanks to frontman Eric Danielsson's rabid, phlegmy wail, Håkan Jonsson's galloping tempos and Pelle Martin Forsberg's shrill, frantic riffing.
Though this back to basics attack comes at the expense of the nuance and scope that helped set WATAIN apart from the hordes over the past decade – and certainly made for compelling work, overwrought though it sometimes was – the vigor and intensity of Trident is quite exhilarating. The band sounds as dangerous and evil here as it usually looks in its blood-soaked, fire-bathed live performances.
Sometimes there's something to be said for not trying to re-invent the wheel. And WATAIN's already done a lot more exploration and experimentation than most of its ilk over the years. Trident Wolf Eclipse takes a step back and reinvigorates the band just when it seemed like progressive indulgence might be dragging WATAIN down.
4.0 Out Of 5.0

Please log in to view RANTS