IRON MAIDEN The Book Of Souls: Live Chapter


By Alex Yarborough, Orlando Contributor
Thursday, January 11, 2018 @ 1:11 PM


| | | |
| --- | --- | --- |
| | | |
IRON MAIDEN
The Book of Souls: Live Chapter
2017 BMG Records




IRON MAIDEN completed The Book Of Souls World Tour last year, their 23rd tour since 1980. This tour saw the band playing 117 shows in 37 countries over the course of 17 months, and included the band's debut performances in Lithuania, El Savador and China. Once again, the band was able to fly around the world in their 747, Ed Force One, courtesy of lead singer and pilot Bruce Dickinson.

When IRON MAIDEN tours, true fans know they should attend, as the band's stagecraft is second to none. The success of each tour leads to a bigger production and more dates around the world on subsequent tours. I remember not too long ago, when IRON MAIDEN played little to no dates in America. Over the past few tours, they have integrated more and more cities into their itinerary. I was able to see this tour in Tampa, Florida, and I'm grateful the band has made multiple dates in Florida customary on their touring schedule. (It also helps that drummer Nicko McBrain is a resident of south Florida). The band is now hitting major cities across the US on every tour – as they should be. IRON MAIDEN has reached a comfortable agenda in the second half of their career. They take their time writing and recording a new album (in this case, it was the longest studio album of their career), then take their time touring the world thoroughly in support of it. IRON MAIDEN refuses to be a nostalgia act, and performs about half of each new album they tour in support of. On this tour, the setlist included six songs from The Book Of Souls, peppered with classics from the band's catalog.
The Book Of Souls: Live Chapter is not one entire show from a particular venue; instead, it features a different location for each song. The album opens with the same two songs as the studio album, "If Eternity Should Fail" and "Speed Of Light", recorded in Sydney, Australia and Cape Town, South Africa, respectively. "Wrathchild" (Dublin, Ireland) and "Children Of The Damned" (Montreal, Canada) follow. The band then goes back to The Book Of Souls for the next two songs, "Death Or Glory" (Wroclaw, Poland) and "The Red And The Black" (Tokyo, Japan). This concludes the first disc of the set.
Disc two goes back to The Book Of Souls for the next two tracks, "The Great Unknown" (Newcastle, UK) and "The Book Of Souls" (Download Festival, Donington, UK). Then, five classics from the band's catalog follow: "Fear Of The Dark" (Fortaleza, Brazil), "Iron Maiden" (Buenos Aires, Argentina), "The Number Of The Beast" (Wacken Open Air, Germany), "Blood Brothers" (Download Festival, Donington, UK) and "Wasted Years" (Rio De Janeiro, Brazil). All songs were recorded in 2016, with the exception of "Wrathchild" and "The Great Unknown", which were both recorded in 2017.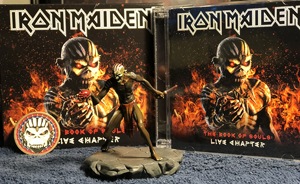 Quite a diverse list of locales to record songs from, but it works. In fact, this is among the best live performances IRON MAIDEN has recorded in my opinion. The word I have used to describe this album is "real" because the songs take you back to that live setting so well. It doesn't sound too overdubbed with fixes or crowd noises at all. I'm sure there were things fixed here and there, but for the most part this album sounds very close to the real thing. This is a testament to the quality of IRON MAIDEN and their ability after all these years, to still put on a fantastic live show. Live Chapter is a brilliant way to commemorate the tour if you were there, or to realize what you missed if you weren't. There are 15 songs total, clocking in around an hour and forty minutes.
This live collection was first sold exclusively at Walmart, and included a Shaman Eddie figurine and enamel collectors pin in a box. A very cool set for fans, and well worth the $22.97 sticker price.
4.8 Out Of 5.0




Please log in to view RANTS

If you don't have a username, click here to create an account!