AVATAR, THE BRAINS, HELLZAPOPPIN In Cleveland, OH With Photos!


By Geoff Ketler, Cleveland Contributor
Tuesday, February 13, 2018 @ 8:01 AM


| | | |
| --- | --- | --- |
| | | The Metal Spectacle Of Avatar Country At Cleveland House Of Blues |
All Photos By Geoff Ketler/Aces High Photography
With a growing audience in the states, Swedish metallers AVATAR announced a headline tour in support of their fresh offering, Avatar Country. The tour was billed as "The King & Avatar" – given the concept behind Avatar Country, this was self-explanatory. Featured as "The King" would be guitarist Jonas "Kungen" Jarlsby; playing into the imagery and content of the album that was then easily transformed into a thrilling and at some points, gimmicky live show.
The clown makeup and carnival-esque appearance of AVATAR made it easy to pair this tour with a literal carnival sideshow. HELLZAPOPPIN is an eclectic mix of magicians and performers attempting crazy and grotesque stunts presented as if we had all somehow arrived at Coney Island. The host, "The Govna" Bryce Groves brought out act after act. Ryan Stock swallowed swords, cracked jokes and balanced a chainsaw in his teeth. Short E Dangerously walked on broken glass with his hands and magician Dan Sperry pulled off an amazing performance with doves that blew the audience away. This was my first experience with a circus side-show opening up a concert, I felt it was odd, but fitting and definitely set the tone for the rest of the evening.
Up next was the rockabilly trio, THE BRAINS from Montreal. Rockabilly seems to be the new hipster thing to do these days. I see a lot of rockabilly/psychobilly bands cropping up, but for me, if you plan on heading down this road, you will have to be compared with THE NEKROMANTIX and that is a tall task. It can be catchy, but if you don't sound original, it just becomes a muddled mess of swing music and dyed black pompadours. Maybe rockabilly just isn't my thing, but THE BRAINS just did not do it for me. I will say this, drummer Phil The Beast played the entire set with his left foot – I saw him later and his right ankle was immobilized in a brace; an impressive feat. What the band lacked in originality, they made up in raw energy. It was almost like a classic punk set. Although many of the songs ran together and sounded the same, it was entertaining and engaging.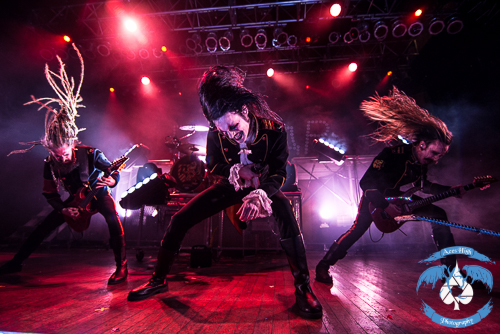 Setlist:
"Black Jack Death Bet"
"Out In The Dark"
"Stay Back"
"Hell N' Back"
"Six Rounds"
"Take What I Want (Souvenir Of Monte Cristo)"
"The Witch"
"Misery"
"We'll Rise"
"More Brains"
"Screaming"
Soon after THE BRAINS left the stage, a banner was dropped with The King's image on either side and a passage in the middle, reciting lyrics from "Glory To Our King". Moments later, the banner was removed and Jonas Jarlsby as "The King" rose from behind the drum kit, perched on his throne and donned with his robe and crown. Quickly the rest of AVATAR appeared and broke into "Legend Of The King", a lengthy 8-minute thriller with tempo changes and extreme dynamics. The King had arrived and we were all there to bid him welcome. Besides the throne, AVATAR brought with them a light package and production of the likes that stage had never seen. It made my time in the photo pit pretty volatile with the stage seemingly going from darkness to blinding, near death experience light in an instant.

The tall, gangly vocalist Johannes Eckerstrom made his way around the stage menacingly; tongue flailing a large portion of the time. He made great conversation between songs, pointing out that Cleveland was the rock n' roll capital of the world, however to become the metal capital we would all need a lesson from AVATAR. Johannes truly knows how to get a rise out of people and is quite the showman. He even busted out the trombone for "Puppet Show".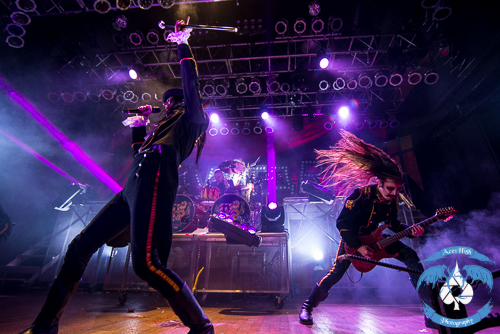 Although the setlist was centered around Avatar Country, there was a solid mix of old material, hits and oddballs in there as well. My only grumble was that I wanted to hear "Get In Line", maybe next time. Highlights included a scorching version of "War Song" and "Reload" – two songs off of albums that were never released in the states, but the crowd new them and reacted in a way that made Johannes take notice. He explained that AVATAR had been to Cleveland before and that we were already friends, but that now…now we are family. The night was capped off with "The King Welcomes You To Avatar Country", which included thousands of bubbles, flooding the stage and general admission floor and rounded out by "Hail The Apocalypse".
Setlist:
"Glory To Our King"
"Legend Of The King"
"Let It Burn"
"Paint Me Red"
"King's Harvest"
"Bloody Angel"
"For The Swarm"
"The King Wants You"
"Puppet Show"
"Tower"
"The Eagle Has Landed"
"War Song"
"Raven Wine"
"Reload"
"Smells Like A Freakshow"
"A Statue Of The King"
"The King Welcomes You To Avatar Country"
"Hail The Apocalypse"
Check out some more kick ass photos from the show!
All Photos By Geoff Ketler/Aces High Photography




Please log in to view RANTS

If you don't have a username, click here to create an account!






QUEENSRYCHE, FATES WARNING In Worcester, MA

Y&T In New Bedford, MA With Photos!

EXPERIENCE HENDRIX In Clearwater, FL With Photos!

OVERKILL, DESTRUCTION, FLOTSAM & JETSAM In Munich, Germany

TORA TORA Bastards of Beale

THE ELYSIAN FIELDS New World Misanthropia

IRON SAVIOR Kill Or Get Killed

BEAST IN BLACK From Hell With Love

CANNIBAL CORPSE, MORBID ANGEL In Santa Ana, CA With Photos!

NOTHING MORE, OF MICE & MEN In Los Angeles With Photos!

DREAM THEATER Distance Over Time

NIGHT RANGER In Houston, TX With Photos!

Y&T, GILBY CLARKE In Houston, TX With Photos!

LAST IN LINE In Houston, TX With Photos!

AENIMUS Dreamcatcher

CHILDREN OF BODOM Hexed

ASTRONOID Astronoid

RHAPSODY OF FIRE The Eighth Mountain

MALEVOLENT CREATION The 13th Beast

SILVERTUNG (But, At What Cost??!)

KILLER BEE Remember The Times

OVERKILL The Wings of War

SWALLOW THE SUN When A Shadow Is Forced Into The Light

LAST IN LINE II

HERMAN FRANK Fight The Fear

DARKEST HOUR, UNEARTH, TRIPLE MURDER In Ottawa, Canada

AMON AMARTH The Pursuit Of Vikings - 25 Years In The Eye Of The Storm DVD

STEEL PANTHER In Portland, OR With Photos!

AMARANTHE Helix

SOILWORK Verkligheten