Saxon The Saxon Chronicles DVD


By Larry Petro, News Monkey
Monday, January 19, 2004 @ 8:48 AM


| | | |
| --- | --- | --- |
| | | (SPV/Steamhammer) |
"The Saxon Chronicles captures one of the greatest heavy metal bands of all time at their ferocious best: playing live."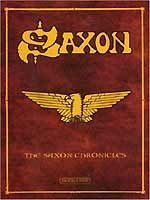 The year was 1983 and I was headed down to the Lloyd Noble Center in Norman, Oklahoma to see Iron Maiden on their 'World Piece' Tour. I had third row tickets to this event and was probably just as stoked at the time about the opening bands Maiden had brought with them, those being Saxon and Fastway. I had just recently picked up Saxon's Power and the Glory album and was really looking forward to seeing them for the first time. Unbeknownst to me at the time was the fact that this would also be the last time I would see this legendary band up until this past year or so when they made a small U.S. jaunt and I caught the last show on the tour here in Houston, Texas. So when the copy of Saxon's newest DVD, The Saxon Chronicles, arrived in my mailbox, I was very eager to check it out and get a feel for what I had been missing all these years.
This DVD is a two-disc set. Disc one contains a one hour, forty minute concert of Saxon filmed at the Wacken Open Air Festival in 2001 where Saxon was the headliner. From the opening pyro and chords of "Motorcycle Man," the watcher is hooked. The band is in superb form and though he may be 20 years older now, frontman Biff Byford can still hit the notes and bring chills to your spine. The 15 tracks in this set showcase the band's storied history and bring them to life like never before. Tracks like "Dogs of War," "Crusader," "Power & the Glory," "Princess of the Night," "Wheels of Steel" and "Strong Arm of the Law" will have you unconsciously nodding your head through the entire show. Since that first show I saw in '83 I had not kept up with Saxon for whatever reason and I was quite surprised at how much quality material they had produced since then. Start to finish this is a flawless performance. The rest of disc one contains an interview with Biff that runs about 15 minutes or so and there is also a slide show presentation of Saxon's discography that can be selected.
Disc two contains odd bits and pieces from over the years, starting with a Saxon on tour section which has homemade videos shot of the band on tour, backstage and even has some clips of songs shot from the audience, side stage, etc., including some from 1995 at the Esbjerg Festival. Next up on this disc is a collection of Saxon videos and video clips. Man, some of these are classic! How many people can say they have seen the video for "Suzy Hold On"? And how many of can forget the classically cheesy video of "Power and the Glory"? My God, when I saw that video again it took me right back to the '80s, where virtually all metal videos were cheesy by today's standards. There are 8 videos/clips in this section and definitely worth checking out. The second disc finishes up with clips of interviews, TV appearances and a band history along with a band photo gallery, press clippings and web links.
For me, this DVD is a must have for any Saxon fan. If you want to see a heavy metal band showing the world how rock is done, then this DVD is for you! It will leave your fist pumping for more.
* * * * *




Please log in to view RANTS

If you don't have a username, click here to create an account!