THERION Beloved Antichrist


By Daniel Höhr, European Correspondent
Tuesday, February 20, 2018 @ 1:27 PM


| | | |
| --- | --- | --- |
| | | |
THERION
Beloved Antichrist
Nuclear Blast, 2018




Writing operas is every composer's dream and most certainly the artistic highlight in any musical master's life. And they all handled the genre differently. Mozart started early, writing his first opera at the age of eleven or twelve, depending on what you regard as his first opera. Beethoven's well-known struggles with Leonore, or Fidelio as his only opera became known, resulted in multiple versions of it and would probably have slipped into oblivion if it hadn't have Beethoven's name on the title page. Verdi hardly wrote anything else than operas while Wagner developed the concept of "music drama" and his works have been either loved or dreaded until the present day.

Christofer Johnsson, multi-instrumentalist and musical mastermind of the Swedish symphonic metalers THERION, attempted to write an opera fifteen years ago. Getting stuck in the process after not having written a single note in a decade and turning to metal and rock music instead, he shelved the project until 2012. Then the best parts were rearranged, rock and metal elements were added, new material was written and the actual recording began in 2016. Beloved Antichrist was released on 9 February through Nuclear Blast – possibly the most unusual work of art published by this label.

Beloved Antichrist is Christofer Johnsson's magnum opus indeed. The music fills three CDs, so you will need some time – and quiet – to listen to it. Inspired by A Short Tale Of The Antichrist by Vladimir Solovyov (1853-1900), the opera features 30 different roles, each of them requiring a unique voice. The cast of singers is too long to mention here – I'm sure the CD booklet will list all of them. At this stage, by the way, it would have been helpful if Nuclear Blast had provided something like a synopsis with the download version of the work (the days when we were sent actual physical CDs are definitely over – sadly). Still, even without a clear idea of the plot, the altogether 46 tracks are highly enjoyble, if that is the correct word. Bloody impressive may be more precise. Somewhere between late nineteenth-century romantic music and Lord Andrew Lloyd Webber, fuelled and constantly driven by symphonic metal, Beloved Antichrist is bound to take you on a dramatic and musical roller coaster ride with many an epic highlight ("The Crowning Of Splendour" is just one example) but also more light-hearted, romantic moments ("Signs Are Here" with its beautiful choir and echos of moduar medieval music). The track list is far too long to go into any detail here but suffice it to say that the listener will not be disappointed, to say the least. Each note is a testimony of Christofer Johnsson's talent and skills as a serious composer and arranger. Compelling melodies like in "Never Again" with its steadily moving groove, clever and effective choirs arrangements e.g. at the beginning of "The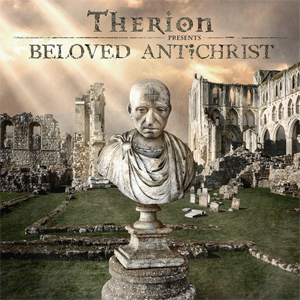 Palace Ball" but also harmonic structures that go far beyond the usual major-minor tonality are just some of the factors that make Beloved Antichrist – and I don't use this word lightly – a masterpiece. Each number has its own mood, is carefully and skillfully orchestrated and there is not one moment of boredom in this larger-than-life piece of work, something you definitely can't say about Beethoven's Fidelio (sorry, Ludwig).
And yet, an opera is meant to be merely listened to as much as theatre play is meant to be read. It is meant to be performed with a real orchestra and its story is meant to come alive on the stage of an opera house. THERION are planning to actually bring Beloved Antichrist to selected opera houses after their three-month tour starting in February. Until then the three CDs will do, even though a real orchestra with real musicians will add to the musical experience more than the programmed instruments can do, as authentic as they sound on the recording.
While many a metal-meets-classic project artistically fails because it ultimately results in kitsch, THERION masterfully succeed in credibly and compellingly combining the two worlds and addressing both audiences. As a classically trained and performing pianist and a metal head, who feels at home in a symphony hall as much as at a metal show, I'm not only dead impressed with this opus, I'm confident that THERION's latest release will go down in musical history. Great compositions and arrangements, a stunning cast of singers and symphonic metal at its best make Beloved Antichrist a unique work of art.
5.0 Out Of 5.0




Please log in to view RANTS

If you don't have a username, click here to create an account!