WISHING WELL Rat Race


By Alex Yarborough, Orlando Contributor
Wednesday, March 7, 2018 @ 1:07 PM


| | | |
| --- | --- | --- |
| | | |
WISHING WELL
Rat Race
2018 Inverse Records




Finnish melodic rockers WISHING WELL released their debut album Chasing Rainbows two years ago. It was a pleasant surprise for me, and I enjoyed many of the songs on it. Their sophomore album, Rat Race, was recently released on March 2nd.

WISHING WELL is led by guitarist and songwriter Anssi Korkiakoski (the only remaining member from the debut album). Enter new vocalist, Chilean Rafael Castillo (FIRELAND). His voice is well suited to these songs. The new band includes bassist Rick Becker and drummer Juha Kivikanto. The most interesting addition, however, is organist Arto Teppo. Gone is the piano that was present in many of the songs on Chasing Rainbows, replaced by Teppo's Hammond organ, which gives these new songs an old school, classic rock flavor.

The album opens with the up-tempo "Wheeling And Dealing", a really catchy, almost power metal track that compares life to the stock market. I found myself singing along with this song and it immediately became one of my favorites on the album. Kivikanto's drumming and Korkiakoski's' guitar riffs are right on the money– really the whole band shows off on this track. Take a look at the video on KNAC.COM HERE. "Children Of Paradise" is another successful track, featuring another catchy chorus and a children's choir on the outro. "Sleepless Nights" is a really cool song, with yet another sing-along chorus and a stellar guitar solo. "Pilgrim's Caravan" changes gears a bit. This is a folkish track that plods along (with purpose) and includes a really cool Arabic violin in the mix. I don't think I've ever heard this instrument before.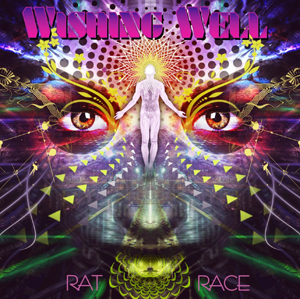 Title track "Rat Race" is a blue collar anthem with a nice degree of levity. This is one of those songs that everyone who works for a living can identify with. I grew to love the guitar lick in "Falling Out of Love"; props to Korkiakoski for this gem. The female backing vocals and guitar solo are nice additions to this song as well. Acoustic interlude, "A Little Dream" offers a brief respite from the hard rock. A salute to the band for the humbling, religious song, "Grain Of Sand". This really is a beautiful hymn. "You Can't Keep A Good Man Down" features some doom riffing and themes, while closer "The Day Of Doom" takes it one step further down the doom path with lyrics like "Our days are numbered, every man must die, no one lives forever, you can't get out alive…" This song is actually not as bleak as it sounds! The IRON MAIDEN-esque harmony guitar sections are enjoyable.
The most impressive aspect of Rat Race is the diversity of styles on this album; there's a little something for everyone. One listen through the album and it became obvious: this lineup is stronger than the previous one. I really like Rafael Castillo's voice; he sings these songs with a passion. Rat Race has another great album cover, and the album length is 46 minutes, so they've increased the length over the debut. Fans of IRON MAIDEN, DEEP PURPLE and RAINBOW are going to find something to like on Rat Race. I think fans of the first album will enjoy it as well. Overall, I like this album a little more than the debut.
4.3 Out Of 5.0




Please log in to view RANTS

If you don't have a username, click here to create an account!