OVERKILL In Sydney, Australia


By George Antony, Australia Contributor
Thursday, March 8, 2018 @ 8:27 AM


| | | |
| --- | --- | --- |
| | | 3rd March 2018 At The Factory Theatre |
Photos by David Sinclair-Smith
This is the band's "The Grinding Wheel" tour after the album, their 18th full length studio album, was released on Feb 10 2017 through the Nuclear Blast label.
Four banging decades of music and this is OVERKILL's second trip to Oz. I missed their first tour here in 2010 and I'd be damned if I was going to miss this one.
These work horses are one of the original thrash crossover bands founded in 1980 in New Jersey. Not often do you get to hear the killer original sounds of this era and slamming new releases. If you're not versed on OVERKILL, you're not up to scratch on your thrash appreciation and the punk influence that gives it that raw aggression we've all come here to witness.
The Grinding Wheel album has a diverse sound as Bobby Blitz had previously attested, with raw punk, hair trigger thrash and old school rock all given the spotlight throughout the tracks. Being the follow up album to OVERKILL's highly acclaimed White Devil Armory, released in July 2014, an archetypal metal assault album, The Grinding Wheel could've been a pale comparison. The fact that Grinding Wheel has a completely different feel just shows how this band's creative juices work, their musicianship is impeccable.
Making it to our welcoming shores for this tour are Bobby "Blitz" Ellsworth - vocals, D.D. Verni - bass, Dave Linsk - lead guitar and Jason Bittner - drums. Their rhythm guitarist, Derek Tailer, didn't make this trip. He didn't make their previous 2010 tour down under either, so I hope he makes the next one ok! But the sound this night in Sydney was hard and unrelenting, OVERKILL never leave you wanting for anything. The Factory Theatre holds a few hundred and it was at capacity and pulsing with anticipation.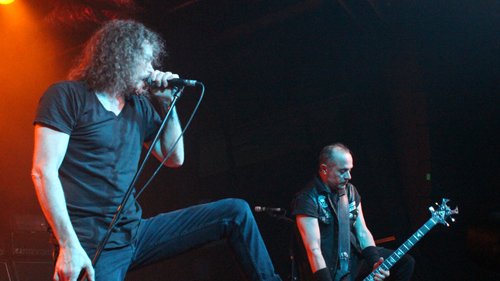 During this Australian tour OVERKILL is doing their bit to endorse local Aussie metal talent with support bands from each of the areas they're touring - 28th Feb in Adelaide had TRUTH CORRODED and SHADOW REALM - 1st March in Brisbane had DRAGONS MEAD and SERAPHIC - 2nd March in Melbourne had HARLOTT and DIABLAZE - 3rd March in Sydney had METREYA and HAZMAT - 4th March in Perth had ENTROPHY and COLD FATE.
When Blitz gets the crowd going with his characteristic New Jersey twang, reminiscent of Joe Pesci, he compliments Oz's sun, beaches, beer and scenery "know what I mean"? Yeah we know what you mean mate, this is rock, this is thrash and we're feeling it. "Now we get together for some motherfucking head banging"! screams Blitz. Delivered! Out of the fifteen songs on the set list, two are from The Grinding Wheel; "Mean, Green Killing Machine" which is classic killer rock/thrash. I dig Blitz's solo that is very Ozzy-esk, it has a really compelling vibe, really catchy. Also from The Grinding Wheel they played "Goddamn Trouble", which is hard, fast, dirty thrash in all it's glory with a dexterous guitar solo. Mosh pit action was happening.
A hapless dude wearing a GoPro helmet learnt that intrusion into unadulterated thrash savouring will be met with extra pushing and shoving in the mosh pit until the camera falls to the ground and is expressly kicked around to the narration of "fuck off" by all. What they mean to say is they aren't going to be privy to any social media tosser's attempt to use OVERKILL as a prop in their array of activities to be displayed on their Instagram or fame piggy backing for wannabe civilians on Facebook.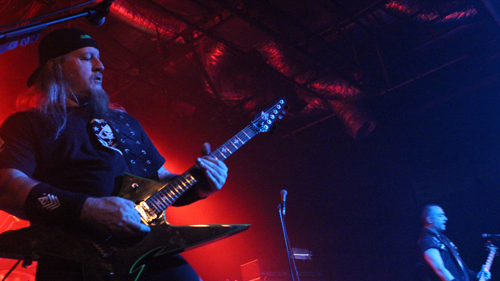 Then there was a rousing selection of favourites from some of OVERKILL's most successful albums: Feel The Fire - "Rotten To The Core" and "Hammerhead", The Electric Age - "Electric Rattle Snake", Under The Influence - "Hello From The Gutter" being one of the band's all time hits, Taking Over - "In Union We Stand" is such an OVERKILL ballad of mighty caliber and "Wrecking Crew" to pump the audience up, The Years Of Decay - "I Hate" seems an ode to punk anthem and "Elimination" delivering invincible riffs, Horrorscope - "Horrorscope", "Coma" and "Infectious".
Their encore track, "Fuck You", from the Fuck You EP in 1987, is a SUBHUMANS cover, originally released on The Subhumans EP in 1979. This encore is a tribute to Brian Goble (Wimpy-Roy) who passed in Dec 2014, showing OVERKILL's thrash/punk crossover roots. SUBHUMANS are a Canadian punk band formed in 1978. Blitz and Verni may have been attracted to the SUBHUMANS' aggressive performances with the unparalleled physicality of vocalist Brian, known for his sometimes painful stage diving and even being mauled by fans to the point of nakedity before staggering back onto stage, the drummer Ken Montgomery (Dimwit) smashing his skins with oversized sticks.
The final encore was "Overkill", a MOTORHEAD cover. The importance of this cover cannot be overstated. With the band using the original MOTORHEAD song as their namesake, the reverence is obvious. Bobby Blitz regards Lemmy as the person who personifies heavy metal the most in this business and while he considers it an honor to be called "the MOTORHEAD of thrash", with similar principles and ideologies, Bobby still maintains "Overkill" is OVERKILL while admiring MOTORHEAD's presentation and song writing. Recalling the priceless story of Bobby performing "Overkill" with Lemmy on stage in Germany, while OVERKILL were touring Europe with MOTORHEAD in 2008, which ended with an escapee stage dive by Bobby Blitz, embarrassed by Lemmy's loud discovery of the cheat notes on Bobby's arm due to nerves.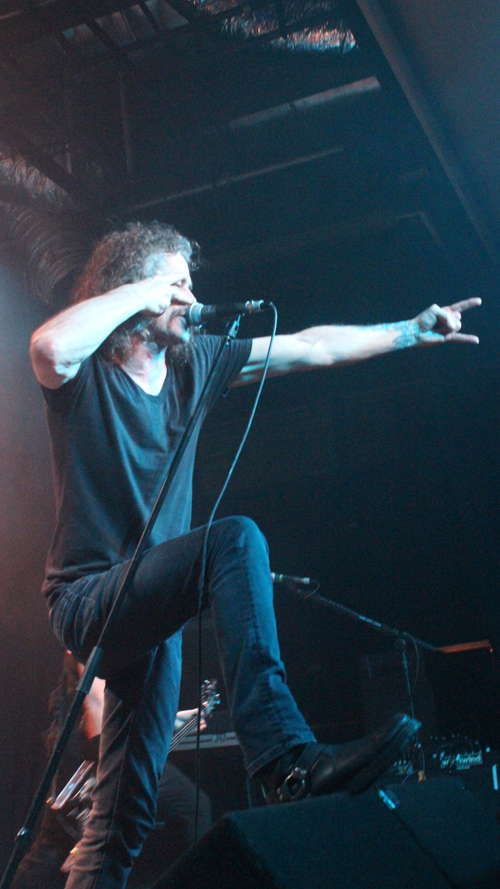 I had a thoroughly rocking time and the sound quality was awesome. The boys were energetic and unyielding.
Set List
"Mean, Green, Killing Machine"
"Rotten To The Core"
"Electric Rattle Snake"
"Hello From The Gutter"
"In Union We Stand"
"Goddamn Trouble"
"Wrecking Crew"
"I Hate"
"Horrorscope"
"Coma"
"Infectious"
"Hammerhead"
Encore
"Elimination"
"Fuck You"
"Overkill"




Please log in to view RANTS

If you don't have a username, click here to create an account!