THE CROWN Cobra Speed Venom


By Peter Atkinson, Contributor
Monday, March 12, 2018 @ 10:44 AM


| | | |
| --- | --- | --- |
| | | |
THE CROWN
Cobra Speed Venom
Metal Blade Records




Sweden's THE CROWN has kind of bumbled and stumbled its way through the reunion that followed its five-year mid-2000s hiatus. After issuing the respectable comeback album Doomsday King in 2009 with new frontman Jonas Stålhammar on board, things went a bit sideways. By 2011, Stålhammar (he now plays guitar with fellow Swedish reunitees AT THE GATES) was gone, as were original drummer Janne Saarenpää and guitarist Marcus Sunesson - replaced by Henrik Axelsson and Robin Sörqvist, respectively - and original vocalist Johan Lindstrand was invited back for a third go-round, which yielded the rather disappointed Death Is Not Dead in 2015.

But with Cobra Speed Venom, THE CROWN has finally gotten itself back in the fighting shape of old - and then some. The album – once again issued by Metal Blade Records after a stint with Century Media - bristles with the same sort of energy and vigor of the band's pre-hiatus days, and shows the sort of chemistry and purpose that Death Is Not Dead lacked. Cobra also boasts the same lineup as Death, a first since Possessed 13/Crowned Unholy in 2003/2004, and the familiarity definitely pays off here.

The band's 10th album, Cobra is ataut rager that bursts of out the gate with "Destroyed By Madness" and never looks back. After the haunting strings of its brief intro, "Destroyed" launches into classic "Swedeath" mode, but with a little something extra in Axelsson's double bass/blast-beat salvos and the drag-race riffing of Sörqvist and original guitarist Marko Tervonen who, along with bassist Magnus Olsfelt, is one the few constants in the band's rather turbulent existence. The harmonized leads and a wicked solo from Sörqvist are a nice extra touch.

"Iron Crown" offers more of the same in an even more viciously efficient, hardcore-tinged 3:24, aided by the burly production prowess of Fredrik Nordström in whose Studio Fredman the album was recorded. The band hadn't worked him since 2000's classic Deathrace King – the album by which all other CROWN albums are usually measured – and it is a fortuitous reunion. The big, bombastic sound gives a resounding death march crunch to less adrenalized tracks like "World War Machine" - with its menacing "Bow down and hail your king!" command - and "We Avenge!" while ensuring the more furious title track, "Rise In Blood" or "Necrohammer" retain their bite amid all the velocity.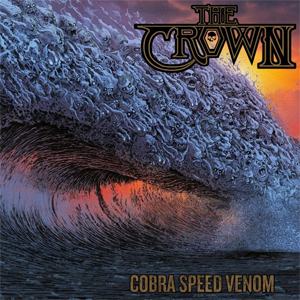 Cobra does, however, lose some steam at the end. The instrumental "Where My Grave Shall Stand" doesn't offer much other than to showcase Sörqvist's crafty leadwork and the closing track "The Sign Of The Scythe" is a seven-minute surge-and-slog that could have done with more surge and less slog.
"Nemesis Diamond" definitely snag that one. Not sure why that tune missed the final cut, but it's one of the best tracks here - a total package of galloping death 'n roll pacing, rousing hooks, shout-along "Rise, Rise, Rise" rallying cry and blistering lead work. I'd take it over "The Sign Of The Scythe" any day. The slow-burn epic "The Great Dying" is long and kind of "meh" - especially in comparison to "Nemesis" - but "Ride The Fire" is a bracing little ass-kicker with some nifty riffs that brings the bonus material to a sweaty close.

After the false start of Doomsday King, and subsequent sputtering with Death Is Not Dead, THE CROWN certainly was testing the patience of fans who had so eagerly awaited the band's resurrection. With Cobra Speed Venom, the patience of those who stuck with the band is, for the most part, rewarded. It's both a return to form, and a welcome step forward for the quintet, which is finally starting to gel in its current incarnation. But given THE CROWN's history, enjoy it while you can.

3.5 Out Of 5.0




Please log in to view RANTS

If you don't have a username, click here to create an account!