MICHAEL SCHENKER FEST In Cleveland, OH With Photos!


By Geoff Ketler, Cleveland Contributor
Thursday, March 22, 2018 @ 12:12 AM


| | | |
| --- | --- | --- |
| | | Guitar legend Reunites With Past Vocalists Bonnet, McAuley & Barden For An Amazing Live Experience |
All Photos By Geoff Ketler/Aces High Photography
One of the most revered and cherished guitar masterminds of the last 40 years brought a host of vocalists and his enormous catalogue of influential material complete with new album in tow to the recently renovated World-Famous Agora Theater for a night of dazzling fret work and vocal celebration. I could have easily written this review with one word; "wow" or "amazing" would have sufficed. Simply put, Michael Schenker assembled the classic vocalists from his life's work; Gary Barden, Graham Bonnet and Robin McAuley had strapped in to put on a clinic of classic Schenker material that left concertgoers weak in the knees.
I arrived at the Cleveland Agora a few minutes before doors. The line stretched down the street for several blocks – an amazing feat for anyone in this once prime music city. We all filtered into the theater and I was amazed to find out that due to the multiple vocalists being utilized, I was allowed to photograph the entire set. Let's just say I was "flush" with excitement. I mean, who wouldn't want to shoot a guitar legend from the photo pit for over 2.5 hours straight?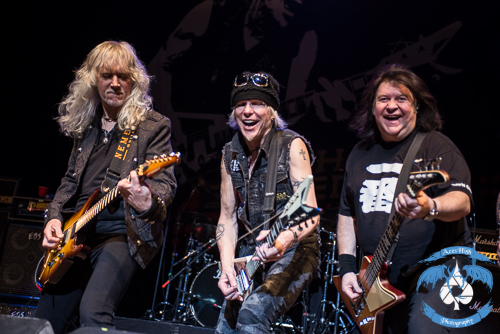 The lights went down and out trots the man himself, Michael Schenker. He introduces Gary Barden and then gets right down to business – there is no time to waste when there are thirty, yes thirty songs in the set. Although all of the vocalists would often provide exquisite backing harmonies throughout, the set was split into four distinct parts. Barden was up first, followed by Graham Bonnet, then Robin McAuley and finally Doogie White. I had to remind myself that this was 2018 and most of these vocalists recorded and toured with Schenker before I was born, that's how great each of them truly sounded. Graham's vocals were almost opera-like, Gary's were spot-on, but Robin sounded absolutely stunning. His voice cut right through the house sound with just a tinge of rasp; a true rock vocal with plenty of soul. All vocalists aside, the guitar wizardry of Michael Schenker would not be upstaged.
What can I say? Except that Michael was flawless. Before the epic UFO tune, "Rock Bottom", the 'Blonde Bomber' explained that it had been almost forty years since the critically acclaimed UFO - Strangers In The Night live album was released; an album that has been consistently proclaimed as one of the best live recordings of all time. I agree, but even the double live album is incomparable to the real thing. "Rock Bottom" preceded an all UFO encore that included "Doctor Doctor" among others. The lone SCORPIONS tune was the mellow instrumental "Coast To Coast", of which Michael explained was written as a gift for his brother Rudy Schenker. Michael was all smiles and enjoyed talking to the audience. It looked as though the band was having every bit as much fun as the packed audience. The tight-knit group was rounded out by Chris Glen on bass, Ted McKenna on drums and Steve Mann on guitar/keys. I cannot fathom what it took in rehearsal to hammer down 30 songs for this tour, especially with just how precise it sounded.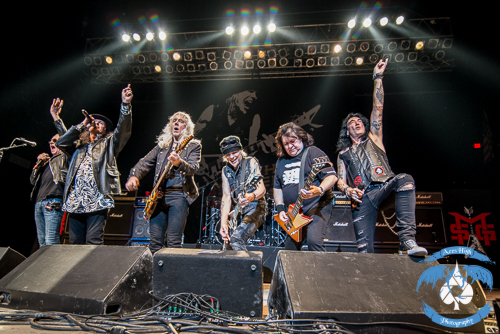 The entire night will go down as one of those "I was there…" stories in Cleveland lore. When it did finally end – trust me, no one wanted it to and for a while, there was no end in sight – but when it was time to say goodbye, I aimlessly packed my gear and wandered out of the photo pit, shell-shocked, sweaty, sore and grinning from ear to ear. Simply put – it was amazing.
Setlist:
"Into The Arena"
"Let Sleeping Dogs Lie"
"Cry For The Nations"
"Attack Of The Mad Axeman"
"Messin' Around"
"Armed And Ready"
"Coast To Coast"
"Desert Song"
"Dancer"
"Night Moods"
"Searching For A Reason"
"Assault Attack"
"Captain Nemo"
"Bad Boys"
"Save Yourself"
"Anytime"
"Heart And Soul"
"Love Is Not A Game"
"Searching For Freedom"
"Live And Let Live"
"Vigilante Man"
"Lord Of The Lost And Lonely"
"Take Me To The Church"
"Before The Devil Knows You're Dead"
"Warrior"
"Rock Bottom"
Encore:
"Doctor Doctor"
"Shoot Shoot"
"Natural Thing"
"Lights Out"
Check out some more photos from the show!
All Photos By Geoff Ketler/Aces High Photography

Please log in to view RANTS



MOTÖRHEAD Iron Fist 40th Anniversary Edition

TESLA, KURT DEIMER In Houston, TX With Photos!

CLUTCH Sunrise On Slaughter Beach

SCORPIONS, THUNDERMOTHER In Houston, TX With Photos!

BEHEMOTH Opvs Contra Natvram

IRON MAIDEN, TRIVIUM In Austin, TX With Photos!

AEROSMITH, EXTREME In Boston, MA With Photos!

SAMMY HAGAR, GEORGE THOROGOOD, QUEENSRYCHE In Ridgefield, WA With Photos!

KINGS OF MERCIA Kings of Mercia

OZZY OSBOURNE Patient Number 9 In-Store Record Signing In Long Beach

ALICE IN CHAINS, BREAKING BENJAMIN, BUSH, THUNDERPUSSY In Ridgefield, WA With Photos!

GOATWHORE, INCANTATION, BEWITCHER In Los Angeles With Photos!

SKID ROW The Gang's All Here

FALLUJAH Empyrean

FIVE FINGER DEATH PUNCH, MEGADETH, THE HU, FIRE FROM THE GODS In Houston, TX With Photos!

DEICIDE, KATAKLYSM, INHUMAN CONDITION In Los Angeles With Photos!

KING'S X Three Sides Of One

BLIND GUARDIAN The God Machine

BUTCHER BABIES, UNCURED In Los Angeles

STYX, REO SPEEDWAGON, LOVERBOY In Mansfield, MA With Photos!

AT THE GATES, MUNICIPAL WASTE In Los Angeles With Photos!

OCEANS OF SLUMBER Starlight and Ash

A-Z A-Z

MACHINE HEAD ØF KINGDØM AND CRØWN

MY CHEMICAL ROMANCE In Nashville, TN With Photos!

BELPHEGOR The Devils

THE DEAD DAISIES Radiance

SANTA CRUZ The Return Of The Kings

THE STADIUM TOUR In Houston Photo Gallery

THUNDERMOTHER Black And Gold