All Photos By Petr Maur
The bucket list is prepped, the cameras are rolling and the interview's been recorded in time for the incendiary live event known as the Firepower World Tour! Featuring two of the best of the New Wave Of British Heavy Metal's exports and a supergroup of sorts coming into its own after rising from the embers of a third well-known influential rock band whose legacy also shaped the NWOBHM genre, this was a show for the ages - and as for a chance to shrink the bucket list of live concerts I'd always wanted to see, this would be a piece of cake.
Speaking of which, following the famous story of the 2011 THIN LIZZY farewell tour, the French language training-weary work colleague named Lisa and the slice of chocolate black forest heaven I'd saved for her that gave her a reason to continue living that I'd alluded to in my recent review of Heavy Fire, karma has returned - literally - in the form of opening band BLACK STAR RIDERS. In fact, this was actually the band's first full-length Canadian tour as the all-star team of Ricky Warwick (vocals/guitar), Damon Johnston (lead guitar), Scott Gorham (lead/rhythm guitar), Robbie Crane (bassist) and Chad Szeliga (drums - sorry for accidentally ignoring you before the interview!) brought forth the rock and crushed their opening number "All Hell Breaks Loose". It was quickly followed by a rousing cover of THIN LIZZY's "Jailbreak" which prompted the question "I thought they saved the THIN LIZZY songs until the encore? Or would I have known that if I'd gone earlier to that Montreal show 7 years ago?". But
given that "Jailbreak" does include the lyric "all hell breaks loose" anyway, the two songs back to back make sense. Plus it frees up the rest of the show for BSR to play the rest of their stellar 3-album catalogue. And they didn't disappoint, as the quintet delivered hundredfold on the strong material including the heavy-hitting "Heavy Fire", the chant-friendly "Soldierstown" and the oddly good-feeling "Kingdom Of The Lost". For their first-ever visit to Ottawa, BSR felt like they were right at home as the crowd chanted their praises. And now Lisa isn't the only person with a quenched appetite 7 years later.
Setlist:
"All Hell Breaks Loose"
"Jailbreak" (THIN LIZZY cover)
"Heavy Fire"
"Soldierstown"
"The Killer Instinct"
"When The Night Comes In"
"Kingdom Of The Lost"
"Bound For Glory"
https://www.facebook.com/BlackStarRidersOfficial/
http://blackstarriders.com/
So, I'm presuming that as they didn't play "This Town Rocks" at this show, maybe co-headliners SAXON had already known the answer anyway. But to keep things in perspective, they still put on a devastating live show particularly from my point of view as this would be my first time seeing them in concert. With 22 studio albums including this year's Thunderbolt and 40+ years of touring/recording to their name, it's criminal as to why this band was never as big as their peers in the NWOBHM scene. Dressed in what appears to be an admiral captain's jacket, frontman Biff Byford still believes in and champions the very aesthetic of the metal brotherhood as he dominates classics such as "Power And The Glory", "Denim And Leather", "Wheels Of Steel" and "Heavy Metal Thunder". And the Thunderbolt songs including "They Played Rock 'N Roll" (commemorating their first co-headlining tour with MOTORHEAD in 1979), "The Secret Of Flight" and "Nosferatu (The Vampire's Waltz)" are on par with the tried-and-true SAXON classics. Guitarists Paul Quinn and Doug Scarratt demonstrate that they are more than worthy to challenge their peers with their fiery duelling solo work and the rhythm section of bassist Nibbs Carter and drumming machine Nigel Glockner is probably the tightest I've seen of many a metal band in a while. Adding more points which rang testament
to their legacy of their long-standing appreciation of their fans, Biff Byford retrieves an actual denim jacket thrown up to the stage from a fan, autographs it and flings it back to the lucky fan in the front row during the closing number "Heavy Metal Thunder". Expressing his thanks for being back in Canada, Byford gushed "If I wasn't up here, I'd definitely be down right fuckin' there with you right now!". So, guess we'd answered his question if our town knew how to rock just as much as SAXON rocked the stage that night after all. Both parties deserved to raise their glasses high for being there for each other that night in the name of glorious power and then some.
Setlist:
"Thunderbolt"
"Power And The Glory"
"The Secret Of Flight"
"Dallas 1 P.M."
"Motorcycle Man"
"They Played Rock 'N Roll"
"Nosferatu (The Vampire's Waltz)"
"Denim And Leather"
"Princess Of The Night"
"Wheels Of Steel"
"747 (Strangers In The Night)"
"Heavy Metal Thunder"
https://www.facebook.com/saxon/
http://www.saxon747.com/
With the giant red and orange curtain containing lyrics from some of their best-known songs scrawled across it adorning the stage before it's dropped, headliners JUDAS PRIEST take the stage with the title track of their 18th studio album Firepower. The stage setup with its flashing red and orange lights and a massive screen in the background is everything JP's shows are known for. As is the volume. Especially the volume. But what sets this show apart from previous shows would be two noticeable changes in the otherwise legendary lineup: Guitarist Richie Faulkner (ex-VOODOO SIX) had been in the band since 2011, having replaced KK Downing, who'd retired from touring, whereas the announcement of second guitarist Glenn Tipton's diagnosis of Parkinson's disease earlier this year had taken many fans by surprise as famed record producer Andy Sneap stepped in to fill his slot. But while the players had slightly changed, the mighty JUDAS PRIEST still continued to be at the top of their game throughout their 90-minute set.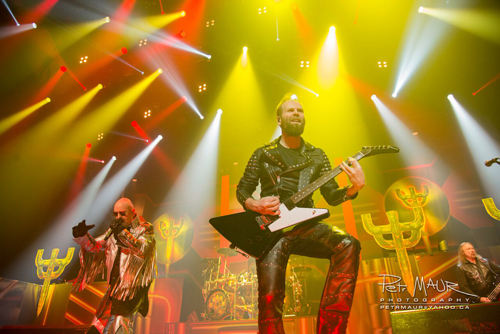 The setlist provided a steady balance of PRIEST classics as well as Firepower material for which frontman Rob Halford seemed to have a stage outfit for each song. His distinctive voice thankfully hasn't changed as he can still wail out the classics, including recent setlist additions such as "Running Wild", "Saints In Hell", "Grinder" (which hasn't been played in Ottawa since the '84 Defenders Of The Faith tour) and the sheer awesomeness of "Sinner". And while both Faulkner and Sneap were either still in diapers or barely even conceived when those slammin' 70's and early 80's PRIEST platters like Killing Machine, British Steel, Stained Class and Point Of Entry were solidifying the band's name on both sides of the Atlantic, they conquered those riffs and solos with ease.
Elsewhere, the lyrical poignancy of JUDAS PRIEST's songs were brought to life thanks to the giant screen backdrop behind them. "Breaking The Law" had always been about experiencing societal alienation, and with scenes of social unrest stemming from over four decades broadcast over the giant screen, the lyrics were more relevant than ever before. "The Hellion/Electric Eye", written at the time as something of a precursor about the concept of the government using sophisticated satellite tracking systems to monitor its citizens' daily activities, was also brought to life in the form of grainy aerial shots (and while they didn't play it, think of the video concept for their new song "Spectre" for a better idea here) adorned across the screen. JUDAS PRIEST are a band so ahead of its time it's kinda scary in of itself sometimes. That said, they're also a band that knows how to have fun as well. Hence the inclusion of "Turbo Lover" and "Hell Bent For Leather" because the Metal God riding his chrome Harley up on the stage will always resonate awesomeness.
After the closing number "Living After Midnight" is played, the crowd is pretty much hoarse from screaming but satisfied after a night of top quality heavy metal by three top quality bands whose visit to my fair city was either their first trip in years or overall, but hopefully a visit to remember.
It's definitely been a slice.
With thanks to the following people for making this event happen:
Larry Petro of KNAC.COM, Austin Griswold and everyone from BLACK STAR RIDERS' management for helping to get the interview with Ricky Warwick scheduled;
Ricky Warwick for sparing 15 minutes of his time to hang with both myself and local photographer Petr Maur;
Petr Maur for his wizard photography skills;
All three bands for their wizard playing skills;
TD Place and Ottawa in general for both hosting and supporting this tour;
And, finally, former work colleague Lisa for encouraging me to be as hungry as I was to see this show in the same way as she was for that slice of chocolate cake that day in 2011.
Setlist:
"Firepower"
"Running Wild"
"Grinder"
"Sinner"
"The Ripper"
"Lightning Strike"
"Bloodstone"
"Saints In Hell"
"Turbo Lover"
"The Green Manalishi With The Two-Pronged Crown" (FLEETWOOD MAC cover)
"Evil Never Dies"
"Some Heads Are Gonna Roll"
"Breaking The Law"
"Hell Bent For Leather"
"Painkiller"
Encore:
"The Hellion/Electric Eye"
"Metal Gods"
"You've Got Another Thing Comin'"
"Living After Midnight"
https://www.facebook.com/OfficialJudasPriest/
http://www.judaspriest.com/
https://www.facebook.com/petrmaur/
https://petrmaur.ca/
Check out some more photos from the show!
All Photos By Petr Maur