MAD HATTER Mad Hatter


By Alex Yarborough, Orlando Contributor
Monday, April 9, 2018 @ 12:23 AM


| | | |
| --- | --- | --- |
| | | |
MAD HATTER
Mad Hatter
2018 Art Gates Records




MAD HATTER is a Swedish power metal band that was founded in 2017 by MORNING DWELL members Petter Hjerpe (vocals, guitar, bass) and Alfred Fridhagen (drums). Incredibly, the album was written and recorded entirely by these two seriously talented musicians. Guitarist Eric Rauti (DREAMLAND) and bassist Magnus Skoog complete the live lineup. This is the band's eponymous debut album.

The first thing you hear after hitting 'play' is the sound of the Mad Hatter pouring a drink of tea and laughing madly to himself. What would sometimes end up as the centerpiece of the album is presented at the onset, and the intro to the band's namesake song "Mad Hatter Shine" begins with pulsing guitar chords and more maniacal laughter, before picking up steam to a driving tempo. Hjerpe asks "Welcome to hell, or is this paradise?" and blasts into a nearly nine minute opus. This track gives you everything MAD HATTER is about in one song: anthemic sing-along choruses, catchy riffs, catchy melodies and several tempo changes. "The Gunslinger" is a faster-tempo power metal anthem featuring a theme guitar and keyboard riff throughout the song. Hjerpe's operatic vocals lifts this song to the next level. "Dancing Light" is a satisfying mid-tempo track with a crescendoing bridge and chorus. Hjerpe plays a nice solo on the outro. "Fly Away" offers pummeling double bass and takes no prisoners. This song reminds me a little of early EDGUY. Hjerpe stretches his voice into the stratosphere and performs an amazing vocal. "Go" is a little more commercial track, and could be a possible single to promote the album. "Phantom Riders" is a fun, wild west themed up-tempo track. Check out the piano solo in this song.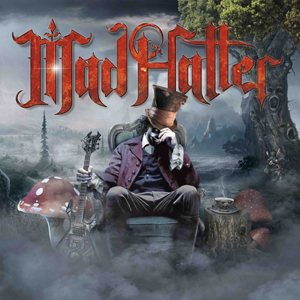 "Face The Truth" speeds along with a positive message and a style that reminds me a little of STRATOVARIUS and SONATA ARCTICA. You can view the lyric video HERE. "Vengeance In His Mind" is one of my favorite tracks on the album. This triumphant speed metal anthem will have you singing along and pumping your fist. "Bring Me The Moon" features plenty of double bass drumming and harmony guitars, while album closer "Mad Hatter Become" adds a bookend to the theme of the album. Bonus track "Death Angel Sings" is an absolutely blistering speed metal hymn and worthy addition to this album. It's as good as any other song here.
Mad Hatter sounds emphatically professional right out of the gate. I can't say enough good things about Hjerpe's vocals and Fridhangen's drumming in particular. I was impressed by this album. It's one of the most fiery melodic/speed/power metal albums I've heard in a while. The production/mix of this album is expertly done and demands full volume from your stereo. It rips from beginning to end. There are 11 songs that clock in at nearly an hour. MAD HATTER aren't redefining power metal, but they have crafted some extremely catchy songs. I think fans of HELLOWEEN, IRON MAIDEN, STRATOVARIUS and EDGUY will find a lot to enjoy on this album. Mad Hatter is available now on Art Gates Records.
4.5 Out Of 5.0

Please log in to view RANTS




YNGWIE J. MALMSTEEN, GLENN HUGHES In Worcester, MA With Photos!

ALICE COOPER Road

RAT ROD Four On The Floor

GIRLSCHOOL WTFortyFive?

DANKO JONES Electric Sounds

AVATAR, ORBIT CULTURE, THE NATIVE HOWL In Houston, TX With Photos!

THE DEAD DAISIES In Hollywood, CA With Photos!

KILL DEVIL HILL Seas Of Oblivion

THE DEAD DAISIES In Ottawa, Canada

MAMMOTH WVH In Santa Ana, CA

UADA Crepuscule Natura

BARONESS Stone

KAMELOT, BATTLE BEAST, XANDRIA In Houston, TX With Photos!

CRYPTOPSY As Gomorrah Burns

RAY ALDER II

GHOST, AMON AMARTH In Houston, TX With Photos!

U.D.O. Touchdown

DETHKLOK Dethalbum IV