DIRKSCHNEIDER In Worcester, MA With Photos!


By Jay Roberts, Massachusetts Contributor
Tuesday, April 10, 2018 @ 6:21 AM


| | | |
| --- | --- | --- |
| | | At The Worcester Palladium, April 7th, 2018 |
Photos By George Dionne
In speaking the truth, the plain fact of the matter is that while I have always loved the various best known songs from ACCEPT that featured singer Udo Dirkschneider, I had never seen the band perform live with him on vocals. Oh sure, I saw the band on the tour for Eat The Heat with David Reece, but while I do like that album, it just isn't quite the same thing.
So when Udo announced a farewell tour where he'd be going out and doing the ACCEPT songs from his era of the band for the final time before only doing his solo U.D.O. material, I wanted to go. But that was in 2017 and he wasn't playing anywhere near me. Lo and behold however, the tour was so successful that they extended it for a 2nd year and they were going to be playing a show that I could attend.
As if that wasn't already exciting enough for me, my friend George (all photos with this article are once again by him) let me know on Black Friday weekend that the concert tickets were going on a 50% discount for the VIP Meet & Greet opportunity. I don't normally do that kind of thing but this is Udo Dirkschneider we are talking about here, so I ordered that ticketing option and awaited the day of the concert.
On the given day, it was George and I heading up to the Worcester Palladium. After a brief wait for the Meet & Greet to start, we were 2nd in line. Now these things aren't the sit around and chat kind of event so it moved pretty quickly. It was Udo, his son and drummer Sven and bassist Fitty signing posters, shaking hands and taking photos. It may have been brief, but hey I got to meet Udo and there's photographic proof of it. Plus I got my copies of the ACCEPT album Balls To The Wall and U.D.O.'s Man And Machine signed. So you can chalk that up as a big win in my eyes.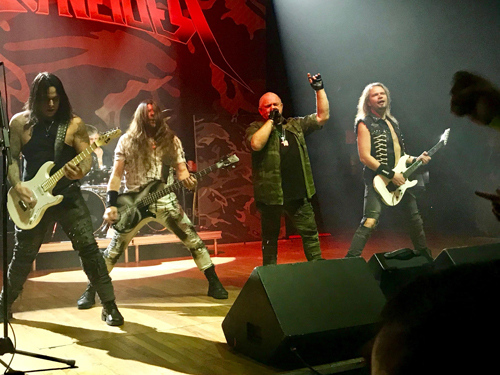 As for the opening acts on the bill, it was like a preview of a metal festival as there were seven different local bands announced. They hailed from all over Massachusetts and Rhode Island. However, after checking them out online, I wasn't the least bit interested in seeing most of them play. I am not a fan of Cookie Monster vocals. Two of the bands I had seen before and didn't want to repeat the experience. I was happy to see that two of the bands, WITHOUT WARNING and PERENNIAL QUEST, sounded great online. They seemed to grasp that music should have some sense of melody to it. Unfortunately, we missed their sets as we chose to grab some food before the main festivities started.
We did catch the tail end of the set from the band SPC. While I know they must have fans, this was simply not my cup of tea. It was painfully uninteresting for me even with me wearing earplugs.
The tour's official opening act is the Australian band ELM STREET. They are touring in support of their album Knock'Em Out...With A Metal Fist. Sadly, they reminded me of LAMB OF GOD. That is to say, really interesting musically but the minute the vocals start, it all goes to hell. Lead guitarist Aaron Adie really caught my ear with his playing, his fretwork being the best thing about the performance. The band's cover of the QUIET RIOT song "Bang Your Head (Metal Health)" was the best song of their set and even with that one, vocalist Ben Batres really lacked the vocal dexterity to fully pull it off. The band's closing number was "Metal Is The Way" which they dedicated to Ronnie James Dio. I will point at that while I wasn't into the band, the majority of the audience did seem to rather enjoy what they were hearing from them.
Set List:
"Face The Reaper"
"Kiss The Canvas"
"Heavy Metal Power"
"Heart Racer"
(Song Unknown)
"Bang Your Head (Metal Health)"
"Metal Is The Way"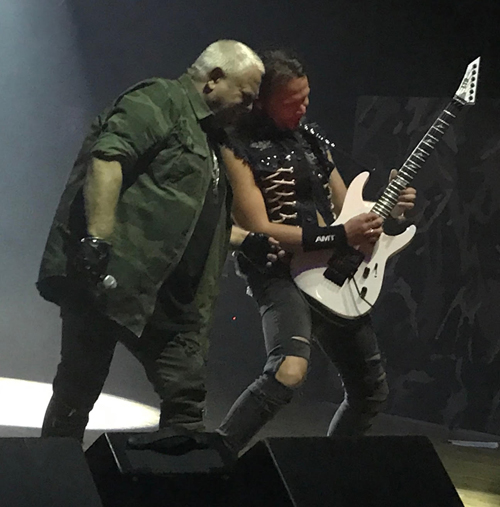 While waiting for the DIRKSCHNEIDER set to start, whomever was in control of the building PA system decided to have some fun with the audience. And by fun I mean, try to torture everyone to death. The music played while we waited included rap, and assorted pop music like BACKSTREET BOYS and BRITNEY SPEARS, the theme to the Inspector Gadget cartoon series and the KENNY LOGGINS song "Danger Zone" from the movie Top Gun. Admittedly the latter two songs were actually quirky enough to be fun to hear, but otherwise you can understand why the crowd was crying out to shut off the music.

Finally... it was time for DIRKSCHNEIDER to take the stage to honor his past with ACCEPT. And be still my Metal Heart, that is exactly what Udo and Company did. Accompanied by his son Sven on drums, guitarists Bill Hudson and Andrey Smirnov on guitars and longtime bassist Fitty Wienhold, Udo blazed through an almost 2 hour, 20 song set that touched upon seven different albums across the time he front ACCEPT.

You might wonder how Udo's performance held up given that the day before this show he celebrated his 66th birthday. But have no fear, he was amazing. The band was on fire as both Hudson and Smirnov traded turns in the spotlight with Fitty and Sven holding down the foundation.

The audience was with them from the first note and DIRKSCHNEIDER only left them wanting more. Simply put, they killed it all night long. Opening with "The Beast Inside", the audience was quickly in the palm of Udo's hand. And none of us had any problem with that. Songs that I've only heard on CD took on a new meaning as "Midnight Mover" rocked from the speakers and was followed by "Living For Tonite". At about the midway point of the show, things slowed down as the "softer" side of Udo was on display with "Can't Stand The Night" and "Anamos La Vida".

Then came an explosive rendition of "London Leatherboys" and straight through the end of the regular set the fireworks continued with songs like "Breaker" and "Love Child". I loved getting to hear "Objection Overruled" a lot!

Despite the outstanding songs in the regular set, there was still enough material left over that the four song encore was worth the price of admission all by itself. The band left the stage only briefly but came back as the crowd chanted "Udo! Udo!" to rocket through blazing versions of "Princess Of The Dawn" and "Metal Heart". However, even that seemed to pale once the band launched into "Fast As A Shark". This was freaking intense, the ACCEPT song being thought of as the very first "thrash" type song. After that, the night came to a close with Udo thrilling pretty much everyone with the best known of all his classic ACCEPT songs, "Balls To The Wall". This is where I was glad I was done with the various note taking because I was rocking out, fist pumping to the song's chorus right alongside everyone else.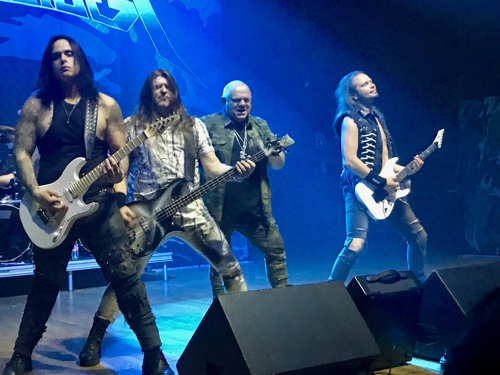 Getting to stand just ten feet away from the stage as Udo Dirkschneider paid final tribute to his ACCEPT past, I got to witness a truly spectacular performance. Udo may be closing the door on his musical past in a live setting, but he showed he's still a master of his craft and just why these songs are so beloved all these years later. If you didn't see this tour, you might not fully grasp what you missed out on. I don't want to give in to too much hyperbole but I was left screaming in exhultation as the show ended because I'd just witnessed not just a great show, but one of the best concerts I've ever seen!
Set List:
"The Beast Inside"
"Aiming High"
"Bulletproof"
"Midnight Mover"
"Living For Tonite"
"Another Second To Be"
"Fight It Back"
"Can't Stand The Night"
"Anamos La Vida"
"London Leatherboys"
"Up To The Limit"
"Breaker"
"Screaming For A Love-Bite"
"Love Child"
"Objection Overruled"
"Russian Roulette"
Encore:
"Princess Of The Dawn"
"Metal Heart"
"Fast As A Shark"
"Balls To The Wall"
Fun Fact: My friend George commented that he'd never seen so much variety at the merchandise stand like he did for Udo's material. Besides the obligatory tour shirts, which were surprisingly affordable, there were a ton of other smaller items from picks, gloves, signed guitar strings and much more. Oh, and they even had a stage worn outfit from Udo up for sale as well. They had the majority of his solo albums available for purchase too. I ended up picking up a T-shirt and four of the earlier U.D.O. albums that I hadn't been able to lay my hands on prior to this night of killer music.

Check out some more photos from the show!
Photos By George Dionne

Please log in to view RANTS