Metal! Interviews! Keeping music courses in schools again! Song requests for THE POLICE for some reason!

Yes, it was two nights of MAIDEN metal madness that helped curtail the loneliness of this long distance runner as he was also in charge of setting a 6k trail for his OH3 chapter that same week. And somewhere in time, an interview happened to take place in between those two nights with those fine members of the world's only female tribute to The Air Raid Siren And Friends afterwards.

Saturday, May 5

I don't always attend a concert brandishing a backpack full of chalk and maps of suburban Nepean after cycling for 15 kilometres. But when I do, it's to catch a show at the Brass Monkey afterwards. And at the time, my interview with the night's headliners was initially supposed to have been on that very same night following a game of e-mail tag between myself and some PR staff who somehow confused me with our esteemed News Monkey Overlord Larry Petro. Luckily, I was put in touch with a member of management who actually was travelling with the band who informed me that as they'd just arrived into town on very little sleep, the interview would be postponed until 3 in the afternoon the next day. A thousand hails to you, Gabriel, as I was on my second beer that day anyway, parched with thirst and probably not in interview mode that day too.

That evening, it would be the music that I was into the most and especially if the opening band was a local power metal supergroup with the moniker of POWER METAL BAND - or PMB for short. Understandably, while too easy to make fun of the name for its lack of creative ambition, PMB otherwise are more focused on their array of the true metal classics in their repertoire. And by that I mean not the usual "Crazy Sandman Shook Me All Night In Black" bar band classics which get too easily confused as being true underground metal that's perceivable as dangerous for the mainstream, but bands such as HELLOWEEN, STRATOVARIUS, SAVATAGE, KING DIAMOND, DIO and even early QUEENSRYCHE back when Geoff Tate still had his signature voice, among others. Even METALLICA, PANTERA and JUDAS PRIEST make an appearance on the setlist but are represented with less overplayed classics.

Kicking off their set with a riveting cover of "Eagle Fly Free", the 2-year old sextet consisting of PJ (vocals), Tony V (guitar), Pat Cyr (guitars), Mike G. (keyboards), Gumbeh (bass) and Chris Butters (drums) forge through a 13-song set replete with lots of soloing, keyboards and high-soaring vocals. The songs are given the proper treatment they deserve, whether it's channeled in the fury of "Balls To The Wall" or "Welcome Home (Sanitarium)" or in the free vocal range of "Gutter Ballet". And both PJ and VINDICTED frontman Liam Fullerton's duet on the rising STRATOVARIUS number "Kiss Of Judas" was enough to bring even the most hardened trad metal fan to a shell of oneself as the delivery was really that endearing. More power to 'em!

Setlist:
"Eagle Fly Free" (HELLOWEEN)
"Rainbow In The Dark" (DIO)
"I Want Out" (HELLOWEEN)
"Kiss Of Judas" w/Liam Fullerton of VINDICTED (STRATOVARIUS)
"I Don't Believe In Love" (QUEENSRYCHE)
"A Touch Of Evil" (JUDAS PRIEST)
"Dr. Stein" (HELLOWEEN)
"Welcome Home (Sanitarium)" (METALLICA)
"Cemetary Gates" (PANTERA)
"Balls To The Wall" (ACCEPT)
"Abigail" (KING DIAMOND)
"Gutter Ballet" (SAVATAGE)
"Living After Midnight" (JUDAS PRIEST)
https://www.facebook.com/pmbpowermetalband/
Straight from the catacombs of the City Of Lights despite not quite yet having been able to score their own private jet, headliners THE IRON MAIDENS take the stage in all their glory as they pump out a masterful rendition of "Aces High" as their opening number following an explosive discharge of stage fog. The lineup of Kirsten "Bruce Chickinson" Rosenberg, Wanda "Steph Harris" Ortiz, Courtney "Adriana Smith" Cox, Nikki "Davina Murray" Stringfield and Linda "Nikki McBurrain" MacDonald are positively on fire as they deliver the best of the beast-like IRON MAIDEN catalogue from the past 38 years.
And though the obvious MAIDEN classics such as "Number Of The Beast", "2 Minutes To Midnight" and the aforementioned "Aces High" are met with the loud reception of the crowd as they should be, the quintet equally amaze the audience with some quality renditions of "Revelations" and "The Duellists" and even pull out some Di'anno numbers such as "Running Free" and the closing number "Iron Maiden". And for all of the jaw-dropping riffs that Courtney and Nikki nailed down in such awesome fashion for all of the MAIDEN songs, Kirsten's powerful vocals both emulate Bruce Dickinson's through her own vocal range while delivering some good-humored stage banter. You gotta give props to a singer who recalls her humble beginnings of singing the MAIDEN classics in her basement with only her cat and a karaoke machine as her audience - or so she claims.
Speaking of props, the MAIDENS aren't just about solely playing the IRON MAIDEN catalogue with precision and skill; to really channel IRON MAIDEN in pure form, one must actually take on the complete aura of the band while on stage. For Kirsten The Bruce, this means donning the famous red coat that her stage namesake also sports while chanting "The Trooper" - and being skilled at flag-waving too as she flies both the Union Jack (staying in character) and the Maple Leaf (the band are guests in our country after all) simultaneously. And, of course, Eddie makes a few appearances too during "Number Of The Beast" and "Iron Maiden", towering over Steph, Davina and Adriana as they try to avoid - or at best ignore - the clutches of his bony hands and the stare of his sinister infrared-like eyes.
Not to be outdone especially if you're familiar with MAIDEN's live performances as I've been, Kirsten Chickinson also engages the audience to sing along with her as evidenced in "Running Free" in which the audience is pitted into three different camps based on who shouted out the lyrics the loudest. I think my side got the nod on that one. And, in closing, there's something simply adorable about watching Nikki and Steph bouncing along to the rhythm of "Fear Of The Dark".
For this first-time observer of the live presence of THE IRON MAIDENS, the name of the real live one, as far as I'm concerned, remains hallowed if not humbled. How are they gonna top this performance?
Setlist:
"Aces High"
"2 Minutes To Midnight"
"Revelations"
"Wasted Years"
"The Trooper"
"The Duellists"
"Rime Of The Ancient Mariner"
"Flight Of Icarus"
"Number Of The Beast"
"The Clairvoyant"
"Powerslave"
"Running Free"
"Fear Of The Dark"
"Iron Maiden"
https://www.theironmaidens.com/
https://www.facebook.com/TheIronMaidensOfficial/
Sunday, May 6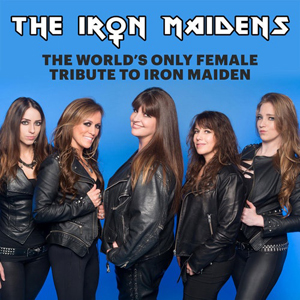 Good thing that the interview had been rescheduled for 3 PM the next day as I was somewhat haggard from the show the night before. A 15k bike ride sorted me out afterwards and the interview was completed. I hung out for a bit during soundcheck and caught some of the early performances of what would be part of the Hummingbird/Nepean School Of Music program - three young up-and-coming bands comprised of Nepean School Of Music alumni who each played a 30-minute set of covers and originals. Being a few blocks away from the Brass Monkey, the prestigious school sends out a series of bands to the venue to showcase their talents to promote the positive aspects of teaching music in schools. And the talent on the stage was definitely no exception given that these performers are on average about 15 to 17 years old.
The first local band to grace the stage were an all-female quartet by the name of OFF LIMITS. Their music was mostly soul/indie-based and was mostly steeped in playing more of the modern hits of today. Given that the only song I recognized in their set was "Do I Want To Know" by the ARTIC MONKEYS I'd say that the band did good in preserving a good mystique to their tunes. Following them afterwards were a five-piece known as CRISIS LINE who were more of the classic rock variety in their repertoire, their version of THE DOOBIE BROTHERS' "Long Train Runnin'" being the crowd pleaser of the evening followed by a roaring rendition of "Fortunate Son" by CCR. Finally, there would be BURGUNDY BOURDAGE who mix up their repertoire with a mix of both the old and new school. Their setlist starts off with a rather groovy version of "Sharp Dressed Man", an even catchier version of "No Rain" by BLIND MELON (is 26 years old still considered new school?), and a version of SKYNYRD's "Simple Man" played so electrifying that the lead guitarist attempted a successful backwards solo which would've made the Van Zandt estate proud. And this was even before the cover of "Goodbye Stranger" by SUPERTRAMP which got the crowd to their feet. And as the bands played on, credit goes to the very memorable Camille Forget who guided 'em to victory. Even the headliners approved during soundcheck.
http://nepeanschoolofmusic.com/
Speaking of which, as the PA emits the famous intro of UFO's "Doctor Doctor" you know it's time for THE IRON MAIDENS to claim the stage once more - but with a slightly amended setlist. Remember, they are paying homage to a legendary band with a back catalogue of 16 albums with three different singers - none of them ever being Sting by the way, so, please, extremely drunk and lecherous guy loitering around backstage trying to interview the band members before the show, as a matter of upmost courtesy, DON'T REQUEST THE POLICE IN THE MIDDLE OF A SHOW BY A BAND WHO BILL THEMSELVES AS AN IRON MAIDEN TRIBUTE BAND!
And as the crowd look upon the guilty party with complete revulsion and maybe pity, the show continues otherwise uninterrupted. As if opening their set with "Be Quick Or Be Dead" and "The Prisoner" wasn't enough of an adrenaline rush, the MAIDENS up the iron ante with rare live versions of "Flash Of The Blade", "22 Acacia Avenue" and "Caught Somewhere In Time" (seriously, when was the last time IRON MAIDEN themselves ever played those songs live?). Davina and Adriana's separate solos on that song alone almost give it a weird yet incendiary Eddie Van Halen vibe with their dexterous finger-tapping on assorted parts of the solo. Bruce Chickinson - whose stage name still tends to give me a craving for BBQ wings - still delights with not only her powerful singing but also her fab flag-flying skills during "The Trooper" mostly because she looks rather Canadian Mountie-ish in that red jacket while flailing the Maple Leaf around during the solo. "Hallowed Be Thy Name" is still the MAIDENesque version of BLACK SABBATH's "Heaven And Hell" no matter who plays it and THE IRON MAIDENS further confirm my findings as they effortlessly rock those 7+ minutes away. Nikki McBurrain is a definite monster behind the kit and Steph Harris is absolutely the consummate bass player who happens to share the same name as a work colleague. And, finally, Eddie, in all of your forms, whether at an intergalactic showdown with Adriana during "Wasted Years" (even if the song itself is about touring life), or preying over Steph during "Number Of The Beast" (probably to protect her from Drunk Sting Fan) and "Iron Maiden", you're still larger than life like the 50-foot tall mascot at IRON MAIDEN's actual shows and this concert wouldn't have been the same without you.
An 'Arry and heartfelt thanks to the following folks for making this event possible:
Skotti, Dion and everyone at the Brass Monkey;
THE IRON MAIDENS and their management including Gabriel and Christopher Knudson for arranging the interview on their end;
Larry "The News Monkey" Petro of KNAC.COM for arranging the interview on his end;
The Hummingbird Program, the Nepean School Of Music and the three young bands who participated in the event;
THE IRON MAIDENS and PMB for their performances, and;
The crowds for attending.
And Junkman and original Bruce Chickinson a.k.a. Jen also send their regards.
Setlist:
"Be Quick Or Be Dead"
"The Prisoner"
"Infinite Dreams"
"Wasted Years"
"Only The Good Die Young"
"The Trooper"
"Murders In The Rue Morgue"
"The Number Of The Beast"
"Flash Of The Blade"
"22 Acacia Avenue"
"Caught Somewhere In Time"
"Hallowed Be Thy Name"
"Iron Maiden"