A PERFECT CIRCLE Eat The Elephant


By Brian Davis, Contributor
Wednesday, May 30, 2018 @ 9:53 AM


| | | |
| --- | --- | --- |
| | | |
A PERFECT CIRCLE
Eat The Elephant
BMG




For those familiar with Maynard James Keenan's penchant for sexual innuendo, metaphor and allegory ("Vagina Mine", anyone?) when first reading the title of A PERFECT CIRCLE's long awaited fourth studio offering, Eat The Elephant, some of us understandably wondered if we'd be taking a Willy Wonka rollercoaster ride through the perversely cuddly and enigmatic world of oral sex with Furry fetishists. Fortunately (or unfortunately for the Furries) the album, while still insidious with metaphor, sails a more reflective, cautionary and somber yet oft turbulent sea whose waves crash upon the shores of caution, cold truth, frustrated urgency and inevitability while dolphins decked in beer hats, Ed Hardy t-shirts and Oakley shades lounge front row in their floating lawn chairs with popcorn in fin awaiting one final cataclysmic fireworks display.

Although Eat The Elephant has taken nearly 14 years to fully manifest it's not as though APC has left the fishing nets empty this entire time. The immemorially epic Stone And Echo will stand as one of the most immaculate live albums in Rock history, and it also introduced us to one of their all-time greatest songs, "By And Down" (though the version found herein is slightly evolved and retitled as "By And Down The River"). The band increasingly released additional singles as the shifting sands of the hourglass ferried us closer to the album release, being sure to include the likes of "Feathers", "The Doomed" and "Disillusioned" in live shows to further set the hook for the album to come; therefore it is likely that the average APC fan has already heard nearly half of the album in some form, but with said songs being of such immaculate design and residual beauty woven so seamlessly between equally masterful anthems like "The Contrarian" and "Delicious", it should be no surprise to find that A PERFECT CIRCLE has delivered another masterpiece of poetic beauty and melodic majesty.

The uniquely enthralling instrumentation & songwriting by band founder/guitarist/shipwright Billy Howerdell continues to be the tributary from which all of APC's music forms and flows, its currents waxing through crisp, unhurried guitar tones and emphatic drum rhythms into waning lulls of meaningfully emotive piano passages amidst a shifting undercurrent of industrial emphasis. As always the greatest strength of the music is the intricacy by which each instrument informs and intertwines with the others, expertly crafted into a finely polished vessel of musical fortitude capable of bearing the tidal throes of the weighted subject matter in which it sails. Of course to guide this impressive ship through such shifting seas requires the skills and perceptiveness of a master captain, a veritable Quint, and there is no other vocalist alive that can fill a fish hooked hat and Dora The Explorer galoshes better than Skipper Maynard James Squarepants.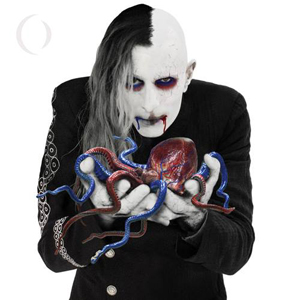 The most tempestuous lyrical themes surging across the album bear the good ship APC eloquently into dark waters of de-shrouded religious & political hypocrisy ("The Doomed", "The Contrarian", "TalkTalk"), subversive social manipulation ("Disillusioned"), and society's perpetuated romance with doom ("Delicious", "So Long, And Thanks For All The Fish", "Hourglass"), declaring shenanigans on the sham hucksters past and present who use governments and religions to generate, isolate, maintain and enforce a society of disillusioned consumers distracted by shiny silicon gadgets, casting stones of passive hypocrisy and thriving on vicarious vampirism. And though the subject matter grimly portrays a tragic state of the global union, with Cap'n MJCrunch at the helm the journey is remarkably smooth and disarmingly beautiful, lulling listeners through the gravity of these somber revelations with wry humor and masterful metaphors shrouded in a calming lullaby.
Never one to be over-pessimistic, Moby James Keenan's melodic poesy also serves as a lyrical lighthouse beckoning you to safety by establishing that in traversing tempestuous seas and surviving the chaotic currents of society there lies beyond a horizon of hope where the drowning soul can take flight upon "Feathers" of change; we need only "Get The Lead Out", stop sinking and start swimming. Plotting a fantastical melodic course to a brave new world, Captain Mayhab and Billy Howershmael proffer a failsafe way to avoid being eaten by the great white whale: Put down the harpoon, pick up the fork, take the bite and Eat The Elephant.
5.0 Out Of 5.0

Please log in to view RANTS