EDEN SEED Age Of Creation


By Andrew Depedro, Ottawa Corespondent
Wednesday, June 6, 2018 @ 12:58 AM


| | | |
| --- | --- | --- |
| | | |
EDEN SEED
Age Of Creation
Vmbrella Records




Religion and rock 'n roll have always appeared to be two of the most awkward roommates to co-exist with each other over time. Starting with Elvis Presley and those alleged demonic swiveling hips of his to John Lennon proclaiming that THE BEATLES were bigger than Jesus to THE CLASH with "Rock The Casbah" (about a fictitious ban on Western music by an Arab king - though the video did have an armadillo in it) to the PMRC-sponsored Satanic Panic of the 1980's ("Heavy metal is the devil!") to the Scandinavian black metal church-torching scene of the 1990's to 9/11 and Islam becoming more prominent in the pop culture mainstream.....how either side has been able to weather such a strong storm of different cultural entities and ideologies over such a short period of time is nothing short of stunning.

And that's especially in the case of EDEN SEED, an eclectic-sounding heavy metal quartet based in Sao Paulo, Brazil in its second year of existence who have just released their debut album Age Of Creation with its theme based on the movie Noah. Founded by guitarist Gisele Marie Rocha who is a devout Muslim and active musician in her hometown's music scene (she'd previously played in another local band titled SPECTRUS before branching out with this new project), EDEN SEED also features drummer Marcos Henrique, vocalist Luis Henrique and bassist/producer Matheus Manente, all of whom produced and recorded this technically diverse album, notable not only for its fusion of old school metal and thrash with electronic music, country (with the special participation of Brazilian guitarist Guto Vighi on the song "Earth") and even Brazilian rhythms, but also for its use of analog equipment and tube amplifiers which give the album's sound something of a more rustic yet ambient warm feel in parts. And the best part about this album is that the lyrics focus more on the frailty of modern society and politics rather than on religion as a whole.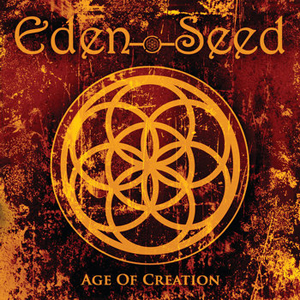 Opening number "Return" gets the album's fast-paced groove happening, with Luis' voice being well-suited for the song's overall heaviness. The follow-up track "Night Rider" also exhibits more of his gritty vocals which has hints of Johan Liiva-era ARCH ENEMY to its sound. However, by the 6 and a half minute track "Between Life And Death" the rhythm begins to falter on the first half of the song and Luis Henrique's growls in parts simply don't seem to match the pace of the song (though he can sing a killer baritone in the beginning reminiscent of Peter Steele). Gisele's impeccable soaring riffs and measured solos are otherwise the star of the whole song. Elsewhere, "Earth" features a neat slide opening and compliments Luis' voice nicely while bringing more of the heaviness to the music. "No Violence" and "Another Genocide" are also hard-hitting numbers thanks to Marcos' raucous drumming; Luis by then is channeling latter-day Max Cavalera in his vocals and pushes himself to his peak. "Peace Be With You" is the album's slowest yet organically soothing number, with Luis reverting back to his strong crooning voice and Gisele's bluesy playing. And while Luis' vocal range tends to stumble on the closing number "Romaria" this soaring song otherwise climaxes the album nicely.
They may be a young band on paper - or tablets or whatever was used at the time the Ark was built - but EDEN SEED seem ready to blossom into success with Age Of Creation.
4.0 Out Of 5.0
www.eden-seedband.com
https://www.facebook.com/EdenSeedBand
https://edenseed.bandcamp.com




Please log in to view RANTS

If you don't have a username, click here to create an account!