POISON, CHEAP TRICK, POP EVIL In Houston, TX With Photos!


By Larry Petro, News Monkey
Sunday, June 10, 2018 @ 7:33 AM


| | | |
| --- | --- | --- |
| | | Nothing But A Good Time Was Had By All At The Woodlands Pavilion June 3rd |
All Photos By Larry Petro/Petrofyed Photography
As my birthday weekend and vacation from work neared its end and having just attended the SYTRPER show in Houston just three days prior, only one thing remained on my list: to catch the "Nothing But A Good Time" summer tour featuring rock veterans POISON, CHEAP TRICK and rising stars POP EVIL at the Cynthia Woods Mitchell Pavilion in The Woodlands, Texas on June 3rd. And a good time is exactly what it was.
POP EVIL had been tapped to open the entire run and the band, led by vocalist ?Leigh Kakaty, made the most of their allotted time onstage, even if it meant playing at 7pm during the brutal heat and humidity of a June evening in Texas. POP EVIL, out in support of their recently released, self-titled new album which dropped back in February, took to the stage with "Boss's Daughter", a track from the 2011 album War Of Angels, the video for which featured MOTLEY CRUE's Mick Mars. The new album was represented in the form of three songs, "Ex Machina", "Be Legendary" and the first single to be issued from it, "Waking Lions". The newcomer and lone female in the band, drummer Hayley Cramer, certainly showed that she has the chops necessary to complete the task as the EVIL ones rolled through other numbers such as "Deal With The Devil", "Footsteps" and crowd favorite set closer, "Trenches". And the good time was just beginning....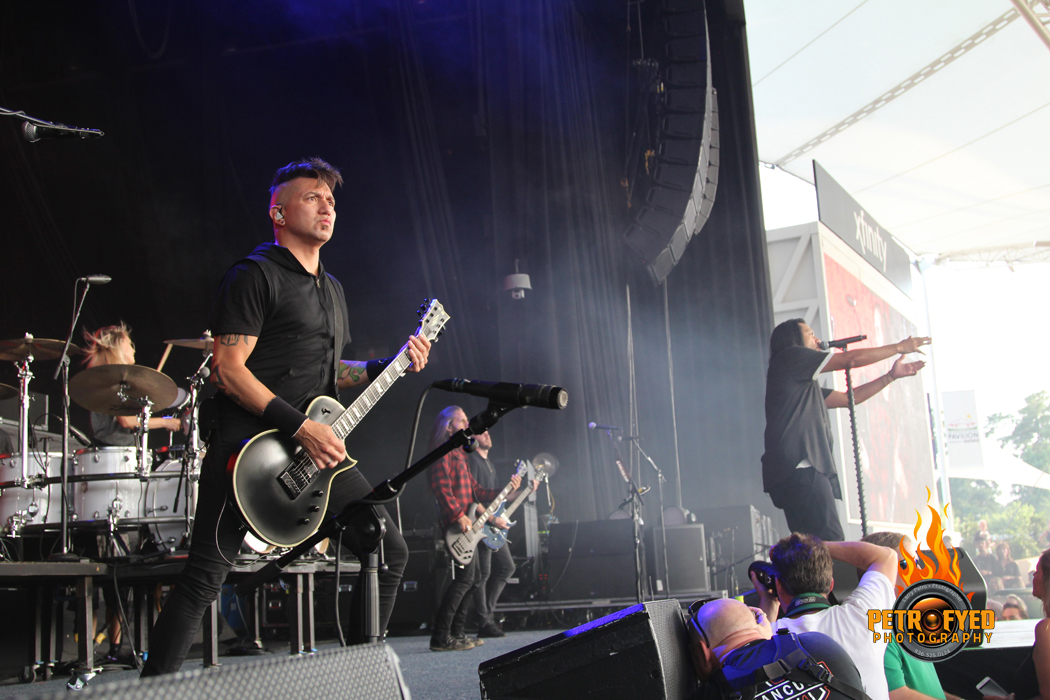 Setlist:
"Boss's Daughter"
"Ex Machina"
"Deal With The Devil"
"Be Legendary"
"Let It Go"
"100 In A 55"
"Take It All"
"Footsteps"
"Waking Lions"
"Trenches"
With the addition of guitarist Rick Nielsen's son Daxx on the drums and vocalist Robin Zander's son Robin, Jr. as the second guitarist, the legendary CHEAP TRICK really has become a family affair of late. The band, which next year will be celebrating its 45th year of existence, has also been out on the road for the better part of the last year in support of their new album, We're All Alright!, and judging by the band's performance things certainly are alright in the CHEAP TRICK camp these days.

CHEAP TRICK was out on the road last summer as Special Guest on FOREIGNER's 40th Anniversary tour during which I made an uncharacteristic blunder. Having requested photo access for the show I mistakenly believed that being granted a photo pass for FOREIGNER would allow me to shoot the Dream Police as well. Wrong, but I would not make that same mistake again, making sure that this time around I would be able to shoot all three bands and not be left out in the cold, er...the Texas heat as the case would be.

Because of POISON's stage configuration, which consisted of an extension that protruded from the center of the stage into the pit area, we photographers would be unable to travel the full length of the stage barricade to shoot any of the bands and had to decide in advance which side we chose to be on and then remain there for the duration of the 3 songs we were given. I wisely chose the side with Rick Nielsen. I had been told that Nielsen likes to target the photographers with his picks during our time and that was no lie. The guy throws out more picks than I have ever seen, and if you've ever seen them in concert you'll notice that two rows of picks line his mic stand from top to bottom and that still isn't enough, as several times he would reach into a box filled with picks and grab handfuls at a time, all while still playing, and throw them into the crowd.

True to form, about a minute into the band's opening number, the extremely apropos "Hello There", Nielsen hit me in the chest with a souvenir for my collection. Those of us on his side would continue to be pelted during the other songs "You Got It Going On" and THE MOVE cover "California Man" as he gleefully made faces and toyed with us before we regretfully had to leave our stations. That had to be the most fun I've ever had shooting photos at a show for sure! The band was as tight as ever and showed a vibrant youthfulness that many veterans rock bands seem to lack nowadays as they stormed through hits like "Ain't That A Shame", "Never Had A Lot To Lose", "Dream Police", "I Want You To Want Me" and "Surrender". And what can you say about lead man Robin Zander? His vocal performance on the ballad "The Flame" left no doubt as to his status among the most revered rock singers of all time. The 65 year old still has the pipes of someone half his age and it showed throughout the show. And the fun continued.....
Setlist:
"Hello There"
"You Got It Going On"
"California Man" (THE MOVE)
"Long Time Coming"
"Ain't That A Shame" (FATS DOMINO)
"Never Had A Lot To Lose"
"The Summer Looks Good On You"
Bass Solo
"I'm Waiting For The Man" (THE VELVET UNDERGROUND, Tom Petersson on vocals)
"The Flame"
"I Want You To Want Me"
"Dream Police"
"Surrender"
"Auf Wiedersehen"
"Goodnight Now"
It was around this time that I received a text from my beautiful better half, noting that I might want to keep an eye on the radar as she had just received an alert about thunderstorms approaching. Lightning could be seen flashing in the sky all around the venue but it wasn't until I was sharing the weather news with my fellow photogs that the wind suddenly blew in, with huge gusts littering the ground with pine needles from the nearby trees and the thunder could be heard. Thankfully, for our safety and that of our gear, the Live Nation representative designated as our escort to the photo barricade made the decision to take us down a few minutes earlier than originally planned. Luckily, it only rained for about 10 minutes and nothing severe impacted the show.

As we took our positions in front of the stage, the road crew was still busy rolling up the carpets and other CHEAP TRICK-related items that were still there and I noticed at that time that Rick Nielsen's side of the stage was literally still littered with picks from his shenanigans. I was given a half dozen or so more souvenirs by the stagehand who was scrambling to gather them all up lest anyone, like POISON guitarist C.C. Deville, slip on them and we can't have that now, can we? Soon it was time and as AC/DC's "Highway To Hell" blared through the venue's PA system, the lights went down and a short, animated video played on the large screen behind Rikki Rockett's kit as the band assumed their positions. Though frontman Bret Michaels has been steadily touring on and off for the past several years, POISON as a band hadn't played Houston since 2012, even though they toured last year and Texas as a whole was left off the tour routing that included DEF LEPPARD and TESLA.

Granted, the band's setlist hasn't changed for the better part of 20 years (that was sarcasm for those that didn't know, or was it?) and the band hasn't put any new music out since 2002's Hollyweird, but who really cares? POISON isn't one of those bands that cranks out a new album every couple of years and tours in support of them and quite frankly, most POISON fans don't give two shits, they come to hear the hits that put them at the top of the hair band pyramid, and that's exactly what we got as the band "Rockett"-ed into "Look What The Cat Dragged In" and proceeded to 'Poison' the crowd in Houston, Texas for the next hour and twenty minutes. When you take out the gratuitous guitar, drum and bass solos, the band actually played less songs than CHEAP TRICK (15 to 11), but no one seemed to notice as hit after hit rolled out: "I Want Action", "Talk Dirty To Me", "Fallen Angel", "Ride The Wind" and "Unskinny Bop" echoed into the night as the band displayed all the energy and excitement that has been missed in H-town the past half dozen years. One of the best moments of the night was during "Something To Believe In" when the band brought out members who do or did serve in our military and let them stay onstage while the band dedicated the song to them, a very moving sight to behold to be sure.
Other than the times he held a guitar, Michaels was all over the stage exhorting the crowd and generally having the time of his life as he interacted with his band mates and those that filled the venue. The band closed the regular portion of the show with "Nothin' But A Good Time" before returning for the encore of the KISS classic "Rock And Roll All Nite", during which Michaels was joined by POP EVIL vocalist Leigh Kakaty as they traded verse lines back and forth.
It was nice to see POISON back on the road again. They had become such a regular on the summer shed circuit for the better part of a decade and with all the mess in the world today, their fun time, party atmosphere absence was sorely missed. And on this night "Nothing But A Good Time" was indeed had by all.
Setlist:
"Look What The Cat Dragged In"
"I Want Action"
"Ride The Wind"
"Talk Dirty To Me"
"Something To Believe In"
"Your Mama Don't Dance" (LOGGINS & MESSINA)
Guitar Solo
"Fallen Angel"
"Unskinny Bop"
Drum Solo
Bass Solo
"Every Rose Has Its Thorn"
"Nothin' But A Good Time"
Encore:
"Rock And Roll All Nite" (KISS, with Leigh Kakaty)
Catch the show at one of these remaining dates:
6/10 - Cincinnati, OH - Riverbend Music Center*
6/12 - Cleveland, OH - Blossom Music Center*
6/13 - Syracuse, NY - Lakeview Amphitheatre
6/14 - Hartford, CT - The Xfinity Theatre
6/15 - Gilford, NH - Bank of NH Pavilion
6/17 - Bristow, VA - Jiffy Lube Live*
6/19 - Toronto, ON - The Budweiser Stage
6/21 - Wantagh, NY - Northwell Health at Jones Beach*
6/22 - Bethel, NY - Bethel Woods Center for the Arts
6/23 - Holmdel, NJ - PNC Bank Arts Center*
6/24 - Allentown, PA - PPL Center
Check out some more photos from the show!
All Photos By Larry Petro/Petrofyed Photography




Please log in to view RANTS

If you don't have a username, click here to create an account!