KNAC.COM Recaps The 2018 ROCK ON THE RANGE Festival

By Geoff Ketler, Cleveland Contributor
Saturday, June 16, 2018 @ 7:22 AM

| | | |
| --- | --- | --- |
| | | May 18, 19 & 20 At MAPFRE Stadium In Columbus, OH |
All Photos By Geoff Ketler/Aces High Photography
The crown-jewel of the loudest month on the planet – Rock On The Range – was back for the 12th installment of metal, music and mayhem in Ohio's capital city, Columbus, at Mapfre Stadium. Over the years, this festival has grown into an absolute music monster, boasting three stages of non-stop action, comedy acts, unique experiences and an array of choices in cuisine. This year, Rock On The Range played host to over 120,000 people dubbed "rangers" in another completely sold-out weekend of non-stop action.
Day 1
Living within two hours of the festival grounds, I decided that commuting was my best option to avoid the spiking hotel costs and lackluster proximity this late in the game. Although I felt as though I left with plenty of time to spare, traffic had different ideas. With the onslaught of concertgoers, campers and RV's, all arteries leading into the venue were at a standstill. People began ditching their cars and walking – it was that bad and with zero police presence, it was up to us to filter into the stadium parking lot, in hopes of not missing too many bands. I kept looking at the lineup, cringing as another set time passed. With a lot of hustle and little luck, I was heading into the venue as POWER TRIP hit the stage.
It was early afternoon, but the crowd swelled at the barricade of the Bud Light Side Stage and POWER TRIP showed no mercy. Vocalist Riley Gale jumped off stage to the barricade, stirring it up even more. The band's set was fantastic, unapologetic, and furious. I hope to catch them again soon. What a way to start.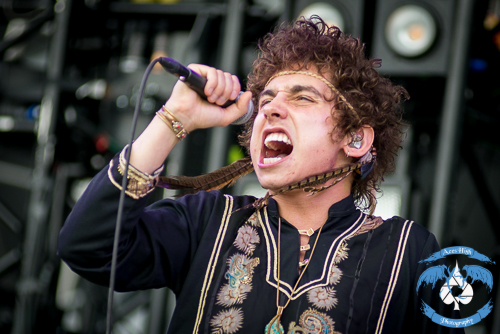 My next stop was the main stage for GRETA VAN FLEET. There has been a lot of buzz around the music industry concerning GRETA VAN FLEET – dubbed the second coming of LED ZEPPELIN by many, but I was cautiously optimistic. With the advent of protools and other state of the art recording equipment, I have to use the live setting as a barometer for a band's true substance and skill. There are far too many that amaze on an album and then suck a big one live. I couldn't help but root for the youngsters from Michigan and after their stellar performance, consider me a fan. Vocalist Josh Kiszka will leave you weak in the knees with his soulful and smooth voice. Alongside his twin brother Jake and younger brother Sam, the group powered through a bluesy, classic rock set opening with and extended version of "Highway Tune". In a typical "jam-band" fashion, the set was laced with extended solos, crowd-participating vocals and banter. It is no wonder their Cleveland tour date later this year sold out in ten minutes.
After GRETA VAN FLEET began to wrap up their set, I headed back to the Bud Light stage for ATREYU and BODY COUNT. The larger of the two side stages - the Zippo Encore stage, really didn't have much to offer on day one, so I opted to hang near the Bud Light and Monster Energy Main Stage for the remainder of the evening. Despite some technical issues with Dan Jacobs' guitar and the occasional drizzle of rain, ATREYU had a decent set. Vocalist Alex Varkatzas spent a lot of time on the barricade, singing along with fans as Dan Jacobs dazzled on guitar. Soon after, it was time for BODY COUNT to rough the place up a bit. Vocalist Ice-T…excuse me…I meant "Mutha Fuckin' Ice T Bitch" (his words – not mine) was relentless in his pursuit of rallying the troops and dousing the photographers with water bottles. I had to dodge several. The band opened their set with a cover of SLAYER's "Raining Blood"/"Postmortem 2017" and included songs like "Manslaughter" and "Talk Shit, Get Shot". At the time, it seemed like the entire stadium had emptied out into the parking lot to see BODY COUNT as I struggled to get back to the main stage.
Back at the main stage I managed to catch Colson Baker's set. You may know him as MACHINE GUN KELLY. The rapper claims to be from Cleveland, making him a favorite among locals, however he was actually born in Houston. I will let you figure that one out. Since he seems to find his way onto nearly every awards ceremony, event or festival in and around Ohio, I have had my share of run-ins with MACHINE GUN KELLY, most recently the 2017 APMAs. Honestly, MGK has broadened his musical talents a bit, adding a live band and playing guitar on several songs. Although rap has never been and will never be one of my musical tastes, MGK was entertaining and he wielded the main stage feverishly. A quick set change later and it was time for every hipster's favorite rock band - BREAKING BENJAMIN. After dominating popular radio in the 2000's BREAKING BENJAMIN took a long hiatus before emerging with a new lineup of hired guns behind sole original member and vocalist/guitarist Benjamin Burnley in 2014. Two new albums later, and multiple tours, BREAKING BENJAMIN is still at it. Their set featured a wealth of CO2 that showered outward at the onset of several choruses. Ben Burnley sort of lumbered around. I will be honest – he looks a little rough around the edges with the beard scruff and weight loss, but his vocals sounded spot-on and that is what counts.
My night was cut a little short because ALICE IN CHAINS felt like they didn't need KNAC.COM's attention, so the headliner on Friday, as far as I was concerned, was A PERFECT CIRCLE. The mysterious band formed by TOOL's guitar tech, Billy Howerdel and TOOL vocalist Maynard James Keenan, is often shrouded in dark stage lighting and an insane amount of fog. However, with a set time during the eight-o-clock hour, that veil was lifted temporarily for this outdoor show. Maynard James Keenan was dressed to the nines in a charcoal suit and slightly loosened blue and gray tie. He hid behind a piece of the stage setup until the song "Counting Bodies Like Sheep To The Rhythm Of The War Drums" (say that 10 times fast) kicked in. The twelve-song spectacle focused predominately on the brand new album Eat The Elephant, with a handful of diversions for singles like "3 Libras" and "The Outsider". The band was tight and Maynard's voice was spectacular. Having been born a couple of hours away in Ravenna, Ohio, he took time to mention that it was nice to be back "in the state in which my parents decided to have sex".
With Day 1 in the books I headed home to upload, recharge and catch a few Z's. Day 2 was set to be a doozy.
Day 2
Making a conscious effort to arrive on time despite the traffic, I hit the road bright and early Saturday morning, pulling into a parking spot before doors opened at 11am where I was immediately greeted with a weather warning and news of the delayed doors. This set the tone for the day that was plagued by showers and thunderstorms and evacuations throughout. A total of 4.5 hours of weather delays due to lightning made for plenty of down time. Meanwhile, media and industry folks were forced to wait it out under a portion of the stadium leading to the back stage area. We huddled together, making small talk and rationing food as it poured rain – like an episode of Naked And Afraid except we were all fully clothed and there were no wild animals. Despite the storms the show went on with shortened set times that extended later into the night. The only real victim was BULLET FOR MY VALENTINE whose set had to be eliminated altogether.
Once the rain calmed and the doors opened, I headed straight to the Zippo Encore Stage for the Columbus boys in LIKE MOTHS TO FLAMES. Unfortunately the masses were still piling through the gates as the set began, but the group didn't hold anything back as they powered through the abbreviated set. Quickly I bolted to the main stage for NEW YEARS DAY. The flashy frontwoman, Ash Costello, is the only original member of the 5-piece band. With her trademark red and black hair whipping in the wind, she and several newcomer bandmates attracted attention to the main stage with their energetic, albeit, sloppy set.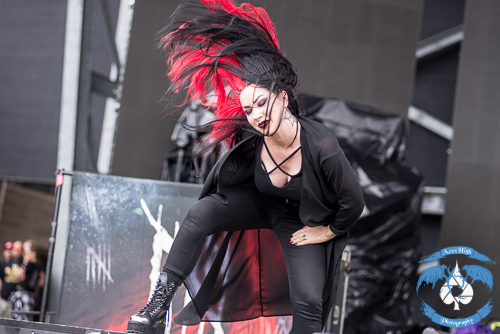 Another Ohio band - MISS MAY I, hailing from Dayton, really stirred the pit over on the Bud Light side stage. The gangly vocalist, Levi Benton worked the crowd over, jumping onto the barricade, belting out lyrics face to face with individuals in the audience. It was an all-out onslaught of metalcore in the grimiest, no holds barred kind of way. The barrage of metal attracted a sea of rangers as they packed in tight to witness one of my favorite side-stage acts of the weekend. Back at the main stage, ASKING ALEXANDRIA kicked off with "Into The Fire". The excessive use of CO2 made for some excitement which helped to get over the fact that the group just seemed a little detached and out of synch. Vocalist Danny Worsnop looked poised for a fishing trip in his shorts, hat and sunglasses. They sounded good, but the energy just wasn't there. Maybe it was the weather delays that got them off of their game, but the short set ended in time for BLACK VEIL BRIDES to eek out a quickie before the second weather delay hit.
Mixing double kick with guitar solos and Billy Idol-esque vocals BLACK VEIL BRIDES have brought back glam metal in the most Goth and dark kind of way. Originally formed in Cincinnati – yes another band from Ohio - BLACK VEIL BRIDES "picked up" ASKING ALEXANDRIA with an exuberant display of leather and studs and metal. Frontman Andy Biersack is the complete package of charisma, looks and vocal performance. All things were going well when the announcement was made that bad weather was approaching and we were all to evacuate. The BLACK VEIL BRIDES set was cut short at seven songs.
Some Time Later...
Once everything blew over I headed back to the pit at the main stage to assess the schedule. To my amazement, the gear that was being erected on stage belonged to THREE DAYS GRACE - making BULLET FOR MY VALENTINE the victim of difficult choices. Speaking of difficult choices, the festival tried their best make the set times flow from stage to stage, making it possible to catch at least some of each of the artist's time slots, but the delays meant that several bands were going to perform simultaneously, making it impossible to catch them all. This is where I had to make choices. I opted to stick around for THREE DAYS GRACE partly because the other stages were not really equipped with the proper stage lighting for performances after dark and also because THREE DAYS GRACE brought a megaton of production value. Lots of LED video boards, more CO2 and an interesting intro video highlighted the additions to the stage. Maybe I am just a purist, but this band has not been the same since longtime frontman Adam Gontier left a few years prior. The stagnant stage presence of everyone left me feeling like there was more to be desired. At least musically, THREE DAYS GRACE did not disappoint. It was a steady flow of "greatest hits" with instantly recognizable tunes such as "Break", "Pain" and "Riot" packed into the compact amount of stage time.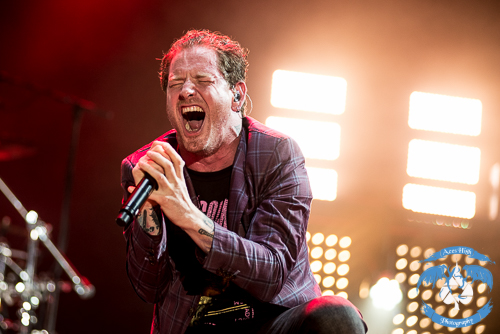 I stepped out to the Bud Light stage once more to catch some Andrew W.K.. He had already hosted a taco/pizza party earlier in the day, creating a lot of buzz, so I felt the need to party. Let me preface this by mentioning that throughout the entire weekend, save the weather issues, there were very few technical difficulties or situations where load-ins and load-outs were delaying performances. That is, until Andrew W.K. was set to perform. There was trouble with the hi-hat mic and this was followed by lots of feedback in the vocal monitors and as the crowd grew more and more displeased, I quickly began to regret skipping TRIVIUM for this. In fact, the set was delayed enough that I likely could have covered both. That being said, Andrew W.K. was exactly what I expected; long wet hair, a tight white t-shirt and crazy, crazy energy. Like maybe you should see a doctor kind of crazy energy. I couldn't stick around, Andrew's delayed entrance forced me to cut and run because STONE SOUR was about to take the main stage by storm.
The lights dimmed and the sun had long-since set. A cheesy, game show-worthy intro played as STONE SOUR took to the stage. Corey Taylor showed no mercy as Josh Rand and company tore into "Whiplash Pants". Rock On The Range was the last stop on STONE SOUR's Hydrograd Tour but the band still had plenty in the tank and I don't believe they have ever been accused of not giving 100%. Corey Taylor is the quintessential frontman and a true rockstar. He always knows how to work a crowd, his voice cuts through everything and he never stops moving. I swear, Corey Taylor could make THE WIGGLES sellout a stadium. Enough bromance – with all pieces healthy and accounted for, the once-again-abbreviated set was highlighted by "Absolute Zero", "30/30-150" and "Fabuless". Despite the long rain-soaked wait, STONE SOUR came through with a spectacular display of showmanship and musicianship.
We were quickly approaching midnight before it was time for the nightcap - AVENGED SEVENFOLD. The huge LED video screens arched behind the drum kit that lay basically flat on stage with hardly a riser at all. This had a stripped-down effect that was then counteracted with the pyro, explosions and strobes. Synyster Gates strolled out to center stage and began playing the intro to "The Stage" before the rest of the members joined him. I am not sure why, but the entire band just had this emotionless look to them. Vocalist M. Shadows did what he had to to get the audience involved, but Zacky, Johnny and Synyster just looked like they'd rather be somewhere else. Maybe it is part of their shtick or maybe it was due to the delays, but I couldn't help but feel as though the band was withdrawn, reserved and just going through the motions. This luckily did not take away from the actual performance. M. Shadows continues to grow as a vocalist and Synyster Gates still dazzles with his leads, especially when Zacky Vengeance plays double leads alongside him. The setlist showcased the group's history with selections from almost every era, album and lineup. Highlights included "Bat Country", "A Little Piece of Heaven" and "Unholy Confessions".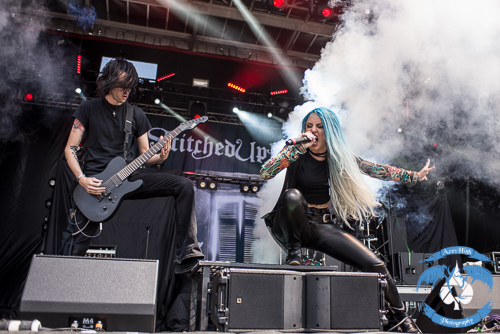 Day 3
The third and final day brought cloudless skys, zero percent chance of rain, and heat. I could feel my scalp sizzling as I made my way over to the Zippo Encore stage for STITCHED UP HEART. Vocalist Alecia "Mixi" Demner is extremely photogenic as well as talented with her ability to swing between clean vocals to powerful dirty vocals on a whim. The trend of female-fronted hard rock and metal bands seems to be here to stay, so if you haven't already, add STITCHED UP HEART to your playlist. I hung around the same stage as SHAMAN'S HARVEST was due up next. The quintet from Missouri brought some southern flare to the Zippo Encore stage. Vocalist Nathan "Drake" Hunt reached down and belted out the dirtiest soulful lyrics to the fans that turned out. And turned out they did - it seemed like everywhere I turned there was another "Country As Fuck" SHAMAN'S HARVEST shirt.
As SHAMAN'S HARVEST wound down their set, our beloved RED SUN RISING from Akron, Ohio kicked off on the main stage with "Amnesia". I have said it before and I will say it again - Mike Protich has one of the best voices in hard rock - he never seems to be off key and never ceases to amaze me with his range and sustain. RED SUN RISING performed new material off of their recent release, Thread that sounded great, but was not as well received as the hits "Otherside" and "Emotionless".
If you ever thought to yourself; "gee...I wonder what adding a didgeridoo to metal would sound like?", let not your heart be troubled. Hailing from New Zealand, LIKE A STORM has done just that. The gangly Chris Brooks who plays the aforementioned instrument as well as handling vocal duties, guitar and at times, keys, busted out the big ass pipe, otherwise known as a didgeridoo right at the get go. It is definitely interesting, but does it work with the music? Eh - not so much, in my humble opinion, but it is not something you see everyday and the fans love it, so maybe I am the idiot. The very radio friendly, palatable hard rock of LIKE A STORM went over well with the densely packed Zippo Encore stage audience.
Still without the services of vocalist Brian Burkheiser, who suffered a vocal cord injury last year, I PREVAIL stirred up the main stage crowd with their stage antics and metalcore offerings. At one point, vocalist Eric Vanlerberghe strapped on a fire extinguisher and began spraying down his bandmates and the audience. Although it was still early in the day, I PREVAIL managed to get the crowd surfers going early and often.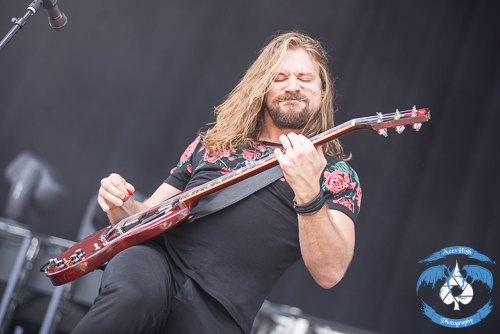 One of the many great things about attending all of these shows and shooting these artists is discovering new bands - not necessarily new, but new to me. I am always wanting to stretch my music horizon and will often find myself being "wowed", such as the case with CODE ORANGE. The Zippo Encore stage was the sight of a pure, unapologetic onslaught of rage. I was really lost for words after catching the set from CODE ORANGE. There were hints of DILLINGER ESCAPE PLAN, but the members of CODE ORANGE appeared to be at war with the music...and the stage, the monitors and anything else that was within striking distance. Described sometimes as "beatdown hardcore", CODE ORANGE had just enough control over the chaos to power through a set that made me tired just by watching it.
Back to the main stage I went, still reeling and confused by what I had just witnessed, but I got my bearings and prepared for THE USED. "Take It Away" started off the quick set of pure nostalgic emo pop punk. It was like going back to junior high. Vocalist Bert McCracken explained that they were just going to play a bunch of old songs, which was immediately answered by exuberant shrieks and screams. Although Bert and the guys are a bit older now with shorter hair and less makeup, the sound and the enthusiasm was still there. Emo classics like "The Taste Of Ink" and "Pretty Handsome Awkward" peaked the crowd's interest. I couldn't stick around - it was time for the day's headliner at the Zippo stage, BABYMETAL. The ever theatrical and well, cute, BABYMETAL ripped through their new single "Distortion", an aggressive and downright abusive track. By this time, the mass along the barricade and beyond had swelled to a size I had not seen at any other point of the weekend. The mix of J-pop and metal dubbed "kawaii metal" - meaning cute metal, has bridged the gap for many people to get to metal. Case in point, I found myself at the merch table purchasing BABYMETAL shirts for each of my children, who love BABYMETAL, but not necessarily a band like SLAYER. Jamey Jasta really hit the nail on the head when he said "high tides raise all ships" in an interview with Eddie Trunk when questioned about BABYMETAL. Like them or not - it is good for the genre as a whole, but believe me, if you saw them live, you would have to try real hard to not like them. The girls are backed by a "kami band" that absolutely shreds. As you can imagine, the set went on with out a hitch. Songs like "Karate" and "Gimme Chocolate" highlighted the action-packed night on the second stage.
The suprise of the weekend came in the form of the newly formed and rejuvenated STONE TEMPLE PILOTS. Rounded out by former X Factor contestant, Jeff Gutt, the band looked hungry and performed wonderfully. Jeff seems to really channel Scott Weiland with his posturing and posing and he has the pipes to boot. I was delighted to hear the hits "Vaseline", "Interstate Love Song", "Sex Type Thing" and "Wicked Garden" among others. They did not have the flashy pyro, or CO2, but STONE TEMPLE PILOTS put on an excellent show.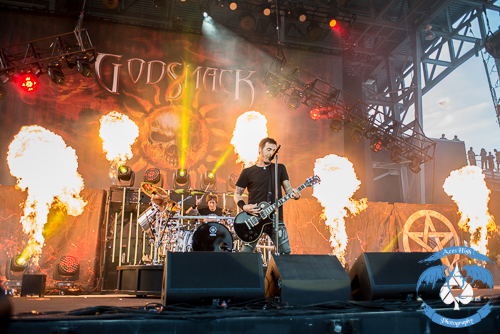 Much like Friday night, the headliner, TOOL, decided I was not worthy, so the 2018 edition of Rock On The Range came to an end for me with GODSMACK. Once again, I found myself in the middle of a nostalgic overload. It had been years since I listened to some of these songs. Unlike STONE TEMPLE PILOTS, GODSMACK pulled out all of the stops with the dazzling lighting rig, excessive pyro and the massive backdrop. "When Legends Rise", the title track off of the band's new release, got it going in a hurry. Vocalist/guitarist Sully Erna addressed the audience with his pointed New England accent and asked for the girls to get up on their guy's shoulders, because it is a rock show. He mentioned how impressed he was with the size of the crowd multiple times, which had rapidly increased with the action on the side stages coming to a close for the duration. With an extensive catalogue, GODSMACK seemed to breeze through a potpourri of hits with ease. "Awake", "1000hp", "Whatever" and "I Stand Alone" all sounded excellent.
As GODSMACK left the stage, I left the building. Never before had I seen so many people come together for one reason - to rock. 120,000 people were able to set aside all of their differences to enjoy music together. Besides the traffic fiasco on Day 1 and the weather issues with Day 2, the festival was flawless and nothing could make me more proud to be a fan of hard rock and metal than to see 120,000 of my like-minded brothers and sisters out there having the time of their lives, many of whom were fellow Ohioans. Hats off to the staff, security and media relations folks for a stellar weekend that I will not soon forget.
Check out some more photos from the show at the following links!
All Photos By Geoff Ketler/Aces High Photography
Photo Gallery 1
Photo Gallery 2