Cannibal Corpse, Hypocrisy Live in Seattle


By Chris Slack, Contributor
Thursday, March 11, 2004 @ 12:48 AM


| | | |
| --- | --- | --- |
| | | Cannibal Corspe, Hypocrisy, Ex |
It's been a while since I've been to a show; too much work and too little energy have a way of doing that to me, especially when I have seen bands play numerous times before. I was teetering on whether or not to cover this one until I found out that the mighty Hypocrisy would be the support act, which sealed the deal for me. I had also heard that the Graceland had done some remodeling and was interested in finding out if it had made the venue a better place to see live music. Apart from a large exhaust fan, which greatly cut down on the lingering smoke, it appeared that all they had done was knock down a few walls so they could sardine even more people in. And sardine they did, as having Cannibal Corpse play always guarantees a sold out show.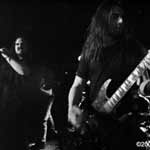 First up was Vile, a band I was wholly unfamiliar with. The band played a brutal 30 minute set which reminded me a lot of a more technical Suffocation with some killer leads, courtesy of Seattle's Lucas Jaeger, who was manning a guitar slot on the tour. The five piece only contained 2 actual band members, guitarist Colin Davis and bassist Matt Faivre, filling in on vocals was Origin's James Lee (who performed with broken ribs!), Denmark's Reno Kiilerich (Human Erupt, Exmortem, and Panzerchrist) on drums and the aforementioned Lucas Jaeger on guitars. I don't usually get into death metal that blasts as much as Vile, but they had enough slow and heavy parts to keep me interested. The crowd seemed to really enjoy them; I've never seen (or felt) so much pit activity while an opener was playing. Good stuff!
Vile photos from this show can be found here.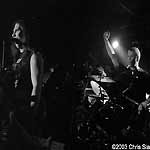 Next to play were Bay Area "Gore Fucking Metal" grinders Exhumed. I've never been much of a fan of the band, as their music just doesn't do much for me, but have enjoyed them as a live act due to their antics with a chainsaw, vomiting, fire breathing, and the drummer drinking blood out of a skull. However all of those elements were conspicuously missing this time -- perhaps they wanted people to focus more on their music rather than the showmanship. Since I'm not a fan, I can't say exactly what they played or how well the songs translated from the studio to live setting. They did play a few songs off their latest album, Anatomy Is Destiny and to be completely fair the crowd seemed to really enjoy their performance.
Exhumed photos from this show can be found here.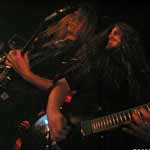 Sweden's Hypocrisy was next up, playing to support their great recent release The Arrival. Unlike the previous time they came through in support of Dimmu Borgir, the packed crowd went wild as soon as they hit the stage with "Born Dead." The band was in fine form and sounded great as they tore through a far too short set, predominantly comprised of newer material and appeared to be surprised at the crowd's reaction to their killer brand of death metal. Horgh (ex-Immortal) did a fine job behind the drum kit; while there will never be another Lars Szöke it seems like he fit in with the band well and easily handled all the songs chosen for the set. Hypocrisy was easily the most mobile band of the night, with Mikael and Andreas often switching sides of the stage and Peter moving around (during non-vocal moments) as much as the tiny Graceland stage would permit. All in all Hypocrisy kicked much ass -- I would have liked to hear more stuff from their older albums, but with a huge back catalog and a new album to promote I can understand why they chose the set they did. These guys need to do another US headlining tour SOON!
Hypocrisy photos from this show can be found here.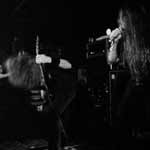 Love them or hate them, there is no denying of the influence Cannibal Corpse has had on the death metal genre. While they weren't the first, they are undoubtedly the most well-known of all bands in the genre and have sold more albums than any other death metal band in history. While their music isn't as innovative as it once was, they still manage to turn out album after album without changing what elevated them to the status in the scene that they enjoy today. Once Cannibal Corpse came on stage and started cranking out "Shredded Humans," it was obvious that, despite other quality bands on the bill, the great majority of the people in attendance were here specifically to see them. Cannibal Corpse has been together for so long with a (mostly) stable lineup that they are like a machine in the live setting, effortlessly playing their trademark style of brutal, technical death metal with no apparent flaws and having a great time doing so. They ripped through a 90+ minute set of material from their large discography, only playing three tracks from their latest, and possibly greatest, release The Wretched Spawn. To go into much detail of the performance would only be repeating sentiments in my previous reviews, for if Cannibal Corpse is anything, they are very consistent. When one attends a Cannibal Corpse gig they are pretty much guaranteed an awesome performance, as they are one of the most professional acts in the business. If you're a death metal fan that has never witnessed the live brutality of the band, you owe it to yourself to check them out and see how live death metal should be played.

Cannibal Corpse photos from this show can be found here.

Hypocrisy set list:

Born Dead
Fusion Programmed Minds
Eraser
Turn the Page
Fire in the Sky
War Within
Necronomicon
God is a Lie
Roswell '47

Cannibal Corpse set list:

Shredded Humans
Puncture Wound Massacre
Fucked With a Knife
Stripped Rape and Strangled
Decency Defied
Vomit the Soul
Unleashing the Bloodthirsty
Pounded Into Dust
Sentenced To Burn
The Cryptic Stench
They Deserve To Die
Festering
Dormant Bodies
Gallery Of Suicide
Pit of Zombies
The Wretched Spawn
Staring Through the Eyes of the Dead
Devoured By Vermin
A Skull Full Of Maggots
Hammer Smashed Face






Please log in to view RANTS

If you don't have a username, click here to create an account!