WITCH CASKET Hatred Index


By Peter Atkinson, Contributor
Thursday, June 21, 2018 @ 1:05 PM


| | | |
| --- | --- | --- |
| | | |
WITCH CASKET
Hatred Index
Self-Released




Though it's the first day of summer, it seems more like "the season of witch," since there currently are more than a half-dozen "witch"-related bands in the iTunes review queue on my laptop. Most – WITCH MOUNTAIN, WITCHSORROW, WITCHSKULL – are more of the stoner/doom variety. CLOSET WITCH describes itself as "Dank Evil from South-East Iowa", even though it's sound is pretty much textbook grind, but whatever.

Of all the "Witches" though, dank or no, the heaviest and most distinctly evil sounding is the Los Angeles-based blackened/symphonic death metal mob WITCH CASKET, whose five-song EP was issued in late April. Originally a studio project featuring guitarist Colin "Nylock" Cameron and vocalist Adam "Drogoth" McCarthy, both formerly of symphonic black metallers SOTHIS, which issued one full length 10 years ago, and guitarist Neal Tiemann, WITCH CASKET has blossomed into a genuine band. Though Tiemann since has departed to join the far more mainstream DEVILDRIVER, one more ex-SOTHIS member, guitarist Robert "Scathe" Enriquez, took his place, and was joined by bassist Aramis Arredondo, and Latvian drummer Kaspars Lucey-Grinbergs.

Hatred Index was recorded by the original threesome, so the band's sound may have already evolved beyond what is presented here, which is mishmash of consistently groovy death metal, black metal sprints and grandiosity, and orchestral flourishes. It's big, polished production, and thick, metalcore-like bottom end and occasional tag-team vocals, give it a distinctly American feel – and certainly make for some serious heaviosity.

The guitars are especially thick and chunky here, even when tempos are at their most furious – as on "Dawn Everlasting" where the double-bass clatter kicks into overdrive. And with a steady cascade of hooks, not to mention plenty of fanciful soloing and harmonizing, Hatred Index has the sort of catchiness one doesn't typically expect of this ilk.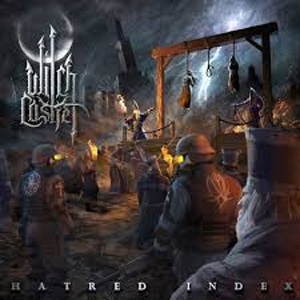 Indeed, a bit more of death metal's inherent ugliness or black metal's sinister air might have helped spice things up some here. The parade of grooves tends to make the songs blend together, bombastic though they may be. The explosive sections of "History Of Violence" and the aforementioned "Dawn Everlasting" definitely are welcome – just wish they were more sustained.
The only tune that truly stood out for me here is the genuinely epic "The True Knot", which closed out the EP and is based on Stephen King's Doctor Sleep, the 2013 sequel to The Shining. There's a cinematic, almost CRADLE OF FILTH-like flair here as the surging grooves give way to a more textured presentation, with the character and depth that the other songs deliver mostly in passing. Drogoth gives his most emphatic and nuanced vocal performance here, telling the tale of the clan of seemingly immortal psychics who feed off the life force of children who share their gift with chilling glee. It's awesome.
And if this is the direction WITCH CASKET is headed, then great, because "The True Knot" is definitely worth building on. While the other tracks are fine – and unquestionably heavy - "The True Knot" has that X factor that makes it truly great.
3.0 Out Of 5.0




Please log in to view RANTS

If you don't have a username, click here to create an account!