thanks to early songs such as "Heavy Lies The Crown" and "God Damn", it was the perfect way to pay homage to both the man and his work. Frontman Dre definitely has the voice to channel his inner Anselmo with a dash of some melodic-sounding Randy Blythe on numbers such as "Endless" and "Hell Is Us" from 2016's Cauchemar. His back-up crew of guitarists John and Dim and rhythm section Chris (drums) and Fred (bass) keep the riffs and solos heavy and the driving rhythm bottom pocket as they carefully navigate around a stage that's nearly full of band gear including their own - Dre more so as he's performing barefoot. And while the set is 30 minutes long, INIRE take advantage of every minute, their mission direct and quick - but leaving a lasting impact.

https://www.facebook.com/inireqc/.

You'd be kinda forgiven if you found it all too easy to make comparisons between THE WHITE STRIPES and the second band of the evening known as THE STANDSTILLS. Yet while the decade-old Oshawa, Ontario-based blues/rock band are also a duo - comprised of vocalist/guitarist Jonny Fox and drummer Renee Couture - with a mad appreciation for LED ZEPPELIN (to which their smokin' cover of "Immigrant Song" will attest to), there's thankfully not a hint of the hipster pretentiousness to their music as they plowed their way through their two-album catalogue. The opening number "Black Hill Creek" is a solid riff-heavy number with traces of sonic blues and many other melodic distortion sounds that Jonny Fox can hammer out from his guitar. Meanwhile, Renee can throw down a powerful set of metronome-like beats with a hint of cowbell for added *ahem* measure. Climaxing with "Shotgun", "Orleans" and their newest song "Wild" as well as a couple of accolades by Jonny Fox about their newest fan Vinnie Paul, THE STANDSTILLS created a vibe within the audience that was anything but dormant.

http://www.thestandstills.com/
https://www.facebook.com/TheStandstills/

With the rumbling intro of Rob DeLuca's bass accompanying the backing bass drum courtesy of Bobby Jarzombek as Brent Woods' rhythm guitar notes churned out the intro to "Slave To The Grind", a long-haired man of 6 feet plus clad in in his battle armor of denim, leather and plenty of heavy metal swagger claimed the stage as its rightful owner. He was Sebastian Bach and he was celebrating his latest return to a city which had as much of an intrinsic relationship with him as he had with it. Bear in mind that this was his second visit to Ottawa in less than a year, and on this occasion too, his high school reunion also happened to coincide with his concert. And damn did he have a lot of stories to tell about his time in O-town - such as his very first show at the tender (and legally under) age of 19 he played at Roxanne's across the river in Hull. "I had to walk over the huge lines of coke that they were doing on the table - and I have BIG FUCKING FEET!"

Quite the story and then some, but his storytelling and magical footwork aside, it was Bach's powerful vocals on the SKID ROW classics such as "18 And Life", "I Remember You", "Monkey Business" and "Youth Gone Wild" among others that brought the show to sold-out status. He even brought out a few originals from his past few solo albums, including "American Metalhead" (which was changed to "Ottawa Metalhead") following a couple of referrals to local thrash/speed metal legends EXCITER - and even some attempts at singing "Pounding Metal", "Long Live The Loud" and "Heavy Metal Maniac" in between. The real opus of the evening would be in between an extended jam during "Monkey Business" when Bach pays his homage to both Vinnie and Dimebag and croons through a moving cover of "Cemetery Gates" done in his own style while keeping the spirit of PANTERA intact. For an encore, Bach and his band whip through an intense and riveting cover of RUSH's "Tom Sawyer" which tames the crowd.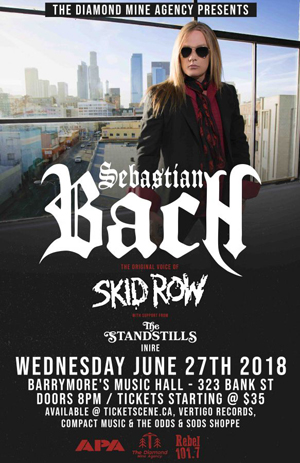 Meanwhile, I'm just only getting started with the last-minute preparation of my interview with The Voice himself - who went and quickly ducked into his tour bus through a back door to prepare for the meet-and-greet afterwards. I had scheduled the interview weeks in advance with Bach's management team and had no idea what he looked like as road crew personnel were working around us. By "us" I am also referring to noble and respected music journalist/Westwood One podcast show host/KISS fanperson Mitch Lafon, who had just interviewed Sebastian on his show the day before and was thus familiar with the scheduling protocols of Bach's management team. He was also wise enough to bring earplugs as he claimed the best seat in the house - left corner of the stage near the amps and the entrance - during the show when I caught up with him. It would explain why I didn't hear him too well when he'd pointed out Richard twice from within the army of road crew people to me. And then the security staff started ordering people to leave - including me.
Told afterwards that Bach was on board his tour bus just outside, I made my way over to see if the interview was still taking place after the show as agreed upon in our email conversation. "Please don't let this be Udo's sound technician all over again" I said to myself as I knocked on the door of the bus. And sure enough, a bearded man wearing sunglasses exited the vehicle to the sound of my knocks - who turned out to be Bobby Jarzombek. He'd known about the interview as well, later explaining that the entourage had arrived a bit later than expected from their previous show and were quickly organizing the post meet-and-greet event. He located Richard for me, and I was able to confirm my interview with Bach - but only until after the meet-and-greet. I bode my time, chatted with some of the hopefuls who were eager to get some tour bus time with Sebastian (including an Italian fan named Matteo who was carrying as much PANTERA merch as he was SKID ROW merch for Sebastian to sign) and eventually made my way into the tour bus for my 15 minute chatfest with both Bach and his friend Dixon from high school.
A solid display of rock and metal enjoyed by all that night. No jive, no verbal insecticiiiiiiide! Thanks to the following for making this show happen:
Larry "The News Monkey" Petro of KNAC.COM and Baz' management team for arranging the interview;
Westwood One's own Mitch Lafon and Baz' drummer Bobby Jarzombek for eventually helping me to find the tour manager and ensure that there would be an interview to conduct after the show;
All of the bands for putting on a great show;
The staff at Barrymore's for hosting it;
Sebastian Bach and Dixon Alexander for making the interview run smoothly, and;
Everyone who attended the show and supporting live music.
https://www.facebook.com/sebastianbach/
http://www.sebastianbach.com/
Setlist:
"Slave To The Grind"
"Dance On Your Grave"
"Dream Forever"
"18 And Life"
"Piece Of Me"
"I Remember You"
"The Threat"
"Big Guns"
"Sweet Little Sister"
"American Metalhead" (amended to "Ottawa Metalhead")
"Monkey Business"/"Cemetery Gates"
"Youth Gone Wild"
"Tom Sawyer"