KATAKLYSM
Meditations
Nuclear Blast Records




Along with its more melodic counterpart from Michigan, THE BLACK DAHLIA MURDER, Canada's KATAKLYSM has been one of death metal's most consistent and dependable bands over the breadth of its career. For KATAKLYSM that has meant 13 albums over more than 25 years.

As is the case with BLACK DAHLIA, roughly every two years, pretty much like clockwork, KATAKLYSM has new music to offer. And while it typically may not break a whole lot of new ground stylistically – which is not necessarily a bad thing – it will be different by a matter of degrees and will, pretty much without fail, be a solid, satisfying effort.

The band's latest, Meditations, actually arrives three years after its predecessor, 2015's Of Ghosts and Gods – perhaps owing to the fact that all of the band members also recorded and toured with frontman Maurizio Iacono's EX DEO side project – but it fits fairly comfortably into the rather extensive KATAKLYSM catalog. The one notable difference here is the preponderance of grooves that punctuate the album.

KATAKLYSM sacrifices some of its patented "northern hyper-blast" on Meditations in favor of haymaker riffs by the truckload from guitarist Jean-François Dagenais and jackhammer tempos from drummer Oli Beaudoin and bassist Stéphane Barbe. It's still plenty quick – in some cases exceptionally so – but the album has something of a PANTERA-esque vibe to it with its accent on crunch and is less full-on death metal than what we've come to expect from KATAKLYSM.

Again, that's not necessarily a bad thing. What Meditations may lack in unbridled velocity it more than makes up for in sheer heaviness. This is as "blunt object" an album as the band has ever done, with Dagenais' short, sharp, gut-punch riffing taking the fore. There's not much in the way of sprawling arrangements or technical dazzle this time around.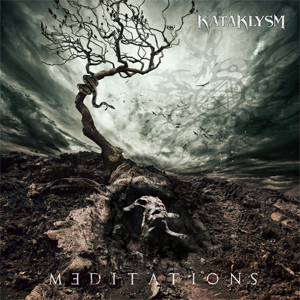 In marked contrast to its title, Meditations is all about raw power and immediacy, delivering its 10 tracks in a taut, tenacious 39 minutes. "Guillotine" sets the tone right off the bat with its heaving "Walk"-like hooks and Beaudoin's martial drum rolls. "Outsider" and "The Last Breath I'll Take Is Yours" continue with slight variations on that same theme. "Narcissist", the album's shortest song at 2:43, adds some ominous industrial atmosphere but still brings grooves aplenty before ending rather abruptly.
It isn't until the album's midway point, with "In Limbic Resonance", that KATAKLYSM really breaks stride – and it does it in rather dramatically, opening the tune with a black metally burst of tremolo and blast beats before settling in to a determined chug. Iacono contrasts his own burly growl with intermittent piercing shrieks here, which fits the black metal motif even as the band settles back into groove mode. It's an odd tune, made all the more so by being so much different than anything else on Meditations.
"And Then I Saw Blood" and "What Doesn't Break Doesn't Heal" follow by slowing the pace to a comparative crawl, and both might have been better served by some separation, as back to back they make things drag for a stretch. The band finally regains the momentum it established over the first half of the album with the bruising "Bend The Arc, Cut The Cord" which builds to the big finish in "Achilles Heel" and its epic sheen.
Meditations may leave some wanting for a bit more "northern hyper-blast," especially over its spotty back half. And that is a valid point. However, the heft that comes as a result of Dagenais' hulking guitar work here, and the authority of the band's snub-nosed delivery system, is certainly adequate compensation, which in the end makes for a fairly even trade. And that works well enough for me.
3.5 Out Of 5.0