ARMORED SAINT, ACT OF DEFIANCE In Montreal, Canada


By Andrew Depedro, Ottawa Corespondent
Monday, July 30, 2018 @ 10:31 AM


| | | |
| --- | --- | --- |
| | | We've Been Waiting Here For You All: ARMORED SAINT Break Their Symbolic 18-Year Absence With ACT OF DEFIANCE, Le Petit Campus, Montreal, Canada, July 15, 2018 |
A band finally crossed off my bucket list since forever, an interview with a metal legend I'd never thought I'd conduct and even a Mitch Lafon sighting…..this concert had everything including it being the first KNAC.COM review in 15 years in which I've had to travel outside of Ottawa to catch.

Once this delirious nomad arrived in Montreal right in the middle of France celebrating its second World Cup, marveled at the city's more sophisticated cycling routes and checked out a nice Tex Mex restaurant around the corner from the venue both bands were playing at, it was time to observe some legends in their natural habitat in the form of a VIP concert before my scheduled interview with John Bush. From far and wide – Cornwall, Ontario and upstate New York – a modest group of fans got to see the Pride Of El Sereno perform warm-up renditions of "Last Train Home" and "Win Hands Down" among other songs before hanging with the crowd and posing for photos. Jeff Duncan and Joey Vera were finally able to meet the mutual madcap FB friend known for his profile photos of himself surrounded by blondes and redheads – that would be me – in person. I chatted with Jeff about DC4's upcoming album for a bit and reminisced about their House Of Blues Hollywood show I'd gone to some 8 years ago when they opened for HAMMERFALL (and another visit is way overdue for me). Finally, I was approached by John Bush for our own interview – he'd done at least two before mine – and then it was time to fuel up on quesadillas and Corona in time for the show.

And what a show it was!

Opening the event would be LA-based extreme metal supergroup ACT OF DEFIANCE who kicked off their set with the neck-wrecking number "M.I.A.". Comprised of former MEGADETH members Chris Broderick (guitar) and Shawn Drover (drums) who had immediately formed the band after they'd left and rounding out the lineup with former SHADOWS FALL bassist Matt Bachand and former SCAR THE MARTYR vocalist Henry Derek, ACT OF DEFIANCE brought a catalogue of shredalicious licks and hardcore/death metal aggression which made up the bulk of their 2-album catalogue including last year's Old Scars New Wounds during their 45-minute set. Henry's vocals exhibited much of the death metal aesthetic his previous band SCAR THE MARTYR had been known for (and I'm pretty sure I'd seen SCAR THE MARTYR on a few hardcore touring bills in the past) as he tore through numbers such as "Legion Of Lies" and "Rise Of Rebellion". Chris Broderick's playing showed that he was never short on meaty riffs and sharp licks given how he contributed to some of MEGADETH's more recent and heavier albums over the past decade as his solos on "The Talisman" and "Reborn" would attest. Shawn Drover's drumming sounded like the musical equivalent of fracking each time he'd make the foundations of the club vibrate with his high-end snare crashes. Finally, Matt Bachand's bass playing encompasses a delicate balance of fast-and-loose thrash and pounding hardcore sounds. All in all, their respected individual talents combined made ACT OF DEFIANCE an act that few could defy or deny.

https://www.facebook.com/actofdefiancemusic
https://metalblade.com/actofdefiance/

With the sharp chords of "March Of The Saint" perfectly played like a well-tuned entrance theme song at a sporting match followed by the equally incendiary "Long Before I Die" and "Chemical Euphoria", headliners/gods amongst men ARMORED SAINT cap off their first visit to Montreal in a while. Accounts may vary as to when the band had last officially played in the city and most other locations at the hundredth meridian. Many will say it was as far back as 1985 when the SAINT – with then-original guitarist David Pritchard was in the lineup - were touring with METALLICA and then-headliners W.A.S.P.; W.A.S.P.'s reception amongst the crowd was so muted compared to METALLICA's that the two bands decided to switch headlining slots once they returned to the States according to John Bush when he recounted the story. Others will attest to the Revelation tour of 2000 when the band opened for DIO. In reality, a Google search (and confirmation from Bush himself from the stage) will reveal that the last ARMORED SAINT visit to Montreal with the original lineup had actually been in 1987 during the Hell On Wheels tour with HELLOWEEN and GRIM REAPER.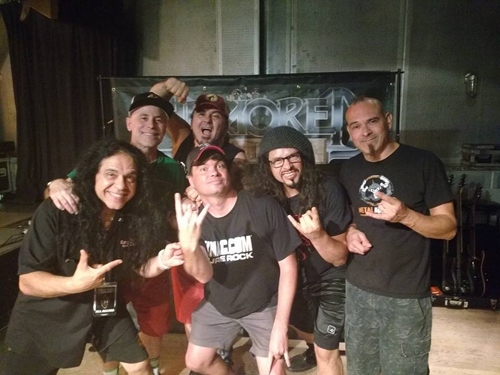 The night's show in any case would not only be special because of the SAINT's lengthy absence from Montreal finally being remedied, but because the band would be performing all of their breakthrough 1991 album Symbol Of Salvation in its entirety following its recent reissue. It was, as John Bush pointed out, an album that almost never got recorded at all, as Chrysalis Records were on the verge of dropping the band following its release and, even worse, guitarist David Pritchard (who had written most of the album), was battling leukemia before succumbing to the disease during its recording. An album bristling with hope, courage, magic and loss, SOS deservedly merited just as much attention as its competition – The Black Album, Use Your Illusion, Nevermind – had garnered back in the spring of 1991. In 2018, the album was finally getting its just recognition as it was played in the way it was always supposed to be heard. From the chugging riffs and Gonzo Sandoval's manic snare pounding on the intro to opener "Reign Of Fire" to the funk-driven groove of "The Truth Always Hurts" and "Tribal Dance" to the melodic jive of "Last Train Home", "Burning Question" and "Warzone" to the speed metal savvy of "Spineless", ARMORED SAINT honored the album to perfection. The combined melody of "Half Drawn Bridge" and "Another Day" dedicated to David Pritchard's memory ensured that there wasn't a dry eye in the crowd as Jeff Duncan and Phil Sandoval channeled the spirit of the SAINT's fallen progenitor into the charged riffs of his written work.
And while it would appear to be hard to even fathom topping such an homage to one of metal's most underrated albums, ARMORED SAINT closed out their trip through rad times with some of their more current material, starting with "Left Hook From Right Field" from 2010's La Raza and its impeccable rhythm work of Joey Vera and Gonzo Sandoval as they played their heaviest on the track while John Bush took to the crowd and crooned out "It's not between some so-called Father and I" flanked by members of the crowd. In between, Bush reminisced about the SAINT's first visit to Montreal in '85 "when we still had the armor, and me and Joey still had hair", singling out Jeff, Phil and Gonzo for still displaying their long manes ("Fuck you guys!" he said jokingly) and promised that the SAINT's next visit to Montreal "definitely won't be in 31 fuckin' years!", adding that lots of other cities such as Ottawa (actually 33 years and closing in on the number of years the ROLLING STONES had been absent from playing there at 40), Rimouski (I don't think they ever played there), Quebec City and elsewhere in the region had also been absent from their touring itinerary over the years, but promised to fix that in time.
Otherwise, this was an experience of deliriously nomadic proportions as much as for ARMORED SAINT as it was for their loyal fans.
https://www.facebook.com/thearmoredsaint/
http://www.armoredsaint.com/
Setlist:
"March Of The Saint"
"Long Before I Die"
"Chemical Euphoria"
Symbol Of Salvation setlist:
"Reign Of Fire"
"Dropping Like Flies"
"Last Train Home"
"Tribal Dance"
"The Truth Always Hurts"
"Half Drawn Bridge"/"Another Day"
"Symbol Of Salvation"
"Hanging Judge"
"Warzone"
"Burning Question"
"Tainted Past"
"Spineless"
Encore:
"Left Hook From Right Field"
"Win Hands Down"
"Can U Deliver"
"Mad House"




Please log in to view RANTS

If you don't have a username, click here to create an account!