All Photos By George Dionne
For a night of pure unadulterated thrash metal, you can't go wrong with a double bill featuring ANTHRAX and TESTAMENT. While both bands are on board for SLAYER's farewell tour, they have been playing some off night gigs when the opportunity arises. Such was the case for their recent Rhode Island show.
After arriving a little late and catching the tail end of opening band CHURCHBURN's set (which was not to my own personal tastes), my buddy George and I were eagerly awaiting the start of the first of two main events.
I've considered myself just a casual fan of TESTAMENT over the years, liking them but never really getting THAT into them. My main source of fandom was for the "Practice What You Preach" song and their The Formation Of Damnation album. The fact that guitarist Alex Skolnick had done a stint in SAVATAGE was also a selling point for me.
But after witnessing what both George and I agreed was an impressive set, I think I've been recast as a fan of the band. Brutal, unrelenting thrash metal with an incredible level of musicianship all tied together by the giant (both figurative and literal) stage presence of vocalist Chuck Billy, this date on their "Brotherhood of the Snake Campaign 2018" tour was a knockout performance.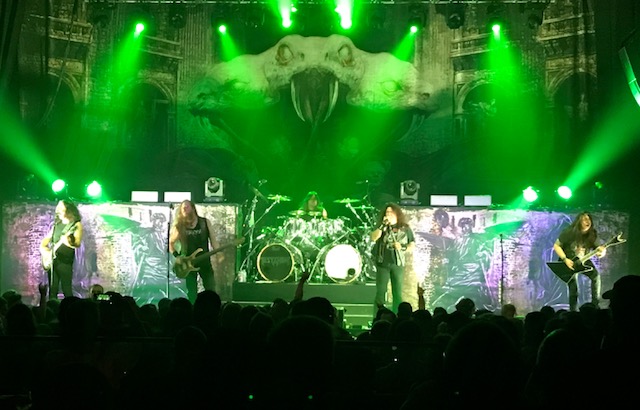 Taking over the stage from the very first notes of the "Brotherhood Of The Snake" song, the band was on fire. I was initially keying on Skolnick's playing but soon I didn't know where to focus my attention from one moment to the next. Eric Peterson was on fire right along with Skolnick and the incredible drumming from Gene Hoglan was so powerful that there were momentary delays between a few songs as a snare drum kept getting switched out. At first, I thought he was hitting it so hard that he broke it, but George said he'd heard that it was being switched out for tone depending on the song. Whatever the reason, this was a drumming at its best. As for Chuck Billy, damn...that guy's has some pipes. For all the screaming he does, you might wonder how he manages to still sound so good. But he was definitely keeping the energy level from the fans on an ever rising peak as TESTAMENT ran through each successive song.
"Rise Up" was immensely satisfying and while my lack of deeper knowledge with the band's catalog meant I didn't know the song "Electric Crown" until I looked it up later, the song was fantastic. And there was a great solo intro by Alex Skolnick before the song started in full that was a big part of why I enjoyed the set as a whole. "Souls of Black" was intense and reminded me that I did actually like the song back when it was first released on the album of the same title.
From the stage, Chuck Billy referenced the fans while introducing "Stronghold" saying that that's what they were, a stronghold for the band and the metal community. Crowd surfing was going on throughout the band's set, but it got more intense during "Into The Pit". TESTAMENT closed out with "Disciples Of The Watch" which brought things to a crushing crescendo and had me casting off my more detached viewing of the show to cheer and throw the metal horns in appreciation for what I'd just witnessed.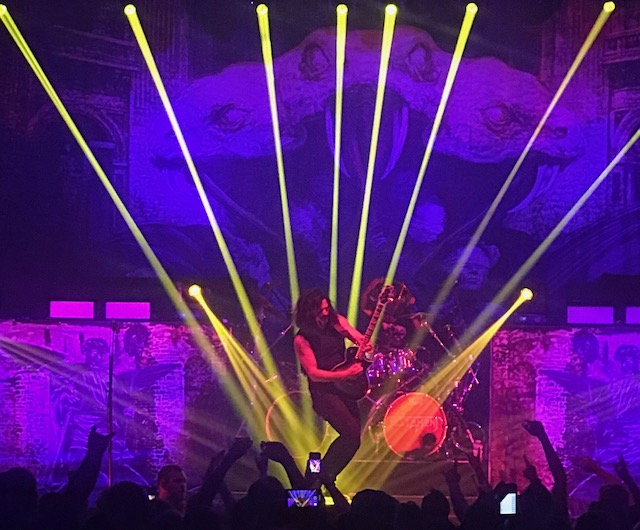 It was the first time I'd ever seen TESTAMENT live and they did really didn't disappoint. (I was hoping to hear them do "Practice What You Preach" but that's really more of a nitpick than full on complaint.) Their performance is how you go about converting a casual fan like me into someone far more passionate a devotee.
http://www.testamentlegions.com
https://www.facebook.com/testamentlegions
Set List:
"Brotherhood Of The Snake"
"Rise Up"
"The Pale King"
"Electric Crown"
"Dog Faced Gods"
"D.N.R. (Do Not Resuscitate)"
"Souls of Black"
"Stronghold"
"Low"
"Into The Pit"
"Over The Wall"
"Disciples Of The Watch"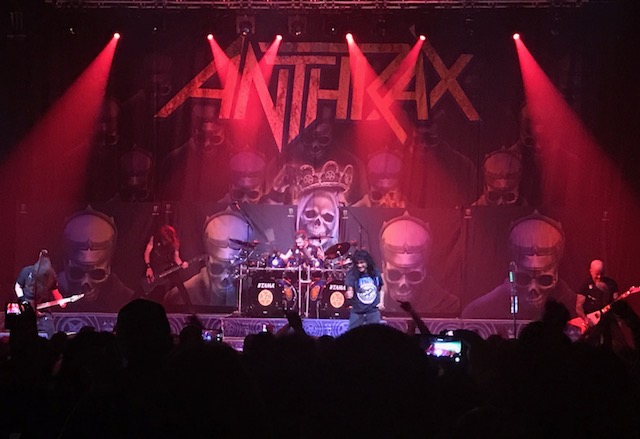 After TESTAMENT left the stage, George and I compared our impressions of their set and were pretty much in agreement at just how impressive they were. After that, we settled in to wait for ANTHRAX to hit the stage. I'd seen them only once before in concert and that was back in 1989 when they played the Orpheum Theater in Boston, MA as the headline act on the original Headbanger's Ball tour with HELLOWEEN and EXODUS. They were pretty good, but if I'm being honest, I wasn't completely blown away back then. Would things be different this time around? You bet your butt it was.

As the band came out, guitarist Scott Ian launched into some maximum riffage and the band the band exploded into a quartet of songs that left the fans seemingly ready to blow the roof off the place. "Among The Living" opened things up and remains one of their best songs. They followed that up with "Caught In A Mosh", "Got The Time" (a personal favorite of mine) and "Madhouse". It was a grand slam of great song choices to kick off their show.

Once again, the band controlling the stage set a high energy pace that the crowd kept pace with. Bassist Frank Bello was all over the place and looked like he was freaking out all night long. Guitarist Jonathan Donais was fantastic and Joey Belladonna was in fine form (though I do believe that he said he was dealing with vertigo, so he wasn't able to go full out performance-wise like he normally does. I believe he meant with stage presence because vocally he seemed on point.) But for me, other than Scott Ian, the most interesting performer for me was drummer Charlie Benante. Back in '89, I can't say that I gave him much notice in the course of the band's performance, but I was really taken with how he performed during this show. You always hear about how drummers set the foundation for the rest of the band to build upon. If that's true, Benante's work was a rock solid foundation.
The band's set list hit most of their high points but as a fan who hadn't seen them I was happy to see a lot of the songs that are well known make the cut. "I Am The Law", "Be All, End All" and the encore of "Indians" which was preceded by an instrumental jam on PANTERA's "Cowboys From Hell" all made my night.
Of course, seeing them perform "Antisocial" was a huge deal for me. I don't care how many times I hear that song, it is always a winner with me. But I also got to hear stuff like "Medusa" and "Breathing Lightning" so there was a good mix of material for me to sink my teeth into on the night.
On a night like this, it is hard to choose which band ended up putting on the best show. But instead of ranking who was better, just sit back and enjoy both bands being in top notch form and providing a night of the fast and aggressive metal that gives fans a cathartic release and proves that both ANTHRAX and TESTAMENT are true thrash metal titans!
http://www.anthrax.com
https://www.facebook.com/anthrax
Set List:
"Among The Living"
"Caught In A Mosh"
"Got The Time"
"Madhouse"
"Fight 'Em 'Til You Can't"
"Breathing Lightning"
"Efilnikufesin (N.F.L.)"
"Medusa"
"I Am The Law"
"Be All, End All"
"Antisocial"
"Cowboys From Hell" (Instrumental Jam, PANTERA cover)
"Indians"
CONCERT FUN FACT: After the show, we ran into a friend of ours named Roger while we waited for a hot dog from a food cart vendor (a brilliant idea after a show, by the way). He owns a record shop called Purchase Street Records that I frequent and plays in a cover band called SAN DIMAS that has opened for THE GENE SIMMONS BAND and will be opening for LITA FORD on August 6th, 2018.