SOULHEALER Up From The Ashes


By Alex Yarborough, Orlando Contributor
Tuesday, August 21, 2018 @ 10:06 AM


| | | |
| --- | --- | --- |
| | | |
SOULHEALER
Up From The Ashes
2018 Rockshots Records




Finland has been an enduring hotbed of power metal acts over the years, and lately it has given the world more and more quality metal. Case in point is the band SOULHEALER, from Kajaani, Finland. The band consists of vocalist Jori Kärki, guitarists JiiPee Haikola and Teemu Kuosmanen, bassist Lari Lämpsä and drummer Timo Immonen. The band will release their fourth album, Up From The Ashes, on September 14th in Europe, and September 21st in North America. It is the follow up to 2014's Bear The Cross.

The songs on Up From The Ashes are mainly about personal struggles, but there are some fantasy tracks about war and fighting. The title track "Up From The Ashes" gets things started off with a bang – and a catchy riff. In fact, this album is full of catchy riffs! Next track "Through Fire and Ice" pumps along at a fairly steady pace and features a catchy sing-along chorus. Take a listen to the tasty twin solo on this track. "Fly Away" is another fast-paced track that certainly entertains. "Sins Of My Father" is the longest track here (at over seven minutes). It opens with an atmospheric guitar interlude and slows things down to a mid-tempo pace, yet it loses none of the band's signature melodic hooks. "Prepare For War" is mostly mid-tempo as well. The track features an uplifting chorus. "Pitch Black" and "The Final Judgement" (which can be heard HERE) offers more menace and attack, along with a bevy of riffs. "Pitch Black" in particular is destined to be a fist-pumping anthem in a live setting. "Behind Closed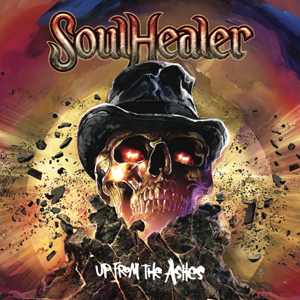 Doors" injects a little gloom into the mix; this track is not quite a ballad, and not quite mid-tempo – it's somewhere in between. "Am I In Hell" gallops along at a faster pace, and has one of the best choruses on the album. This track ended up being one of my favorites. The album closes with "Land Of The Free", a pulsing epic of sorts, filled with a sing-along chorus and a nice long guitar solo that lasts over a minute and a half.
Vocalist Jori Kärki's warm and melodious voice has a unique timbre to it. Occasionally, on certain phrasings, he reminds me a little of Blaze Bayley (IRON MAIDEN, BLAZE), other times he reminds me a little of Biff Byford (SAXON) – certainly not bad company to be in. I enjoy Immonen's work on drums and Lämpsä's work on bass on this album. Ultimately, however, Up From The Ashes is defined by the guitar work, supplied by Haikola and Kuosmanen, who trade licks on solo after solo here—what a treat to listen to.
The production is modern and very good. SOULHEALER isn't reinventing the wheel on this album, but they created some very solid, enjoyable '80s influenced melodic power metal. I think fans of HAMMERFALL, HELLOWEEN, SAXON, and IRON MAIDEN will enjoy this album. Crank this album up and enjoy!
4.0 Out Of 5.0

Please log in to view RANTS